Column: Gregg Berhalter will make his debut as U.S. national team coach against Panama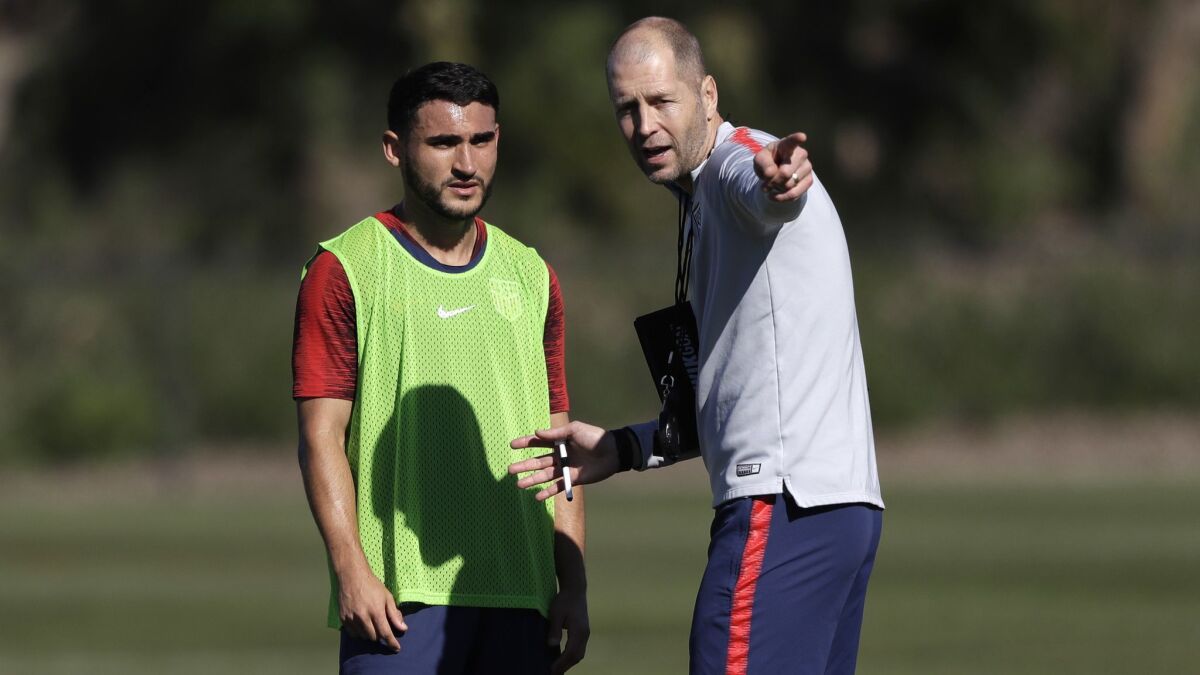 Reporting from GLENDALE, Ariz. —
Gregg Berhalter's debut in a U.S. national team uniform came in the 1993 U-20 World Cup. And though more than 25 years have passed since that game, the memory is still one he cherishes.
"I'll never forget the first time walking out onto the field," he said Saturday. "It was really something special."
Berhalter will make more memories with another debut Sunday, this time as coach of the senior national team. And he expects it to be just as special.
"When I look back on it, when everything's said and done," he said, "I'll remember this game forever."
He may not be the only one. Because while January friendlies are typically forgettable affairs — anyone remember last year's scoreless draw with Bosnia and Herzegovina? — Sunday's game with Panama feels significant.
Few people seem to share that sentiment. As of Saturday morning, fewer than 7,000 tickets had been sold for the game at State Farm Stadium, the cavernous 63,400-seat home of the NFL's Arizona Cardinals. Yet the exhibition is an important milestone, one that marks both a break with the past and the first step into the future for a rebuilding U.S. program.
"It gives us a blueprint to go forward," Berhalter said. "Evaluating the teaching style and what training sessions were effective, what training sessions could have been better. It's going to give us information.
"Right now we have no body of work to go on. This is the start of our body of work."
The last competitive game the Americans played was in October 2017, when they lost their final World Cup qualifier to Trinidad and Tobago and missed the tournament for the first time in 32 years.
That was also the last game the U.S. played under a permanent head coach. Bruce Arena resigned three days later, beginning a long-overdue period of reflection and reconstruction on the part of the U.S. Soccer Federation. It was a project that included the election of a new president in Carlos Cordeiro, the appointment of Earnie Stewart as general manager of the men's program and finally last month's hiring of Berhalter to lead a team in transition.
At 45, the former Arena assistant is the youngest national team coach in two decades and his roster is young as well: More than half the players on his all-MLS team are under 24 and 11 have never played for the senior national team.
For the last three weeks, Berhalter has tried to turn that inexperienced roster into a team by building a culture and implementing a style of play. Sunday, he'll get a chance to see if any of that worked.
"You're never really sure about the execution, how it's going to come off," he said. "We're interested to see how the ideas now are going to translate on to the field. That's going to be the fun part of this game."
Midfielder Paul Arriola, one of two players on the current team who also played in the qualifier in Trinidad, said the change — in both attitude and outlook — is apparent.
"Any time there's new blood, there's fresh air, it's going to bring a lot of energy. And it brings a different kind of vibe," he said.
"It's a new cycle and a new coach and we're leading in the right direction."
Berhalter, a defender who played on two World Cup teams and won an MLS Cup with the Galaxy, became the first American to coach a top-flight European team when he took over Swedish club Hammarby in 2011. But he lasted just 20 months before being sacked over his team's defense-first style of play.
It was a lesson he took with him to his next job with the Columbus Crew of MLS, where he implemented an attractive and aggressive possession-oriented philosophy that saw Columbus finish second in the league in scoring and make the MLS Cup final in his second season.
He's now teaching that style to the national team.
"This is the process of building a team," said midfielder Michael Bradley, who has played for four other national team coaches since making his U.S. debut in 2006. "When a new coach comes in, the players start to understand exactly what he wants, on the field and off the field. That's a normal process.
"It's all about coming in with an open mind, with the mentality that you have to come in every day ready to show what you're all about."
It's also about moving on. So while the loss in Trinidad still lingers, Arriola says Berhalter has begun writing a new chapter for the national team, one in which memories are only as important as the lessons you take from them.
"It's still there. The good thing is that we've moved past it," he said of the qualifying disaster. "It's a new cycle, it's a new coach. The best thing is to look forward.
"We have a lot of good things coming for us."
And it all starts Sunday against Panama in a game that just might prove worth remembering.
Sign up for our daily sports newsletter »
kevin.baxter@latimes.com | Twitter: @kbaxter11
---
All about the beautiful game
Go inside the L.A. pro soccer scene and beyond in Kevin Baxter's weekly newsletter.
You may occasionally receive promotional content from the Los Angeles Times.