Galaxy's Zardes joins U.S. national team in looking toward future, not past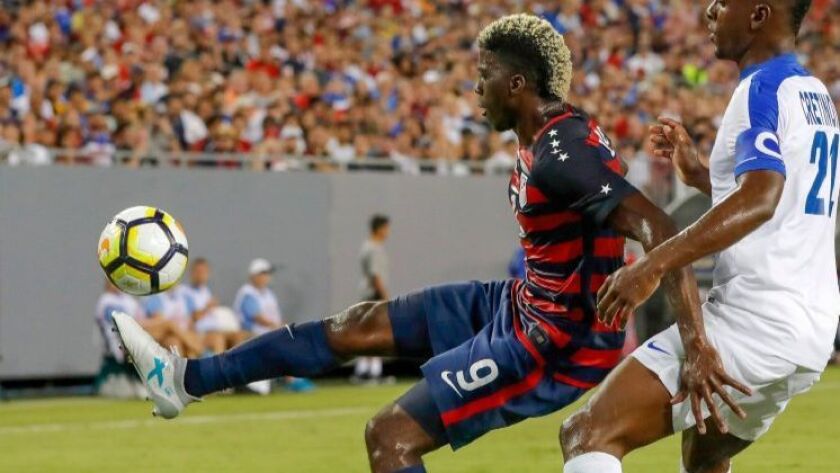 The U.S. soccer team opened its first full training camp since last fall's World Cup qualifying disaster Thursday at the StubHub Center. And the focus was on moving forward, not looking back.
"The past is the past," interim coach Dave Sarachan said. "Today was Day 1 of a new cycle, a new group of guys.
"As professionals, we have to move on."
Perhaps none of the other 28 players in camp is more in need a fresh start than Galaxy forward Gyasi Zardes.
In his second season with the Galaxy Zardes scored 17 goals, one in the team's last MLS Cup final. He has scored 15, combined, in the three seasons since.
But what had been a steady decline accelerated into a death spiral last year when Zardes, hampered by injuries, had only two goals and two assists for a Galaxy team that posted the worst record in franchise history.
"It was extremely frustrating," Zardes said after Thursday's practice, his first day on the training field in more than two months. "But I'm always positive. Things happen for a reason. So when I had my surgeries [on his right foot and right knee], it was for a reason.
"Now I'm healthy and I'm moving forward and really looking forward to this year."
During last season's summer slump the Galaxy were also looking forward — to a future without Zardes. The team made it know it was ready to trade the homegrown player and his $577,500 contract, but none of its MLS rivals stepped forward.
So for his final three starts of the season, Zardes was banished to right back.
"I'm hearing what you guys are hearing," he said when asked by reporters about the trade feelers. "But my primary focus is here. Everything else I can forget about."
Without a trade or significant signing over the next 10 days, the Galaxy will enter their preseason training camp with Zardes as their top choice at forward. With the national team, however, he'll play as a wide midfielder where, despite the struggles with his club team, Zardes showed well in six international games in 2017.
So Sarachan, a former Galaxy assistant who coached the likable Zardes in his first four MLS seasons, felt that a call-up could help both the player and the national team.
"It wasn't a handout," Sarachan said. "I know what he's like on the field and off the field. He did have a hard year [but] I do believe he belongs here. And obviously it gives him confidence going forward."
In exchange, Zardes will provide leadership and experience for Sarachan during the national team's 17-day winter camp. This is the first time since 1986 that the U.S. has entered a World Cup year without a berth in the summer tournament, so the team is already beginning the long build toward qualifying for the 2022 World Cup.
As a result the roster assembled at the StubHub Center is a young one, with 21 of the 29 players younger than 25 and 15 having never played for the senior team. At 26, Zardes is not only one of the oldest players on the team but with 37 national team caps, the most experienced as well.
"This January camp we're moving forward, moving on," he said. "I'm always a positive person so I'm really trying to take full advantage of this January camp and push my limits every single day.
"I'm trying to get better. And I'm really trying to have an amazing year this year."
Follow Kevin Baxter on Twitter @kbaxter11
---
All about the beautiful game
Go inside the L.A. pro soccer scene and beyond in Kevin Baxter's weekly newsletter.
You may occasionally receive promotional content from the Los Angeles Times.