Sebastian Lletget's lengthy return to health again in question as national team resumes training
Reporting from WHIPPANY, N.J. —
Sebastian Lletget's introduction to the U.S. national team last year was even better than he had dreamed it would be.
Playing his first competitive game less than a mile from the San Jose fields where he learned soccer as a boy, the Galaxy midfielder scored five minutes into a crucial World Cup qualifier with Honduras, giving the U.S. a lead it would never lose.
The dream became a nightmare 10 minutes later when Honduran defender Ever Alvarado stomped on Lletget's left foot, dislodging a bone and ending his season. It took surgery and months of painful rehab to get Lletget healthy enough to return to the national team, yet when he showed up at training camp this week he was hobbled by an abductor problem he says is related to the foot injury.
"It's been so long," he said Tuesday. "I did my very best to be called into this camp. It's a shame."
Lletget did not practice with the team during the first two days of camp, jogging by himself on the sidelines and doing exercises with an athletic trainer instead. He's unlikely to suit up for Friday's friendly with Brazil at MetLife Stadium and could be sent home to the Galaxy's medical staff rather than accompany the national team to Nashville for next week's game with Mexico.
That would mark another disappointing setback for Lletget who, in addition to the foot and hip injuries, was idled for a month by an ankle problem earlier this summer, limiting him to just five full games this season after playing just three last year.
"Every four or five games something pops up," he said. "It's been frustrating. But I'm happy to be here and be part of the group."
It's a group that has changed drastically in the 18 months that Lletget has been away. Following the failure to qualify for the World Cup last fall, the U.S. Soccer Federation concentrated on expanding its talent pool, making the team younger as it points toward the next World Cup in 2022.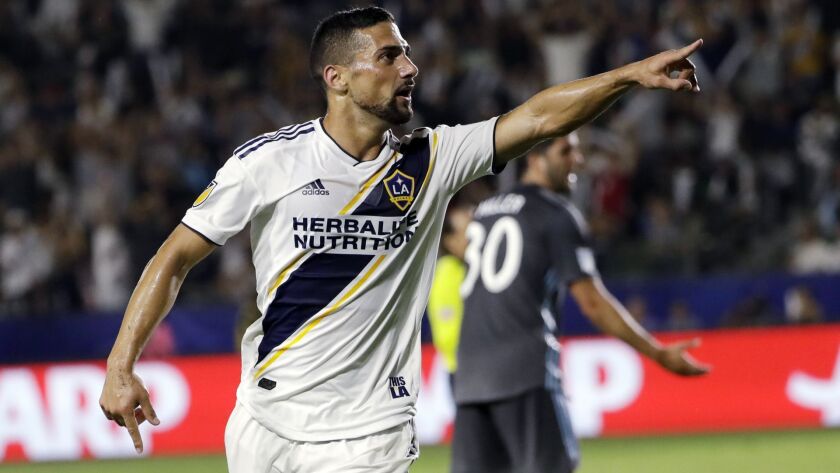 If he hadn't been hurt, Lletget wonders, would the U.S. have qualified for Russia this summer?
"Who knows?" he said. "I probably could have helped."
He couldn't, and the team did not qualify. As a result the average age of the team assembled this week is 23, with 16 of those players having made seven or fewer international appearances. Missing, at least temporarily, are veterans Michael Bradley, 31, Jozy Altidore, 28, and Geoff Cameron, 33, replaced by teenagers Tim Weah and Tyler Adams as well as Cameron Carter-Vickers and Weston McKennie, both 20.
Lletget, two days past his 26th birthday and with just three international appearances, falls between the two extremes: too old to be a teenager but too inexperienced to be a veteran. That made this camp, the first of the new World Cup cycle, important.
"It's a big one for the group," Lletget said. "It's a lot of new faces. We want to all jell together. We definitely want to get the chemistry going.
"It's really crazy to see [so] many new faces and to see the age just completely change. I have to, like everyone else, find our way, find our positions, our formations, the way we want to play."
While Lletget is a versatile midfielder, one who can be a playmaker in the middle or a scoring threat from the wings, his opportunity to find a role on the national team may be running out. Manager Dave Sarachan, a former assistant coach with the Galaxy, was comfortable enough with Lletget to call him into camp despite his injury problems. Sarachan, though, is just a caretaker coach, one whose contract runs out in December.
If Lletget hasn't secured a roster spot by then, he might find it harder to win the confidence of the next manager.
"They're going to treat me like anybody else. They're not going to make it any easier," he said. "I know that I've shown them a lot of good things. Hopefully that does carry on until I'm fully fit."
That's his dream anyway.
kevin.baxter@latimes.com | Twitter: @kbaxter11
---
All about the beautiful game
Go inside the L.A. pro soccer scene and beyond in Kevin Baxter's weekly newsletter.
You may occasionally receive promotional content from the Los Angeles Times.