Column: On the matter of the USWNT and equal pay, it's complicated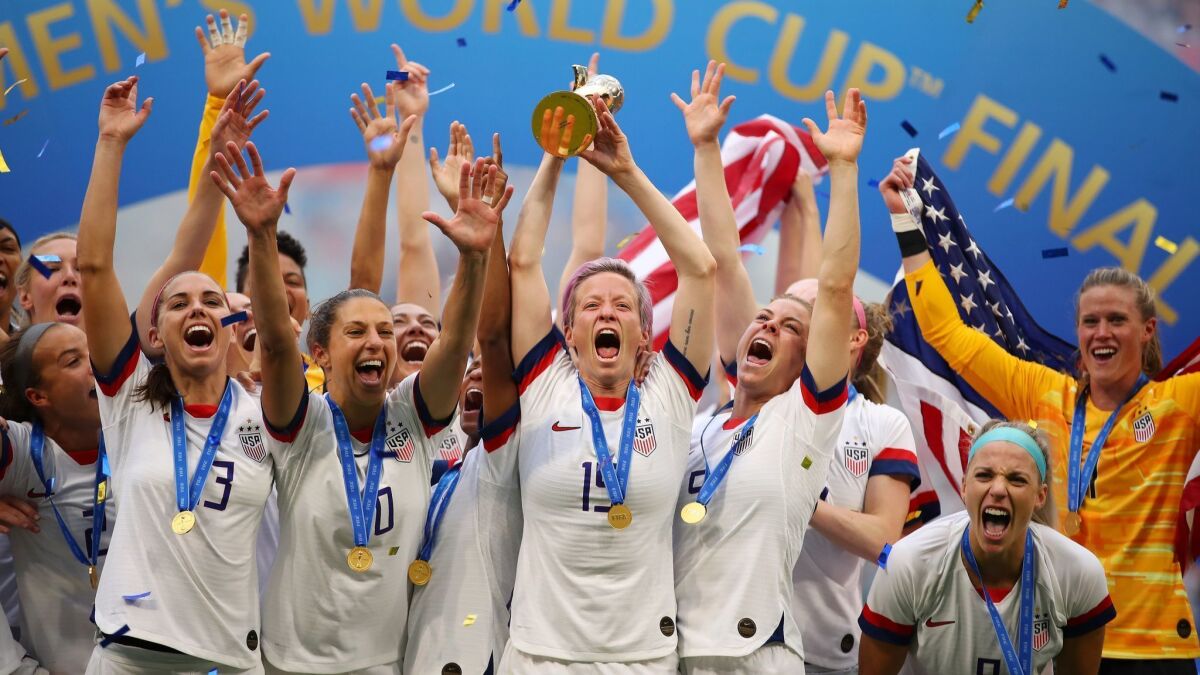 The rallying cry that rose, full-throated, in the wake of the national team's victory in last weekend's Women's World Cup final would fit nicely on a bumper sticker, which is kind of the point.
Equal pay!
It's concise, unambiguous and impossible to argue with. Who's opposed to equal pay — other than the U.S. Senate, which has failed to pass the Paycheck Fairness Act, and the majority of American businesses that continue to pay women 21% less than men.
Deciding what constitutes equal pay and how to achieve it, however, can't be summarized in a slogan.
"It's not so simple," said Wendy Patrick, an attorney who lectures on business ethics at San Diego State. "There's so much more that goes into the analysis than simply 'let's pay them the same.'"
But that doesn't make it any less worth fighting for. So three months before leaving for France and the World Cup they dominated, 28 members of the women's national team sued the U.S. Soccer Federation in federal court, seeking pay and working conditions equitable to what the federation gives the men's national team.
The two sides are expected to enter mediation soon, with the lawyers for the women arguing that the duties and responsibilities of a national team player aren't different based on gender. The main difference, in fact, has been in performance.
When the women returned this past week with their second consecutive world championship and fourth overall, it seemed like they were selling themselves short by simply asking to be treated the same. The men have never made it past the quarterfinals of their World Cup and didn't even qualify for the last one, so maybe the bumper sticker should read, "Pay them more!"
Here's the surprise, though: The federation already does.
The women's lawsuit and the equal pay argument focus largely on bonuses and other issues related to national team games. A player on the U.S. men's national team can make as much as $17,625 depending on the opponent and the outcome, court documents allege. A women's player would get about half that for a comparable result.
What the lawsuit leaves out, however, is the fact the union representing the women's team negotiated a collective bargaining agreement with the federation two years ago that pays national team players a base salary of $100,000 a year, plus another $72,500 for playing in the National Women's Soccer League, the domestic league that U.S. Soccer subsidizes.
That means the top 18 players in the women's national team pool will earn $172,500 from the federation this year before factoring in bonuses and game-day pay. Other players get slightly less, and the federation also pays health insurance as well as maternity and adoption leave.
Male players get none of that and are paid only if they make the 18-man roster for an international game.
"The biggest issue from an equal-pay perspective is complicated because they have a different payment structure than the men do," said Steven A. Bank, a professor in the UCLA School of Law. "The women negotiated for security. Salary security.
"The women could still have a claim, but it's just not so clear to say 'equal pay.' What would equal mean?"
There's a reason why the women asked for salary security and benefits in their CBA and the men didn't: The men get both from their professional teams. And that's created some laughable disparities.
Consider that Carli Lloyd, a two-time world player of the year, and Megan Rapinoe, the leading scorer and Golden Ball winner in this summer's World Cup, will each make $172,500 in base salary from U.S. Soccer this year. That's $12,500 less than the Galaxy's Ema Boateng will get in MLS.
Not fair. But is that the federation's fault?
A women's national team player who appears in 20 friendlies a year could earn as much as $271,500 in salary and bonuses, all paid by U.S Soccer. A male player who suits up for 20 friendlies and wins all 20 would get $8,000 less from the federation.
The male player might get millions more from his club, but is it U.S. Soccer's responsibility to bridge that gap? And where would that money come from if the federation did?
From game-day revenue, some have argued.
A recent Wall Street Journal report, based on U.S. Soccer's own financial documents, showed that in the most recent three-year period for which records are available, the women's team earned $900,000 more — $50.8 million to $49.9 million — than the men.
But nearly half those earnings came in 2015, following the women's title in the 2015 World Cup; the men made more in each of the other two years. And U.S. Soccer sells its TV rights as a package, so there's no way to divide that revenue.
"It's great to have sound bites and it's great to shout, 'Equal pay,'" Patrick said. "But how do we get there?
"That requires an examination of why they're being paid differently."
The disparities on the global stage are even bigger.
France won the 2018 men's World Cup, taking home $38 million from a total prize-money purse of $400 million. The U.S. got $4 million for winning the Women's World Cup from a total purse of $30 million.
Not even close. But is it fair?
FIFA's 2018 financial report said it earned revenue of $5.357 billion from the men's tournament in Russia, meaning the total prize money amounted to less than 10% of revenue. And France got less than 10% of that.
Forbes estimated the Women's World Cup will generate about $131 million for the four-year cycle ending in 2022. That makes the women's purse worth more than one-quarter of revenue. And the U.S. got more than 10% of that.
The U.S. women and the French men put in equal work and probably deserve equal reward. But how do we pay for that when revenue is so one-sided?
Parity won't be achieved anytime soon — if ever. But the women's game won't advance without funding, something even FIFA President Gianni Infantino acknowledged when he called for expanding the field, doubling the prize money and increasing investment to $1 billion ahead of the next Women's World Cup, with much of the money for that coming from revenue earned on the men's side.
Sign up for our weekly soccer newsletter »
Maybe Infantino has the answer; maybe the women shouldn't have to pay their way since it's in the sport's best interest to have healthy teams on both sides. Norway figured that out 18 months ago when its federation became the first to agree to equal pay for its men's and women's teams, with the men agreeing to take a cut to make that happen.
"Everyone is kind of asking what's next and what we want to come of all of this," Rapinoe said hours after the World Cup final. "It's to stop having the conversation about equal pay. It's time to sit down with everyone and really get to work."
And that doesn't fit on a bumper sticker either.
kevin.baxter@latimes.com | Twitter: @kbaxter11