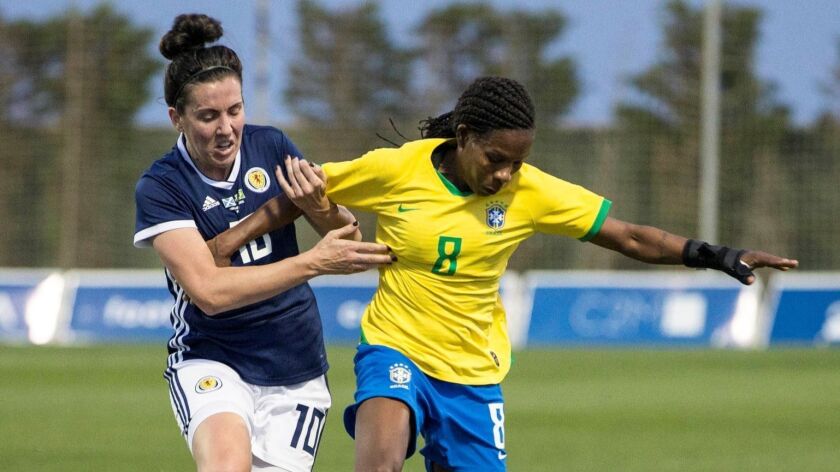 Brazil might not have to wait long to make history in the Women's World Cup. The team opens against Jamaica on June 9 in Grenoble, France, and if midfielder Formiga takes the field she'll be the first player, male or female, to participate in seven world championship tournaments.
"I am anxious. I'd be lying if I said I wasn't," Formiga, who briefly retired from international play after the 2016 Olympics, told Reuters. "The excitement is the same as the first time, for sure. And my will to win is the same."
Winning is about the only thing Formiga hasn't done in the World Cup, however. A five-time champion on the men's side, Brazil has seen its women's team make the final just once, losing to Germany in 2007. Things have gone downhill from there, with Brazil getting bounced in the quarterfinals in 2011 and in the round of 16 four years ago.
This year's tournament figures to be the last chance at World Cup glory for a roster that includes Marta, 33 -- a six-time world player of the year and the all-time leader in World Cup goals with 15 -- and eight other Brazil players at least 30 years of age.
"We are aware this should be the last World Cup for several athletes. Me, Marta, Cristiane, Formiga," goalkeeper Barbara, 30, told Brazil's TV Globo. "We believe we have this World Cup and the Olympic Games. Then our cycle ends."
If the clock is running out on Brazil it's just starting for Jamaica, which became the first Caribbean country to qualify for the Women's World Cup when it beat Panama on penalty kicks in the CONCACAF championship tournament last fall. Just five players on its roster were alive when Formiga made her professional debut for Sao Paulo in 1993.
Formiga's first appearance in France will break the record for World Cup longevity she shares with Homare Sawa, who played in the tournament six times for Japan. Three players -- Mexico's Rafael Marquez and Antonio Carbajal and Germany's Lothar Matthaeus – have played in five men's World Cups.
Formiga, who will be 41 years and 98 days old on June 9, will also become the oldest woman to participate in a World Cup. American Christie Rampone is the current record-holder. She was 40 years and 11 days old when she played the final four minutes of the 2015 final.
Group C
Australia
World ranking: 6
How qualified: Runner-up, 2018 Asian Cup
Last World Cup: 2015, quarterfinals
Best World Cup finish: Quarterfinals, 3 times (last 2015)
Key players: F Sam Kerr, MF Elise Kellond-Knight, D Clare Polkinghorne, GK Lydia Williams
Outlook: No country appears more poised for a breakthrough than Australia, which made it to the quarterfinals of the last three World Cups. Its roster, deep and battle-tested, is led by Sam Kerr, a ferocious finisher and one of 12 NWSL players on the team. Kerr followed her father and brother into Australian rules football before switching to soccer at 12, reaching the national team three years later. The program was thrown into turmoil when longtime coach Alen Stajcic was sacked in January after some players reportedly complained anonymously of a poor culture within the team. Stajcic was replaced by Ante Milicic, a former men's national team striker, and the Matildas responded well, winning their first three games after the change.
Italy
World ranking: 15
How qualified: Winner, UEFA qualification group 6
Last World Cup: 1999, group stage
Best World Cup finish: Quarterfinals, 1991
Key players: D Sara Gama, MF Barbara Bonansea, F Cristiana Girelli, D Alia Guagni
Outlook: The knockout round is the goal for Italy, which will be one of the toughest teams in the tournament to break down defensively. Its back line is experienced with Sara Gama, the team captain, and Alia Guagni coming to France with more than 150 international caps combined. That's a big reason why Italy, with an entire roster composed of players from the domestic Serie A, hasn't lost this season in eight games. Whatever offense the Azzurre produces will likely come through Barbara Bonansea, who directs the attack for league champion Juventus. Three women play for AS Roma, where former U.S. national team star Mia Hamm is a board member.
Brazil
World ranking: 10
How qualified: Winner, 2018 Copa America
Last World Cup: 2015, round of 16
Best World Cup finish: Runner-up, 2007
Key players: F Marta, MF Formiga, MF Andressa Alves, F Cristiane
Outlook: Brazil has the oldest roster in the tournament, one topped by midfielder Formiga, the oldest player in Women's World Cup history at 41. Eight other players are at least 30, including Brazil's two all-time leading scorers: Marta, 33, a six-time world player of the year and 34-year-old Cristiane. This figures to be the last hurrah for Brazil's Golden Generation, which so far has just a silver medal from the 2007 World Cup to show for its work. The chances for improving on that here don't look good since Brazil comes to France having lost nine straight since August. Oswaldo Alvarez, who coached the team in the 2015 World Cup, returned for his second turn in charge 21 months ago after Emily Lima, the first woman to coach the national team, was fired.
Jamaica
World ranking: 53
How qualified: Third place, 2018 CONCACAF Championship
Last World Cup: First tournament
Best World Cup finish: First tournament
Key players: F Khadija Shaw, F Olufolassade Adamolekun, D Dominique Bond-Flasza, D Konya Plummer
Outlook: Disbanded nine years ago because of a lack of funds, the Jamaican program has rebounded to its first World Cup berth thanks to Cedella Marley, daughter of singer Bob Marley, whose financial backing revived the team in 2014. There is a distinctly American flavor to the squad with 11 players, headed by USC recruits Olufolasade Adamolekun, coming from U.S. club or college teams. It's also a young roster with just six players older than 25. Coach Hue Menzies played in Texas at Hardin-Simmons University and is executive director of a youth soccer club in Florida. Former Tennessee star Khadija Shaw is a proven goal-scorer with 25 goals in 20 international games but she may not be the fastest player on the team. That honor probably goes to midfielder Chanel Hudson-Marks, the cousin of Olympic sprinter Usain Bolt.
Schedule
June 9: Australia vs. Italy, Brazil vs. Jamaica
June 13: Australia vs. Brazil
June 14: Jamaica vs. Italy
June 18: Jamaica vs. Australia, Italy vs. Brazil
Sign up for our weekly soccer newsletter »
kevin.baxter@latimes.com | Twitter: @kbaxter11
---