Women's World Cup: U.S. will have all its players available against Spain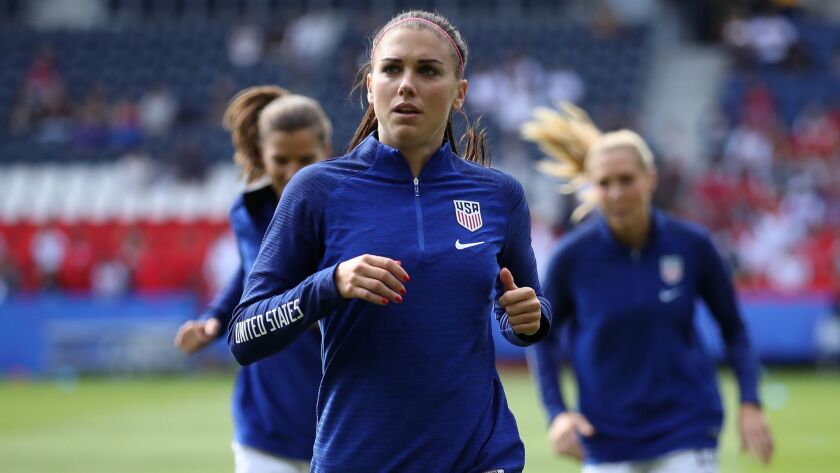 Reporting from reims, france —
U.S. coach Jill Ellis wasn't able to start her first-choice lineup in the group stage of the Women's World Cup because of minor injuries that sidelined Becky Sauerbrunn for the first game and Julie Ertz for the third. But she pronounced both players, as well as captain Alex Morgan, fit and available for Monday's round-of-16 game against Spain.
"Alex is fine," Ellis said Sunday.
Morgan came out of the group-play final with Sweden after a collision late in the first half. She has played just 45 minutes in this tournament since scoring a record-tying five goals and adding three assists in the opener against Thailand.
During the part of Sunday's training session open to media at the Centre de Vie Raymond Kopa complex, about four miles from Stade Auguste-Delaune where Monday's game will be played, both Morgan and Ertz practiced with the first team with no apparent restrictions.
Rested and ready
The U.S. has the oldest team in the Women's World Cup, with the 23 players on its roster averaging 29 years of age. So squad management will be a major issue in the knockout play, which would see the Americans play four games in three cities in 14 days if they reach the finals.
Complicating things is the weather, with the gray, leaden skies and rain of the last two weeks expected to give way to sunshine and temperatures in the low 80s Monday, the start of what's expected to be a week of record-setting heat in France.
"It was part of the plan. It's not just about resting legs, it's also activating other players and having them be ready for these moments," said Ellis, who played all 20 field players in the group stage. "For us, everything's been about making sure our recovery was happening.
"The MVP right now is going to be your recovery and your hydration and your attention to detail in terms of making sure you do that. The next game starts as soon as that [current] game's over."
Only defender Abby Dahlkemper, midfielder Lindsey Horan and goalkeeper Alyssa Naeher started all three group-stage games, and only Naeher has played all 270 minutes.
After those three, just four women have played as many as 180 minutes in the last month.
"It's smart," defender Kelley O'Hara said. "Jill's the coach so what she decides is what goes. And hopefully it will pay dividends down the stretch."
The U.S. has played just three games in the last 27 days, a lax schedule for women used to playing once a week. But O'Hara said that schedule, plus the lineup rotations, won't hurt the team's sharpness.
Sign up for our weekly soccer newsletter »
"We play a lot of games in the year, so missing one game in a week's span is OK," she said.
This isn't the first time Ellis has managed a veteran roster. In 2015, she took a team with an average age of 29 years and 5 months, the oldest in Women's World Cup history, to the title in Canada.
Preparation makes perfect
In the knockout stage, games that are tied at the end of the regulation 90 minutes and a 30-minute overtime are decided in the cruelest way possible: penalty kicks. Which is kind of like breaking a tie in the Super Bowl with a field-goal-kicking contest.
Australia's Women's World Cup ended that way Sunday when it lost a PK shootout to Norway. And it's not a format the U.S. has had a lot of success with either, getting knocked out of the 2016 Olympics in the quarterfinals after losing to Sweden on penalty kicks and losing the 2011 Women's World Cup final to Japan in the same way.
Asked a detailed question about her team's PK preparations Sunday, Ellis shared little.
"We're prepared," she said. "It's like every element of the game, whether it's set pieces or your defending transition, you prepare for every moment. That's what gives us confidence, to be prepared for certain situations. And that's what we've done."
kevin.baxter@latimes.com | Twitter: @kbaxter11
---
All about the beautiful game
Go inside the L.A. pro soccer scene and beyond in Kevin Baxter's weekly newsletter.
You may occasionally receive promotional content from the Los Angeles Times.