Croatia advances to World Cup final with 2-1 win over England
Reporting from moscow —
The oldest national team in the world played one of the youngest in a World Cup semifinal Wednesday. And the result was a game for the ages.
Mario Mandzukic's goal four minutes into the second extra-time period eventually ended it, giving Croatia a 2-1 win over England and sending it on to Sunday's World Cup against France. But few players on either side were still standing at the final whistle, the Croatians having dropped to the turf from joy and exhaustion after going to overtime for a third straight game while the English fell from disappointment after letting both a lead and a shot at a world championship slip through its fingers.
"For Croatian football and for Croatia as a country, this is history being written," coach Zlatko Dalic said. "We have our heart, we have our pride, we have our players."
Croatian showed that heart while adding to that history repeatedly over the last 11 days, becoming the first team to win three consecutive World Cup games in extra time – the first two going to penalty kicks. And Croatia came from behind in all three.
"What our players did today, the strength they've shown, the stamina, the energy levels," Dalic said. "I wanted to substitute but no one wanted to be subbed, everybody kept saying 'I'm ready, I can run on'.
"Some players played with minor injuries with which they would not have played some other games. Two players played with half a leg, but it didn't show."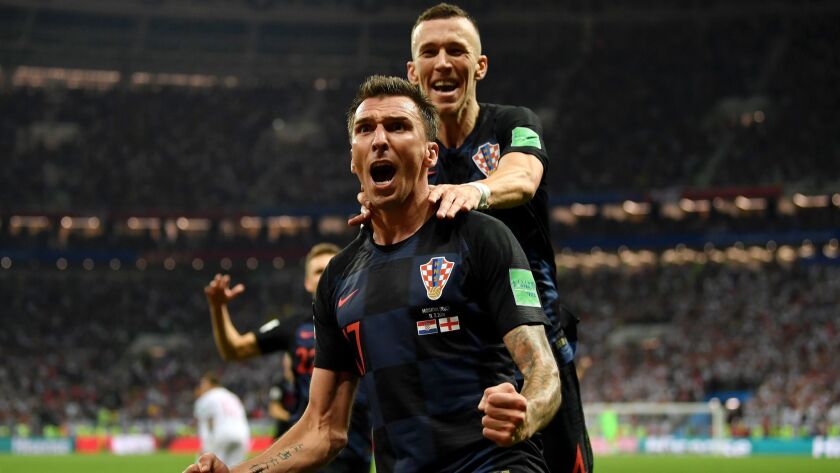 It was a fitting display of courage and determination for a nation that rose from the ashes of a bloody civil war less than three decades ago. Many of the players, among them captain Luka Modric, survived horrific childhoods, dodging bullets and bombs while living as refugees in their own country. Playing a little extra soccer hardly qualifies as a hardship.
"We are a nation of people who never give in, who are proud and who have character," Dalic said. "There's no weakness in a team that is in the final."
If it had wanted to quit, Croatia certainly had its chances. Playing against the country that basically invented soccer, Croatia found itself down 1-0 in the first five minutes, after the quickest score in a World Cup semifinal since 1958.
It wouldn't be the last piece of history to be written Wednesday.
That goal came from defender Kieran Trippier on a free kick over the wall from about 25 yards, the ninth set-piece goal England has scored in the tournament. But the Three Lions should have more in a first half it dominated.
Two offside calls negated promising chances for Harry Kane, who bounced one shot off the goalpost. Croatia, meanwhile, looked flat in the opening 45 minutes and England would come to regret the fact it couldn't take advantage.
"We put ourselves in a great spot, 1-0 up at halftime," Kane said. "It just wasn't to be. In these big games small margins make a big difference."
After the intermission Croatia played with urgency and it was finally rewarded midway through the half when Ivan Perisic got his left foot in front of defender Kyle Walker to volley in a long, bending cross from Sime Vrsaljko to tie the game.
Vrsaljko would be heard from again in the first extra period when he went high in the air to save John Stones' header off the line at the far post, preventing a certain goal. It was arguably the play of the game and it set the stage for Mandzukic's winner, which touched off a wild melee at the corner flag, one that ended with a photographer buried under a pile of Croatian players.
When the game finally ended 10 minutes later, England keeper Jordan Pickford, who was brilliant in the tournament, lay on his back 40 yards from his goal, a gloved hand hiding his face as Croatian players rushed by in celebration. Some wrapped themselves in the national flag while others welcomed their children – dressed in tiny checkerboard Croatian kits – onto the field.
None of them seemed eager to leave, nor did their supporters, who were still cheering and chanting behind the west goal more than an hour after the game.
Behind the other goal England's supporters rose in applause of their team as the players stood in stunned silence. Some – both players and fans -- cried.
Before Croatia, England, in 1990, had been the last team to play three consecutive extra-time games in a World Cup but it lost in the semifinals. Wednesday marked its first trip back to the final four since then and it lost again, this time to a team that was breaking England's own record.
"Did we expect to be in this position? I don't think any of us realistically did," England coach Gareth Southgate said. "I'm remarkably proud of this group of players."
For Croatia, which reached the semifinals in its first World Cup in 1998 -- where, coincidentally, it lost to France – making it to the final is a remarkable achievement for a team that is younger than 16 players on its roster.
"We all know what was at stake, how important a semifinal is for a small country such as Croatia," midfielder Ivan Rakitic said. "We started slowly but we showed our character. We didn't used to be this resilient."
They also didn't used to be in a World Cup final.
kevin.baxter@latimes.com | Twitter: @kbaxter11
---
All about the beautiful game
Go inside the L.A. pro soccer scene and beyond in Kevin Baxter's weekly newsletter.
You may occasionally receive promotional content from the Los Angeles Times.