Juergen Klinsmann has a stake in both U.S. and German World Cup teams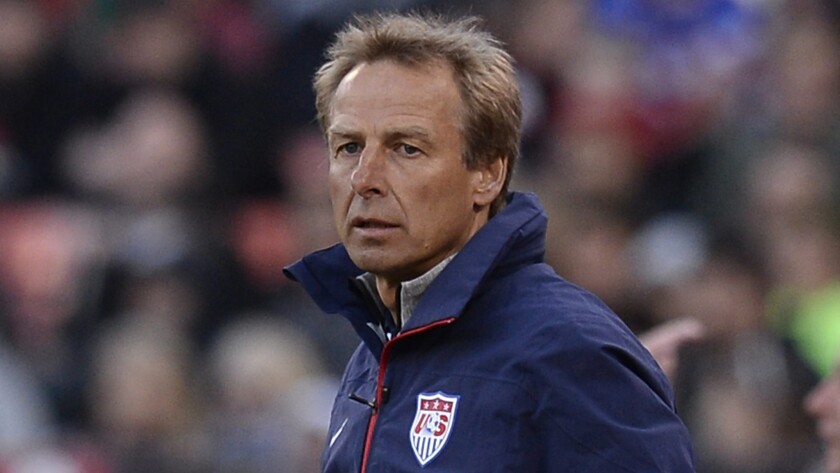 Reporting from Sao Paulo, Brazil —
When the U.S. meets Germany in its final group-play game of this World Cup, Juergen Klinsmann says he'll sing both national anthems before the game. And why not? He's had a hand in getting both teams here, now as coach of the American team and a few years back as architect of the German one.
The U.S. part is pretty straightforward. Since taking over the program 35 months ago Klinsmann has dumped the team's conservative defense-first strategy for an aggressive attacking style, stocked his roster with seven European nationals and guided the U.S. to the winningest calendar year in its history.
It wasn't all smooth sailing, though. Along the way Klinsmann instituted an unpopular holistic training program, jettisoned longtime U.S. assistant coach and confidant Martin Vasquez, withstood what was reported to be a near-mutiny by his players and feuded with Landon Donovan, eventually leaving U.S. soccer's all-time leading scorer off his World Cup team.
The German part takes a bit more explaining, but it followed a similar blueprint.
Starting in 2004, after taking over a national team he had led to a World Cup title as a player, Klinsmann launched a sweeping campaign to remake the program, hiring a new coaching staff, replacing the team's conservative defense-first strategy with an aggressive attacking style, initiating a youth movement and eventually inviting a mutiny by sending first-choice goalkeeper Oliver Kahn to the bench for the 2006 World Cup.
Klinsmann was proved right when Germany finished third in that World Cup but he resigned after the tournament anyway, turning the team over to his top assistant, Joachim Loew, who has continued along the same course.
Eight years later Klinsmann takes comfort in Germany's success but claims none of the credit.
"There's no sense of ownership at all," he said. "There is a sense of a little bit of pride. Because the people are still there, they continue what kind of team we built and described.
"They are just exceptionally good. When I watch the German team throughout the last year . . . you just hope for them. I think that team is ready to win the World Cup."
The U.S. team? Not so much.
"We're not there yet," Klinsmann has said repeatedly.
So the expectations on Germany are much greater. And though Germany made it to the World Cup final in 2002, then finished third in the last two tournaments under Klinsmann and Loew, it's been 24 years since Klinsmann the player led Germany to its third — and last --- World Cup crown. That's the country's longest title drought since World War II.
And Germany's national team hasn't won a major soccer title of any kind since the 1996 Euro. While Klinsmann can afford to be patient with his U.S. team, Loew, he says, feels a sense of urgency.
"You don't want . . . that generation of players to finish off their careers without winning a huge championship with their national team," Klinsmann said. "Sooner or later every generation has to put kind of that stamp on their career.
"This is now what this generation is about. Yogi knows that OK, he took over for me in 2006. That's eight years now. He's got to deliver."
Which explains the slogan dreamed up for Loew's team: "Ready Like Never Before." And it may be true since this team, second behind only Spain in the latest FIFA world rankings, may be the most talented squad Germany has produced since the legendary 1974 World Cup champions of Franz Beckenbauer, Gerd Muller, Sepp Maier and Paul Breitner.
Loew's team seemingly has no weakness, from the goalkeeping of Manuel Neuer to the leadership of Philipp Lahm and the playmaking of midfielder Bastian Schweinsteiger. Germany is especially gifted up front with forwards Mario Gomez, Thomas Muller and Miroslav Klose, the team's all-time leading scorer with 69 goals.
What could derail Germany are injuries. Neuer did not play Friday in the final pre-World Cup tuneup, a 6-1 win over Armenia, because of a shoulder problem, while Schweinsteiger (knee) played 31 minutes, Lahm (ankle) came out at halftime and Marco Reus hobbled off to the hospital after twisting his ankle. He's out of the World Cup with ligament damage.
Then there's this: No European team has ever won a World Cup played in the Americas.
For Lahm, the captain, who at 30 may be running out of chances at a World Cup, the trip to Brazil will be all business.
"I do not want to go out in the semifinals again or visit Brazil just to soak up the sun," he told Agence France-Presse during his team's training camp. "I have a clear goal, to achieve the biggest possible success and win the World Cup."
WORLD CUP PREVIEW
GROUP G
GERMANY
FIFA world ranking: 2.
Last World Cup: 2010.
Best World Cup finish: Three-time champion (1954, '74, '90).
How qualified: UEFA Group C winner.
It's a fact: Sparing no expense in its drive for a fourth World Cup title, Germany's soccer federation built its own training center in Brazil from scratch. It features more than a dozen two-story housing units, a soccer field, a media center and treatment facilities.
The skinny: About the only thing that figures to keep Germany from its third straight trip to the semifinals are injuries since a number of front-line players are banged up. But even at less than 100%, Germany is talented enough to go deep in the tournament. More worrisome is the weather. If Germany wins its group and advances to the final four, its semifinal will be played in Belo Horizonte, where the humidity is typically above 90% in early July.
GHANA
FIFA world ranking: 37.
Last World Cup: 2010.
Best World Cup finish: Quarterfinals (2010).
How qualified: Beat Egypt in CAF playoff.
It's a fact: Ghana has played in just two World Cups, and it eliminated the U.S. by 2-1 scores both times — in the group stage in 2006 and in overtime in a knockout-round game in 2010. That's not likely to happen this time because Ghana and the U.S. meet in their group-play opener.
The skinny: Ghana comes into this World Cup still smarting from the way the last one ended, with a quarterfinal loss in which Asamoah Gyan missed a penalty kick after Uruguay's Luis Suarez stopped what would have been a game-winning goal with his hand. Michael Essien, a box-to-box midfielder who missed the last World Cup because of injury, will be the key to Ghana's performance this time around. Gyan returns as the primary striker but he may not be the best Asamoah on the team since midfielder Kwadwo Asamoah was named the country's top player the last two years.
PORTUGAL
FIFA world ranking: 4.
Last World Cup: 2010.
Best World Cup finish: Third place (1966).
How qualified: Beat Sweden in UEFA playoff.
It's a fact: Cristiano Ronaldo, the world's best-paid soccer player, recently admitted he has no idea how much money he has. He probably has trouble keep track of how many cars he has, too; it's a considerable — and growing — collection that includes an Aston Martin DB9, a Bugatti Veyron, a Maserati, a Lamborghini, a Bentley, a Rolls-Royce, at least two Ferraris and multiple Audis.
The skinny: With the reigning world player of the year on its roster, Portugal has been mocked as "Cristiano Ronaldo and 10 other guys." There may be some truth to that, though, because with Ronaldo sitting out the team's final two World Cup warmups with knee and thigh problems, Portugal struggled through a scoreless tie with Greece and then needed a goal in stoppage time to beat Mexico. And even with Ronaldo it couldn't beat Israel in World Cup qualifying, twice playing to a draw. Despite being ranking fourth in the world, Portugal and Ronaldo both look vulnerable.
UNITED STATES
FIFA world ranking: 13.
Last World Cup: 2010.
Best World Cup finish: Third place (1930).
How qualified: CONCACAF winner.
It's a fact: When DaMarcus Beasley steps on the field in Brazil he will become the first U.S. player to appear in four World Cups.
The skinny: If the group goes to form, the most logical way for the U.S. to advance would be on goal differential after beating Ghana in its opener and then playing Portugal to a draw. U.S. Coach Juergen Klinsmann has already said getting to the second round would make this a successful World Cup for his team. The U.S. is solid in goal with Tim Howard and in midfield with Michael Bradley. But the backline is inexperienced at this level and up front the U.S. hasn't gotten a World Cup goal from a striker since Brian McBride scored in 2002.
SCHEDULE
June 16: Germany vs. Portugal in Salvador; Ghana vs. U.S. in Natal.
June 21: Germany vs. Ghana in Fortaleza.
June 22: U.S. vs. Portugal in Manaus.
June 26: U.S. vs. Germany in Recife; Portugal vs. Ghana in Brasilia.
Twitter: @kbaxter11
---
All about the beautiful game
Go inside the L.A. pro soccer scene and beyond in Kevin Baxter's weekly newsletter.
You may occasionally receive promotional content from the Los Angeles Times.