World Cup: World Cup Group A: Bob Bradley laid foundation for Egypt's first trip to World Cup in 28 years
Mohamed Salah was a quiet teenager who had made just one appearance for Egypt when Bob Bradley took over the country's national team in the summer of 2011.
Now Salah is Egypt's leading scorer among active players and the talisman on a team about to play in its first World Cup in 28 years. And he's not the only one whose career blossomed under Bradley, a former U.S. national team coach and the current Los Angeles Football Club manager who took Egypt to within a game of the World Cup in his only qualifying campaign there.
"Most of the players that are playing now, and the starting players, Mr. Bob is the first one who chose them," said defender Omar Gaber, who as one of those players unfailingly uses the honorific "mister" when referring to the coach.
But Bradley didn't just rebuild the Egyptian team, he saved it. And that, more than anything that happened on the field, is what made this World Cup visit possible.
Full coverage: 2018 World Cup »
During Bradley's two years in Egypt the country endured rebellion, revolution and a counter-revolution, with the promise of the Arab Spring giving way to a dark, cold winter. Every segment of Egyptian society was affected.
When the country's first-division league was shut down, taking the players' paychecks with it, Bradley took the national team on a barnstorming tour of the Middle East. When Egypt played its first competitive game for the coach, it did so in front of an empty grandstand behind the locked gates of a military stadium. Another home game was played on the road, also in an empty stadium.
Through it all the team persevered, became closer, became better.
But the coach did more than just coach the Egyptians. After the Port Said massacre, where 74 spectators were killed inside the stadium following clashes between rival fans, Bradley marched with the people in protest. After an accident involving a bus and train killed dozens of children, he mourned with their families. And the more he met with the families and victims of violence, the more he did to quietly raise money and support to help.
Bradley may have come to Egypt as a foreign-born manager, but he left with a far more important title.
"He's an Egyptian," said Hassan El Mestikaway, a well-known sports commentator.
Truth is, Bradley never should have been in Egypt in the first place. After a successful World Cup with the U.S. in 2010, he signed a four-year contract extension and seemed safe in the job until his team blew a two-goal lead and lost, 4-2, to Mexico in an emotional 2011 Gold Cup final.
Bradley was fired a month later and six weeks after that he was gone, agreeing to take over an Egyptian program that had made one World Cup since 1934.
On the field the timing was right. Egypt was beginning a soccer renaissance, having won the African Cup of Nations three times from 2006 to 2010 and only narrowly missed the World Cup after losing a playoff to Algeria. The country rebounded with a big performance in the U-20 World Cup, and the core of that roster – Salah, Gaber, Mohamed Elneny and Ahmed Hegazi – was about to move up to the senior team just as Bradley arrived.
Off the field, however, the timing couldn't have been worse. Nine months earlier, popular demonstrations had driven Hosni Mubarak from power, and violent, often deadly, street protests were soon to come. Bradley's players soon scattered
The coach's job was to restore normalcy and order, and Bradley did that, in part by getting his players to concentrate on the World Cup. If the country could survive a revolution, surely its national team could survive a little qualifying tournament.
United behind that goal, Egypt went on a stunning run, winning all six of its games to advance to a two-leg playoff, where it was stopped by Ghana, again one win short of the World Cup.
Bradley soon moved, coaching in Norway, France and England before taking over LAFC for its inaugural MLS season. But the team he left behind finally grabbed that elusive World Cup berth last year, and Salah, who became a national team regular under Bradley, broke the English Premier League scoring record this year while leading Liverpool to the Champions League final. (He sustained a shoulder injury in that game but is expected to play in Russia, where he'll be supported by Hegazi, Elneny and midfielder Ramadan Sobhi, all of whom also played in the Premier League.)
"Mr. Bob," said Gaber, who followed Bradley to LAFC, "did a great thing for Egypt. In this period the situation was not so good for football. A lot of problems. We had bad moments and bad situations. [But] we kept focused and we kept fighting.
"This generation, we have big ambitions, big dreams to achieve."
Bradley declines the credit, deflecting it to Argentine coach Hector Cuper, the man who finally got Egypt over the World Cup finish line. But he feels pride.
"During a very difficult time in the country, we always tried to be strong and united in our work together," he said. "For me those experiences mean a lot. And when I see these guys, so many of them now having a chance to play in the World Cup, I'm so proud of all of them."
A look at the four teams that make up Group A in the Russia 2018 World Cup.
EGYPT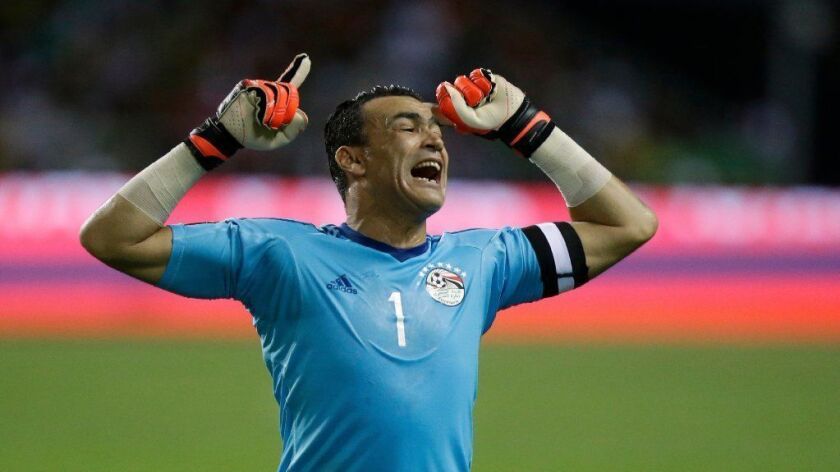 FIFA world ranking: 46
Last World Cup: 1990
Best World Cup finish: 13th, 1934
How qualified: Won African qualifying group
Key players: F Mohamed Salah, MF Mohamed Elneny, D Ahmed Hegazi
It's a fact: If 45-year-old goalkeeper and captain Essman El-Hadary, who has appeared in more matches than any other active Egyptian player, takes the field in Russia he would be the oldest man to ever appear in a World Cup game.
The skinny: Without Salah, Egypt doesn't have a chance of getting out of the group stage and his availability for the June 15 opener against Uruguay remains in doubt after he suffered a shoulder injury in last month's Champions League final. Egypt will strike a defensive posture in Russia even with the Liverpool forward, who broke the EPL scoring record this season with 32 goals. But if Salah can provide the difference in narrow wins over Russia and Saudi Arabia, a spot in the second round is possible.
RUSSIA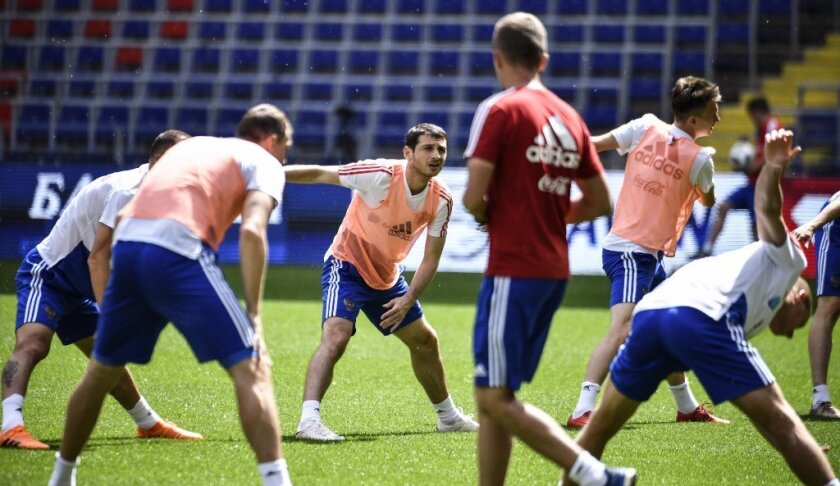 FIFA world ranking: 66
Last World Cup: 2014
Best World Cup finish: Group stage, three times
How qualified: Host nation
Key players: GK Igor Akinfeev, F Fyodor Smolov, MF Alan Dzagoev
It's a fact: An 18-month investigation into possible doping violations against Russia's entire World Cup roster was closed last week because of "insufficient evidence," clearing the way for the team to play in the tournament it is hosting.
The skinny: Only one host — South Africa in 2010 — has failed to advance out of group play, an ignominy Russia hopes to avoid. Whether it is successful will be determined by an aging defense recently bolstered by center back Sergei Ignashevich, 38, who came out of retirement for the World Cup to replace the injured Ruslan Kambolov, and the creativity of forward Fyodor Smolov. The group-play final against Egypt probably will determine Russia's fate in the tournament.
SAUDI ARABIA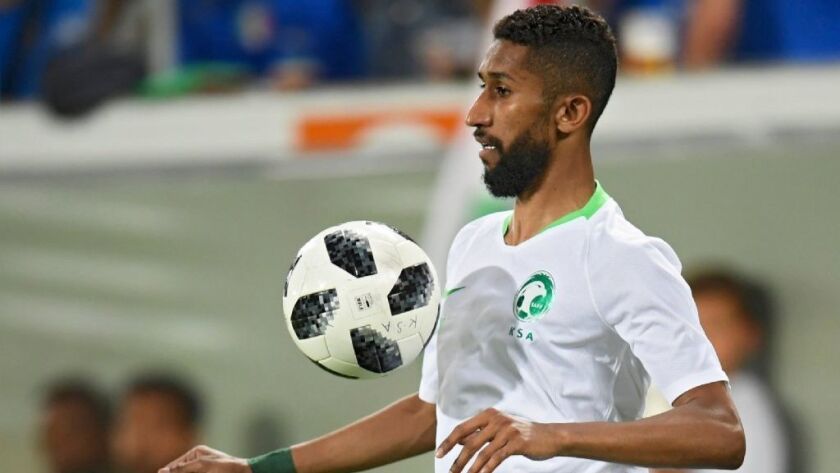 FIFA world ranking: 67, tie
Last World Cup: 2006
Best World Cup finish: Round of 16, 1994
How qualified: Runner-up in Asian qualifying group
Key players: D Osama Hawasawi, F Mohammad Al-Sahlawi, MF Yahaya Al Shehri
It's a fact: The Green Falcons will be playing in their fifth World Cup but haven't won a game since their debut in 1994 and have been outscored 26-4 over than span.
The skinny: At No. 67, Saudi Arabia is the lowest-ranked team in the World Cup and the Green Falcons come to Russia playing for their third manager in 10 months: Juan Antonio Pizzi. Few of Pizzi's players have experience at a top level, with all but two coming out of the domestic Saudi Pro League. Despite all that the adventurous Saudis will attack — though that isn't necessarily a good thing since playing off the front foot will leave a weak defense even more exposed. Saudi Arabia should consider the World Cup a success if it manages to get a point.
URUGUAY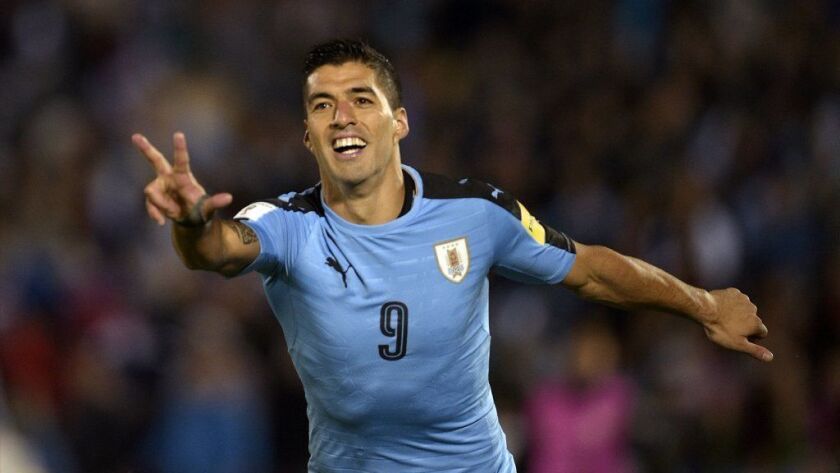 FIFA world ranking: 17
Last World Cup: 2014
Best World Cup finish: Champion, 1930, 1950
How qualified: Runner-up in South American qualifying
Key players: D Diego Godin, F Luis Suarez, F Edison Cavani
It's a fact: With a population of less than 3.5 million, two-time champion Uruguay is by far the smallest country ever to win a World Cup.
The skinny: Uruguay is stacked up front with Suarez and Cavani, who combined for 53 goals for league champions Barcelona and Paris Saint-Germain, respectively. Plus it has an experienced leader on defense in captain Diego Godin. Yet how deep Uruguay goes in the World Cup could be determined by the team's young but exceptional midfield. Coach Oscar Tabarez's style is to cede possession and play for the counterattack, although Uruguay is so far superior to the rest of this group that its style could change here, at least in the first round.
SCHEDULE
June 14: Russia vs. Saudi Arabia in Moscow.
June 15: Egypt vs. Uruguay in Yekaterinburg.
June 19: Russia vs. Egypt in Saint Petersburg.
June 20: Uruguay vs. Saudi Arabia in Rostov-on-Don.
June 25: Uruguay vs. Russia, Samara; Saudi Arabia vs. Egypt, Volgograd
kevin.baxter@latimes.com | Twitter: @kbaxter11
---
All about the beautiful game
Go inside the L.A. pro soccer scene and beyond in Kevin Baxter's weekly newsletter.
You may occasionally receive promotional content from the Los Angeles Times.