Analysis: Argentina's lack of talent and philosophy are making it nearly impossible for Lionel Messi to succeed
Even before the start of the World Cup, the photographs invited mockery.
There was a picture of Lionel Messi gazing into the distance with his right hand on the back of a goat. Another of Messi cradling a kid goat in his arms.
The theme of the Paper magazine shoot and accompanying 2,000-word article was that Messi was soccer's G.O.A.T. — greatest of all time.
As if it wasn't bad enough that his performance in this World Cup has contradicted the publication's assertion, chief rival Cristiano Ronaldo has passive-aggressively mocked him by growing a goatee and stroking his chin when scoring.
Ronaldo has scored four times in his first two games of this competition and Portugal can advance to the round of 16 with a tie against offensively deficient Iran on Monday. Messi is yet to score and his tournament will be over unless Argentina defeats Nigeria on Tuesday and Iceland fails to beat already-advanced Croatia.
From jerseys to star players: A novice's guide to World Cup teams »
The disparate positions of the generation's two best players reflect not their respective abilities — Messi is the better player, period — or even that of the players around them. Neither has noteworthy support.
What is noticeably different are the mindsets of their teams. Portugal knows what it is. Argentina doesn't, which explains the reports about players revolting against coach Jorge Sampaoli.
Sampaoli has been criticized for everything from the team's lack of rhythm to his substitution choices, but his greatest failure has been his inability to bestow the team with a sense of identity and purpose.
Whatever their shortcomings, the teams on which Diego Maradona played in the 1986 and 1990 World Cup tournaments had that. The freedom coach Carlos Bilardo granted Maradona was offset by pragmatism in almost every other part of the field. Maradona's job was to win games; his teammates' was to not lose them. The strategy could produce soccer that bordered on unwatchable, as was the case when Argentina was the tournament runner-up in 1990, but it was effective.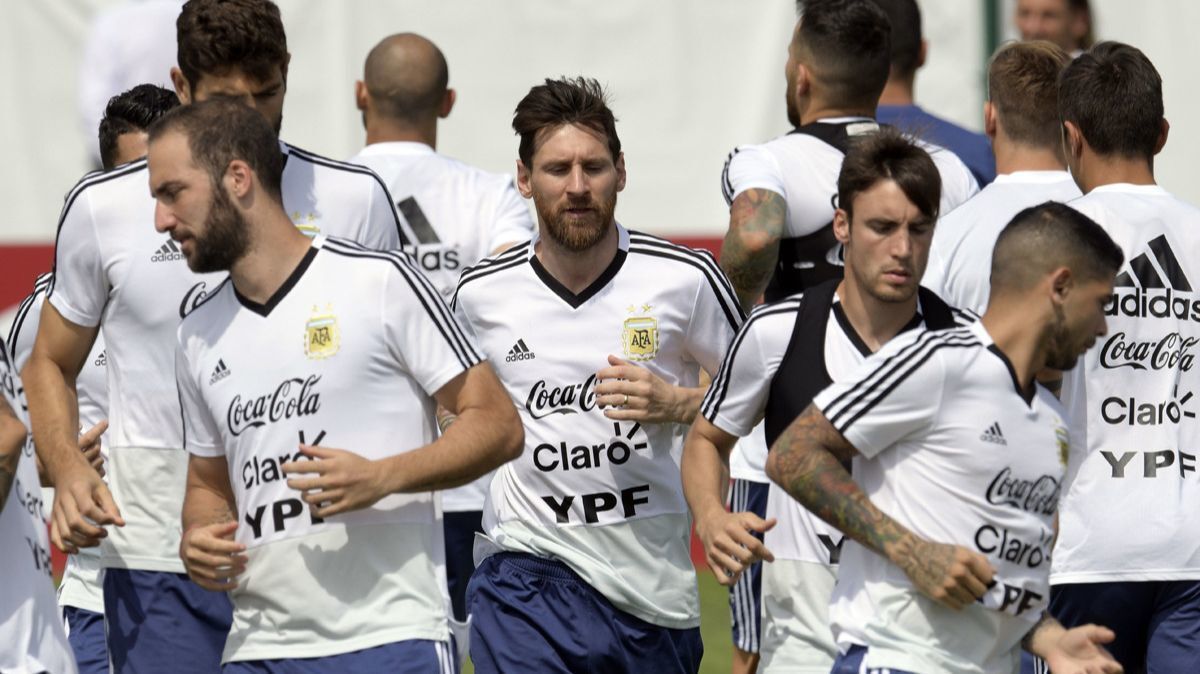 Argentina had some of its most well-rounded teams in the era that immediately followed Maradona's. Argentina continued to play with a No. 10 — the jersey and role inherited by Ariel Ortega, Juan Roman Riquelme and Messi — but started to think of itself as more than a one-man team. The country is as imprisoned by the memories of those teams as it is by its visions of Maradona.
The Argentina of today doesn't have top-to-bottom talent necessary to gradually build an attack from the back as it did then, but it continues to try. Nor will it revert to Bilardo's cynical tactics. What remains is a team that is neither here nor there and that does little more than wait for Messi to magically create the identity it lacks.
Compare that to Portugal. Ronaldo's team has no illusions about what it is. It makes no attempt to play attractively, content as it is to sit back, absorb pressure and take whatever goals Ronaldo can provide. The Portuguese played like that not only in their tournament-opening tie with heavily favored Spain, but also in its victory over underdog Morocco.
Portugal had a similar mentality when it won the European Championship in 2016. The triumph was the most significant of Ronaldo's international career, but Ronaldo wasn't on the field for the crowning moment, as an injury forced him to the bench only 25 minutes into the final against France. Portugal won 1-0 in overtime. Portugal played to not lose and didn't. The team is doing that again.
As unlikely as Ronaldo is to lift the most coveted trophy in sports, his path there is considerably less perilous than Messi's. Messi has to compensate for more than the shortage of talent around him. He has to make up for the team's lack of a philosophy as well.
::
Mexico coach Juan Carlos Osorio could be to this World Cup what Louis van Gaal of the Nertherlands was to the previous edition of the tournament. Van Gaal's ability to adjust on a game-by-game basis resulted in a Dutch team with modest expectations reaching the semifinals of the 2014 competition, where it fell to Argentina in a penalty shootout.
Two weeks into this World Cup, no team has shown as much tactical flexibility as Mexico. In their tournament-opening victory over Germany, the Mexicans prevented their possession-oriented opponents from playing through the middle of the field, and exploited their eagerness to go forward with effective counterattacks.
Mexico had to play an entirely different game against South Korea on Saturday, as it had the ball for the majority of the game and had to break down a defensively inclined team in a traditional 4-4-2 formation. Mexico pressed high but also maintained the right amount of space between its midfield and defensive lines, which forced South Korea to play balls over the top. Whenever a Korean attacker managed to collect the ball, he was often isolated.
::
The only teams that have shown consistent offensive firepower have been Belgium, England and Russia. It's no coincidence they have faced some of the weakest teams in the tournament.
Twitter: @dylanohernandez
All about the beautiful game
Go inside the L.A. pro soccer scene and beyond in Kevin Baxter's weekly newsletter.
You may occasionally receive promotional content from the Los Angeles Times.