World Cup: World Cup's knockout phase gives teams a second chance at greatness
Reporting from MOSCOW —
Roberto Martinez believes the best way to win a World Cup is to have won one before.
"To be a favorite in a World Cup you need to have the know-how of winning a World Cup or have a reference of a previous generation that won the World Cup," the Belgian coach said. "So for me there's only five nations that [have] that."
That's good news for Brazil, France, Spain and Argentina, who have all won World Cups since 1986 and have made it to the knockout phase in this summer's tournament.
Not so much for the likes of Mexico, Belgium, England and Croatia, who have all impressed in Russia but fail the Martinez litmus test.
This could be the World Cup that breaks that model though. Germany, after all, brought nine players and a coach to Russia from the team that won a World Cup four years ago and that didn't help; Die Mannschaft was shut out twice and finished last in its group.
Among those who went through instead? Russia, who had never advanced out of group play. If anyone expected this World Cup to play out as predicted, they gave up on that idea long ago.
So now that the tournament is half over and the field is half gone, it's time to look back at what's happened and ahead at what's to come.
Ten European nations reached the round of 16, the most for a single confederation since 1990. Four South American teams have also advanced, plus Mexico and Japan.
For the first time since 1982, no African team made it out of group play.
But if the tournament was unkind to Africa — its final team was eliminated Thursday on a yellow-card tiebreaker — it's been great for fans, with half of the 48 group-stage games being decided by one goal. Nine others ended in a draw.
Nine of the 16 teams in the knockout round are unbeaten while three — Croatia, Uruguay and Martinez's Belgium — are unbeaten and untied.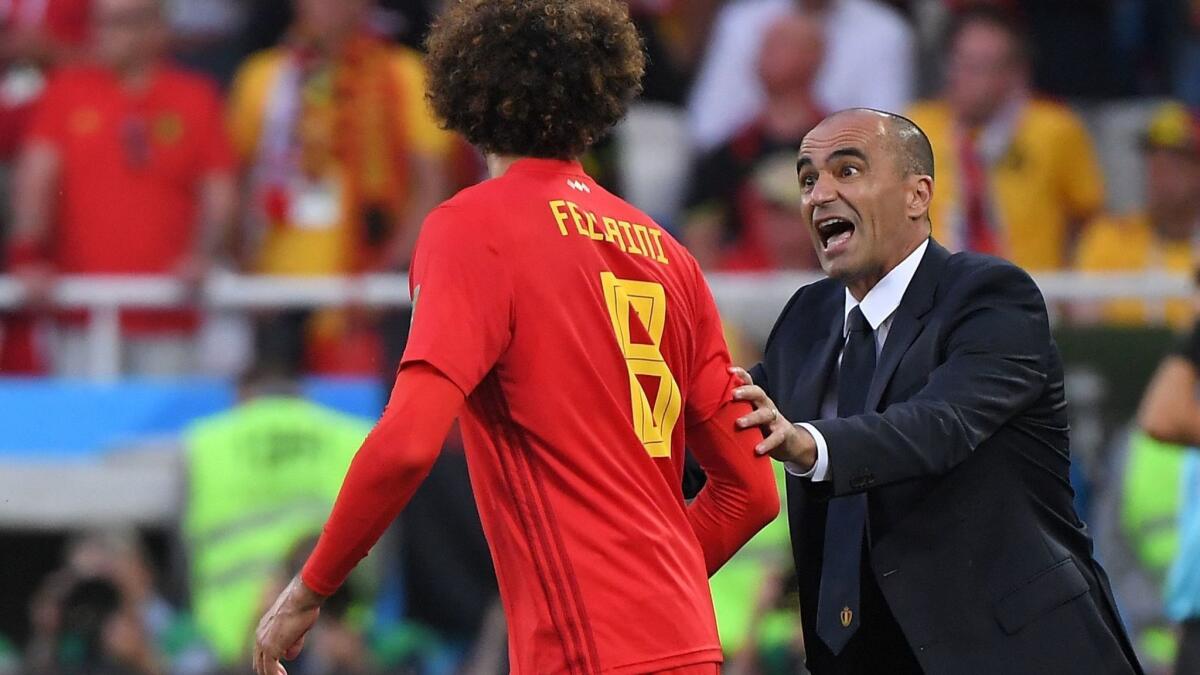 Belgium has scored a tournament-high nine goals, Uruguay hasn't allowed any.
Mexico, meanwhile, is chasing history of a different sort. El Tri has reached the round of 16 in seven consecutive World Cups, only to lose the last six times. Mexico, which has never won a World Cup elimination game outside its borders, did itself no favors this time by losing its final game of the group stage, 3-0 to Sweden.
By finishing second, Mexico will now open the round of 16 against Brazil rather than Switzerland. And its side of the bracket now includes France, Argentina, Portugal, Belgium and Uruguay rather than Denmark, Russia and Colombia.
Then there's Japan who, along with host Russia, is the most surprising survivor of the first round. Japan came into the tournament lightly regarded and with a new coach, Akira Nishino, whose first competitive game on the international level was Japan's World Cup opener with Colombia.
It won that, becoming the first Asian team to beat a South American side in a World Cup. Japan then became the first team to advance out of group play through a newly implemented tiebreaker, fewest yellow cards.
Russia and Japan are the only remaining Cinderellas, though. The rest of the final 16 is heavy with the usual suspects France, Spain and Brazil, who have combined to win three of the last five titles. All three made it through group play unbeaten, although all three had scares along the way and none can afford a similar lapse now. France faces Argentina in its first elimination game while Spain gets Russia and Brazil takes on Mexico, which has already beaten one former champion in this tournament.
Then there's Cristiano Ronaldo and Portugal, which faces unbeaten and unscored-upon Uruguay next.
In the European Championships two years ago, Portugal didn't win a group-play game, advancing to the second round on the strength of three draws. It then ran the table, winning its next four — three in overtime or on penalty kicks — to win its first major international title.
A team like Portugal, comfortable playing under pressure, could do well in the elimination rounds where the margin for error is gone and every mistake is magnified. Perhaps that's what Martinez was talking about when he said nothing in a World Cup is more important than the experience of having been there before.
"The World Cup is something that probably gives you an advantage psychologically when you've won it before," he said. "You've got a direction of someone, a generation that has won it before in your nation."
But there's always room for somebody looking to do it for the first time.
kevin.baxter@latimes.com | Twitter: @kbaxter11