Mexico's passionate fans flood Russia for World Cup and make a lot of <i>amigos</i> along the way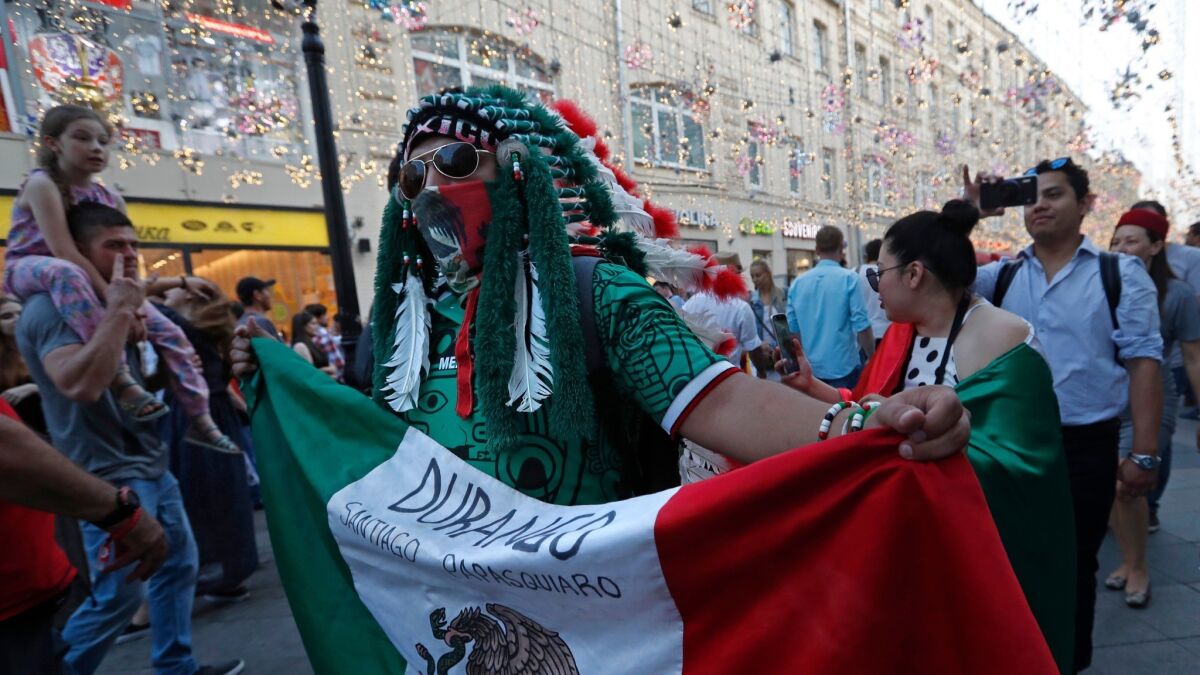 Reporting from SAMARA, Russia —
All Jovan Ochoa and Sergio Pulido wanted to do was have a beer and watch the World Cup with a couple of thousand other soccer fans.
But the two friends from Guadalajara, wearing sombreros and Mexican jerseys while toting their country's tricolor flag, could make only halting progress across the huge plaza hosting the FIFA Fan Fest in Samara, where Mexico plays Brazil in the round of 16 on Monday.
"Amigos! One photo please," Russians shouted in heavy accents as they rushed the pair in waves.
"Since we got here it's been like this. Everywhere," Pulido sighed as he smiled for another person with a cellphone camera.
"I think it's because we bring a really good vibe," Ochoa added in Spanish. "We bring happiness, a good feeling. We bring the real Mexico."
Much of Russia has become inundated with Mexican fans over the last three weeks and the locals, who tend to see life through a much darker lens, have been quick to welcome them, fascinated by both their number and their passion.
"The Mexicans are having the most fun," said Alyona Elisaeva, who works at a small cafe on Nikolskaya Street, the pedestrian promenade leading into Moscow's Red Square. "I am surprised that there are so many of them. It seems like a long way to travel."
Nearly 7,000 miles, in fact. Yet more than 60,000 World Cup tickets were sold in Mexico and tens of thousands more were bought by Mexican supporters in the U.S. As a result, Mexico played before sold-out stadiums in all three of its group-stage games, where the crowds were a sea of green jerseys. The players couldn't help but notice the support.
"Since the anthem started, everybody knew who the home team was," goalkeeper Guillermo Ochoa said. "The people are always here with us. They do everything possible to be with us, they pay any price."
That price can be steep. David Carranza, a 29-year-old Mexican-American from Phoenix, said his budget for the World Cup was $10,000, one he's managed to maintain by staying in youth hostels and using Airbnb. The only thing he's splurged on is game tickets, buying a hospitality package that includes prime seats and other amenities for $850 a match.
Others came without tickets, content to just drink up the atmosphere — and the beer — with other fans outside the stadiums.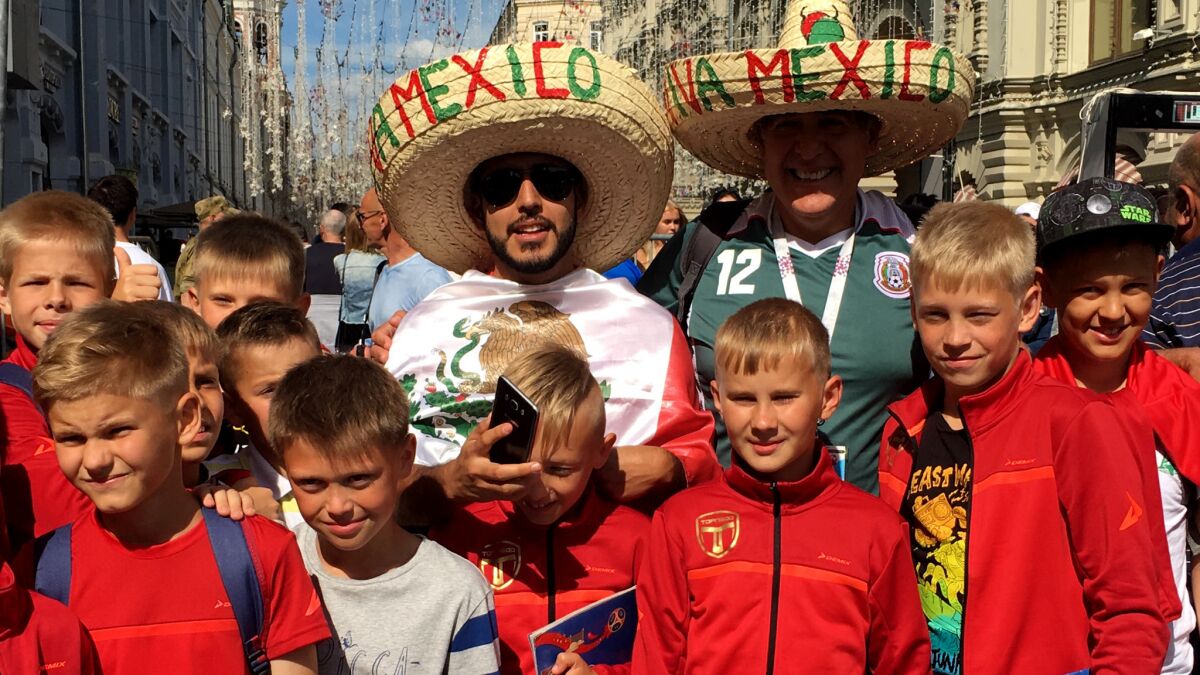 Carranza said he grew up largely unattached to his Mexican roots and didn't begin to appreciate them until he became a teenager and people began ridiculing him for his ancestry.
"They basically tell you you're not American," said Carranza, who came to the U.S. from Mexico at 5 and became a legal resident 10 years ago. "I think it creates a conflict for a lot of Mexican Americans. I knew I was born in Mexico but I didn't know Mexico. I didn't have anything that tied me to it."
Then some friends introduced him to soccer.
"The Mexican team is that one thing that links me to my Mexican heritage," said Carranza, a training supervisor for Amazon. "The passion I feel for the Mexican team, I'm proud to be Mexican. The Mexican national team is the one thing that's mine."
Carranza, who brought six Mexican jerseys with him, said he too drew attention when he wore them in the four Russian cities he visited.
"People walking down the street [say] 'photo, photo?'" said Carranza, who has had several Russians try to barter with him for a Mexican jersey. "In Yekaterinburg, we were walking to the stadium through this busy highway and all you heard was 'beep, beep, beep.' I almost felt like I was [in] a parade."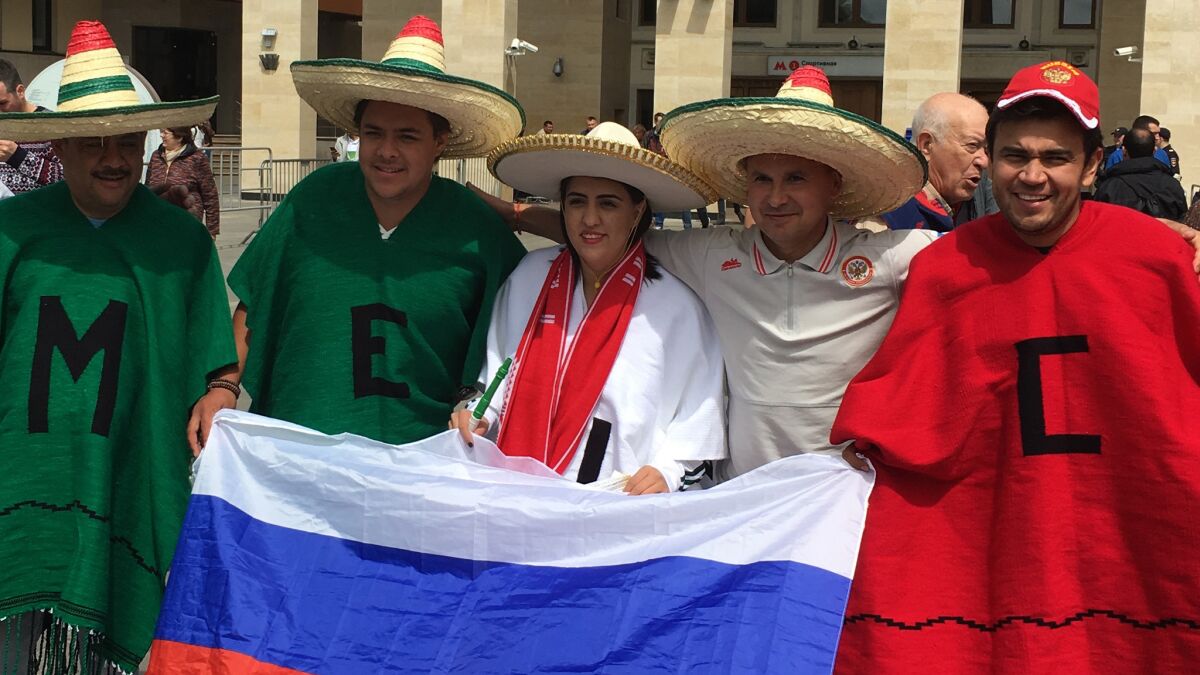 The Russians have become so fascinated with the Mexicans and their culture that the Mexican tourist agency was given permission to hold a Day of the Dead celebration in Red Square last week, one that was to include mariachis and a midday procession past Vladimir Lenin's mausoleum.
A member of the Communist Party warned a "parade of skeletons" past the embalmed body of the revolutionary leader could provoke ultra-nationalists, so the event was quietly pushed back seven hours and held inside a building up the street.
"My son really wanted to meet some of the Mexicans," said a disappointed Anya Kozinets, who brought her grade-school-aged boy Vova to Red Square, only to find the festivities had been canceled. "He likes the Mexican hats. I'm trying to find him one."
That shouldn't have taken long. If the ushanka, a flapped wool cap, is the traditional hat of the Russian winter, the ubiquitous sombrero has become the official headwear of the World Cup.
"It's because the Mexican people bring a lot of ambience with them," Carlos Eduardo Mendoza, a fan from Jalisco in Samara for Monday's game, explained in Spanish. "We're very passionate, very happy. With football, we're all united. We forget everything else."
The Russians won't forget them anytime soon.
kevin.baxter@latimes.com | Twitter: @kbaxter11
---
All about the beautiful game
Go inside the L.A. pro soccer scene and beyond in Kevin Baxter's weekly newsletter.
You may occasionally receive promotional content from the Los Angeles Times.