World Cup: Mexican soccer federation fined for discriminatory chants at World Cup
Reporting from moscow —
The Mexican soccer federation was fined $10,000 for "discriminatory and insulting chants" during Sunday's World Cup game against Germany.
FIFA also is considering further action against fans who take part in the chant. A source told ESPN's Rene Tovar that if the chants continue during matches, stadium security would begin to identify and remove the offending fans from the stands.
FIFA, under pressure to stop racist and anti-gay activity in Russia, is using a new anti-discrimination procedure for the World Cup. Under the procedure, referees are instructed to stop the game for an announcement on the public-address system when discriminatory behavior is seen or heard. If it continues, the official can suspend the game, and then abandon it if the behavior persists.
That procedure was not used after the anti-gay slur was chanted Sunday.
Full coverage of the 2018 World Cup »
Mexico striker Javier "Chicharito" Hernandez, one of the team's most popular players, called on his country's fans to stop their anti-gay chanting, arguing it could lead to further fines from FIFA.
Hernandez posted a message on Instagram on Wednesday asking fans to end the derogatory chants.
"To all Mexican fans in the stadiums, don't shout 'pu -- ," Hernandez said. "Let's not risk another sanction."
The Mexican soccer federation has been repeatedly been fined over fans' anti-gay chants but the sanctions haven't escalated. The federation and players previously have urged fans to stop the chant through public statements but that has proven unsuccessful.
Serbia also was fined $10,000 on Wednesday over its fans' "offensive and political" World War II-era banner at the team's 1-0 win over Costa Rica. Serbia has had problems with far-right nationalist fans in the past.
Burger King apologizes
Burger King has apologized for offering a lifetime supply of Whoppers to Russian women who get pregnant by World Cup players.
Critics assailed the offer, announced on Russian social media, as sexist and demeaning.
The announcement was removed Tuesday from Burger King's social media accounts but was still circulating among Russian social network users. It promised a reward of free burgers to women who get "the best football genes" and "ensure the success of the Russian team for generations to come."
In a statement to the Associated Press, Burger King said, "We are sorry about the clearly offensive promotion that the team in Russia launched online." It said the offer "does not reflect our brand or our values and we are taking steps to ensure this type of activity does not happen again."
Ads in Russia often play on sexist stereotypes, notably ads around sporting events like the World Cup. Women's rights activists have been increasingly speaking out against them.
Spirits high and low
The World Cup is in crisis. Russia is running dry.
Parts of the nation's capital were apparently unprepared for the throngs of fans that have descended on its restaurants and pubs. As a result, supplies of beer and spirits such as vodka and whiskey are getting dangerously low.
"We just didn't think they would only want beer," a waiter at an upscale downtown restaurant told Reuters. "There are really a lot of people in Moscow ... and they are all drinking. It's hot, and it's football."
That restaurant ran out of draft beer Monday; restocking is taking longer than usual because suppliers' stocks are also running out.
Beer sales in Russia have fallen by around a third in recent years as duties have risen and rules have been tightened on sales and advertising. Brewers had not been expecting a major reversal of the trend this year even with the World Cup.
Blatter makes an appearance
Despite being banned by the organization he headed for 17 years, former FIFA president Sepp Blatter attended Wednesday's Portugal-Morocco game as a guest of Russian leader Vladimir Putin. Both did essential work to help ensure Russia won the tournament hosting rights eight years ago.
The public appearance is the first for Blatter, 82, outside his native Switzerland since July 2015, two months after American and Swiss investigators unsealed sweeping investigations of corruption and bribery linked to international soccer and marketing officials, including some FIFA vice presidents. He announced his intention to resign days later and is banned from official soccer duty until October 2021 for financial misconduct during his rule.
But the FIFA ban doesn't prevent him from attending games. He also plans to see Brazil play Costa Rica in St. Petersburg on Friday.
Royal visit
Japanese princess Hisako Takamada attended her country's upset win over Colombia on Tuesday in Saransk, becoming the first member of Japan's royal family to visit Russia in more than a century. The princess is expected to attend Japan's next two group stage matches against Senegal and Poland.
Russia and Japan have been locked in a territorial dispute over four contested islands, which the Soviet Union took at the end of World War II. It has kept the two nations from signing a peace treaty formally ending their hostilities.
Concussion concern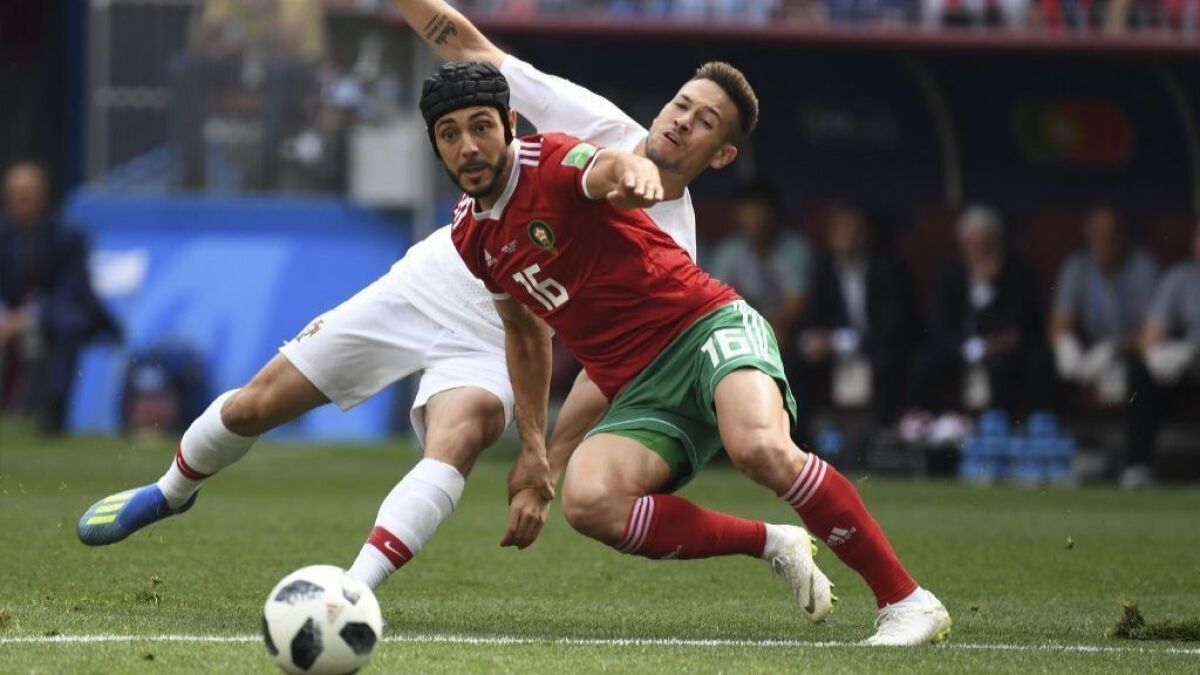 Noureddine Amrabat can't remember his first World Cup match even though he was playing in it.
"Five, six hours, gone. Totally gone," the Morocco midfielder said of the concussion sustained when he collided with Iranian midfielder Vahid Amiri in his team's opening match. "When you think about it, it is a little bit scary."
Five days after a clash of heads sent him to hospital for a brain scan and 24 hours of medical supervision, Amrabat was back in the lineup Wednesday and played the entire match in a 1-0 loss to Portugal, in defiance of FIFA guidelines and his team doctor.
The players' union, FIFPro, was highly critical of what it called "yet another alarming example of a player being put in harm's way."
Despite having expressed shock about Morocco's initial pitch-side treatment of Amrabat's concussion last Friday — the apparently dazed player was sprayed with water and slapped on the face, seemingly to wake him from his stupor — FIFA absolved itself of any responsibility in the team decision to field him again so quickly. Amrabat wore a padded skull cap in warmups and the first 15 minutes of the match but took it off because he was too hot.
After the initial concussion diagnosis, Morocco team doctor Abderrazak Hefti had said Amrabat wouldn't even train for a week. But the player said that he overruled the physician.
Jolted by criticism of concussion cases at the 2014 tournament , FIFA introduced guidelines intended to provide players with better protection and give team doctors more authority. Moroccan team officials appeared to ignore the guidelines. FIFPro said Amrabat shouldn't have played again so soon.
The Associated Press contributed to this report.
kevin.baxter@latimes.com | Twitter: @kbaxter11
All about the beautiful game
Go inside the L.A. pro soccer scene and beyond in Kevin Baxter's weekly newsletter.
You may occasionally receive promotional content from the Los Angeles Times.