Number of black players at World Cup is way up, but there's only one black coach
Reporting from moscow —
Senegal's Aliou Cisse is the only black coach at this year's World Cup and he says more must be done to create opportunities for others to follow in his path.
"In European countries, in major clubs, you see lots of African players. Now we need African coaches for our continent to go ahead," Cisse, speaking through an interpreter, said at a news conference.
The percentage of black players in this year's tournament and playing for clubs in the world's top leagues has soared while the number of black coaches has not come close to keeping pace. According to figures compiled by the BBC, more than one in four players in England's top four professional leagues last season were black, but only three of the 92 clubs had a black or minority ethnic manager.
In the top-tier Premier League, Brighton's Chris Hughton was the only black manager to last a full season.
The dearth of black managers is not new. Since the World Cup expanded to 32 teams in 1998, the BBC said, only seven black managers have coached in the tournament. Eight years ago, when the World Cup was held in Africa for the first time, there were none.
"We can play, but not lead. Maybe the black man is only made to execute," Florent Ibenge, the Democratic Republic of Congo coach, complained to Agence France-Presse.
Cisse, however, cited Ibenge's four-year stay with the Congo team as a sign of progress.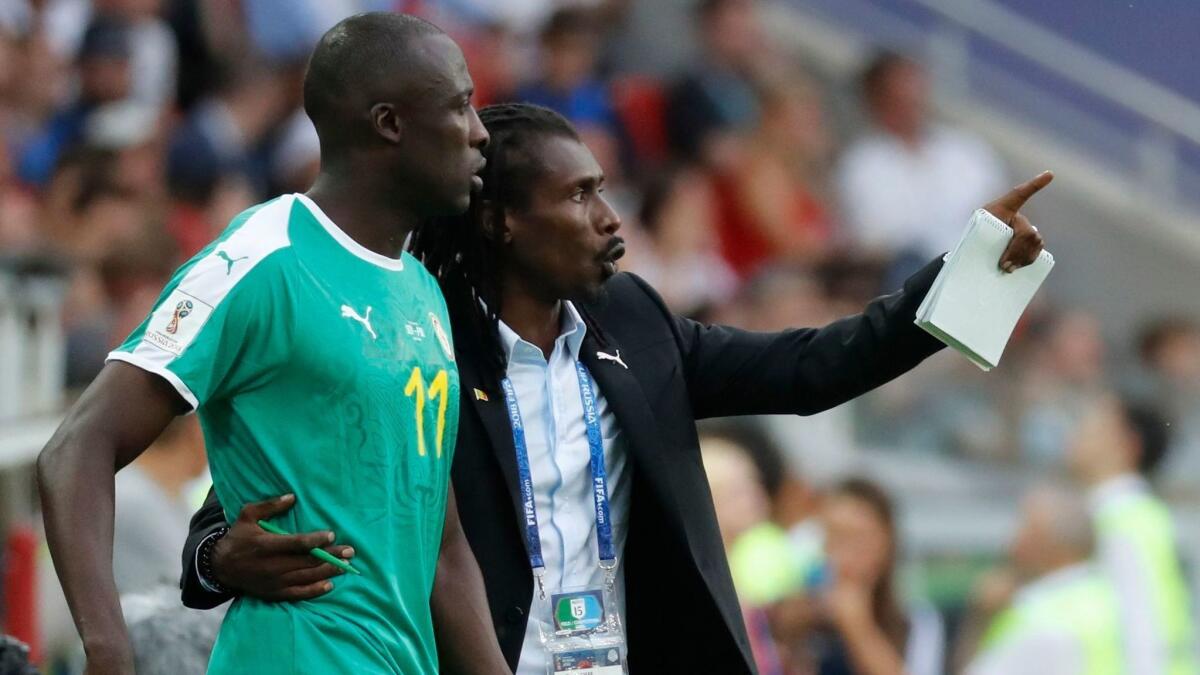 "I think we have a new generation that is working, that is doing its utmost," Cisse said. "We are very good in our tactics, and we have the right to be part of the top international coaches."
Unfriended in Russia
When Senegal meets Japan on Sunday in Yekaterinburg, it will mark an on-field reunion for former teammates Sadio Mane and Maya Yoshida. And Yoshida insisted on keeping it that way — on the field.
Mane and Yoshida played together with Southampton in the English Premier League and were inseparable, Mane said.
"We were always together. We were training in the gym together, we were chatting every day," Mane said Saturday through an interpreter. "We have an excellent relationship."
But when Mane asked his former teammate if he wanted to meet with him in Russia, the answer from Yoshida was clear: No.
"That's fine, he's a good guy," said Mane, who smiled throughout the news conference. "I appreciate he's very professional. I know he's doing everything he can to beat me, but I also will do the same on my side."
Solidarity in sorrow
There are more Arab teams — four — in this World Cup than in any previous tournament, yet the quartet has combined to lose all eight of its games through the first two rounds of group play.
After the latest loss, Belgium's 5-2 rout of Tunisia on Saturday, coach Nabil Maaloul said through an interpreter that he felt "the eyes of the Arab world" were on his team. As if to accent the point, several Algerian and Palestinian flags were hung inside Spartak Stadium.
"We did not disappoint the Arab world. We did not give up on our Arab fans," Maaloul said. But he did say changes must be made if Arab soccer is to progress — and even then, he said, it will take time.
"We have common problems," he said. "I think we need to change our lifestyle, because it is not in line with high-level football. We need to change the way we train.
"I am not giving up, but I think we need two more generations to reach the required level of performance. In terms of fitness and physical strength, we are far from a high level. We need to have players who are professional at a very young age, 12 or 13, to improve their performance at a later stage."
The Associated Press contributed to this report.
Twitter: @kbaxter11