Women's World Cup notes: U.S. felt at home before raucous crowd in Paris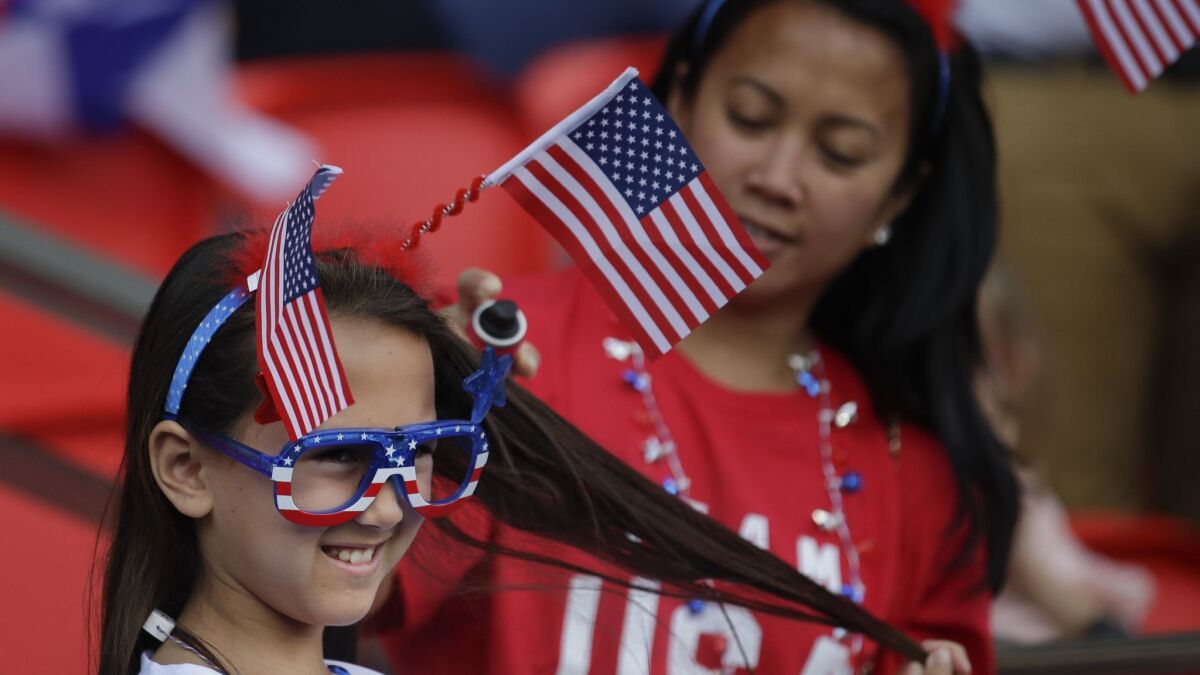 Reporting from Paris —
The game was in France. But the crowd? Well, it felt a lot like Kansas City.
Parc des Princes, on the edge of Paris, was sold out Sunday for the second time in 10 days for the Women's World Cup. The first time, the crowd came to see France in the opener. This time, it came to see the Americans.
With Sunday's attendance announced at 45,594, the Americans drew about 330 more people than the host team did.
"It was amazing," said captain Carli Lloyd, whose two goals lifted the U.S. to a 3-0 win over Chile. "For me, being part of four World Cups, just to see the growth, it's unbelievable. We're in France, and we feel like we had a home game.
"Great day at the office."
The U.S. had a near-sellout for its first game — a 13-0 rout of Thailand on Tuesday at tiny Stade Auguste-Delaune in Reims. But Sunday's crowd, in a larger stadium, was more than twice as big — and more than twice as loud.
"It's so fun to be able to come to a different country and just see how broad our fan base is," said defender Tierna Davidson, who assisted on two goals. "You go out there and you hear a couple of U.S. chants and you see all the flags waving around. And it does make you feel at home, which I think make us feel more comfortable."
Sign up for our weekly soccer newsletter »
The trend is likely to continue. FIFA said earlier in the tournament that it had allocated the majority of tickets distributed — 460,748 — to French fans. After that, more tickets were allocated to Americans — 130,905 — than the rest of the world combined.
England ranked rank third with 29,307 tickets
"The fans that have traveled, and what they create for us in terms of support for our players, it's magnificent," U.S. coach Jill Ellis said. "They had to travel a long way and I'm sure at a lot of expense."
Chilean keeper stars in loss
It isn't often a goalkeeper gives up three goals and is named the player of the match. But Chile's Christiane Endler was a popular choice for the prize Sunday.
Endler, a Paris Saint-Germain keeper who was voted the best goalie in France last season, put on a remarkable performance in the second half. She finished with six saves, most coming on spectacular plays.
"Endler was fantastic," Ellis said. "She's a world-class goalkeeper and one of the best shot-blockers I've ever seen."
U.S. midfielder Morgan Brian agreed, saying Endler "had a great game."
Endler didn't even think it was her best performance of the last week. In Chile's opener Tuesday against Sweden, she kept the game scoreless until the 83rd minute in a 2-0 loss.
"I had a better game against Sweden," she said in Spanish. "I'm happy for the way I played [Sunday], but I'm sad for the loss."
After Lloyd's second goal in the 35th minute, Endler blanked the U.S. for more than an hour, including stoppage time.
Coming of age
Lloyd's two goals against Chile not only made her the first player to score in six consecutive World Cup games, breaking a record set in 2003, but it also made her, at 36 years and 11 months, the oldest player to have a multiple-goal game in a World Cup.
Brazil's Cristiane (34 years, 25 days) set the previous record last week with a hat trick against Jamaica.
Lloyd has scored nine times in her last six World Cup games, which includes her hat trick in the first 16 minutes of the 2015 World Cup final, in which the U.S. beat Japan 5-2.
Meanwhile, the 20-year-old Davidson became the youngest U.S. player to start a Women's World Cup game in 24 years. She's also the sixth player under the age of 21 to start in a World Cup, joining a select group that includes Julie Foudy, Kristine Lilly and Mia Hamm.
Ellis said Davidson plays beyond her years.
"You don't look at Tierna with an age," she said. "She's a very calm, cool customer."
Ellis proved her trust in Davidson by having her take the U.S. corner kicks from the right side, and the Stanford product thanked her by helping turn two of the corners into goals.
"She's got one of the sweetest left foots I've ever seen," Ellis said. "She can open up a game with the left foot."
kevin.baxter@latimes.com | Twitter: @kbaxter11
All about the beautiful game
Go inside the L.A. pro soccer scene and beyond in Kevin Baxter's weekly newsletter.
You may occasionally receive promotional content from the Los Angeles Times.