World Cup: Ramadan leaves Muslim World Cup players facing a tough choice
Reporting from MOSCOW —
Omar Gaber made two commitments before leaving Egypt for Russia and the World Cup on Sunday. One was to his country, which hasn't seen its national team play on soccer's biggest stage in 28 years. The other was to his faith.
"To make the Egyptian people happy, this is the most important thing," he said.
But it's not the only thing. And with Islam's holy month coinciding with preparations for the World Cup, being true to both faith and fans hasn't been easy for Gaber who, like all the players on the Egyptian team, is a devout Muslim.
Full coverage: 2018 World Cup »
During Ramadan, which ends Thursday, the day the World Cup begins, adult Muslims are required to observe a sunrise-to-sunset fast during which they must refrain from food and water.
Fasting during the holy month is one of the five pillars of Islam and a form of submission to a higher authority. But abstaining from food and water can also make training sessions especially difficult, leaving players both weakened and dehydrated.
And that's an issue for more than 100 World Cup players from six Muslim-majority nations. However Ahmed Soboh, chair of the Islamic Shura Council of Southern California, said how each observes the holy month can be as different as the players themselves.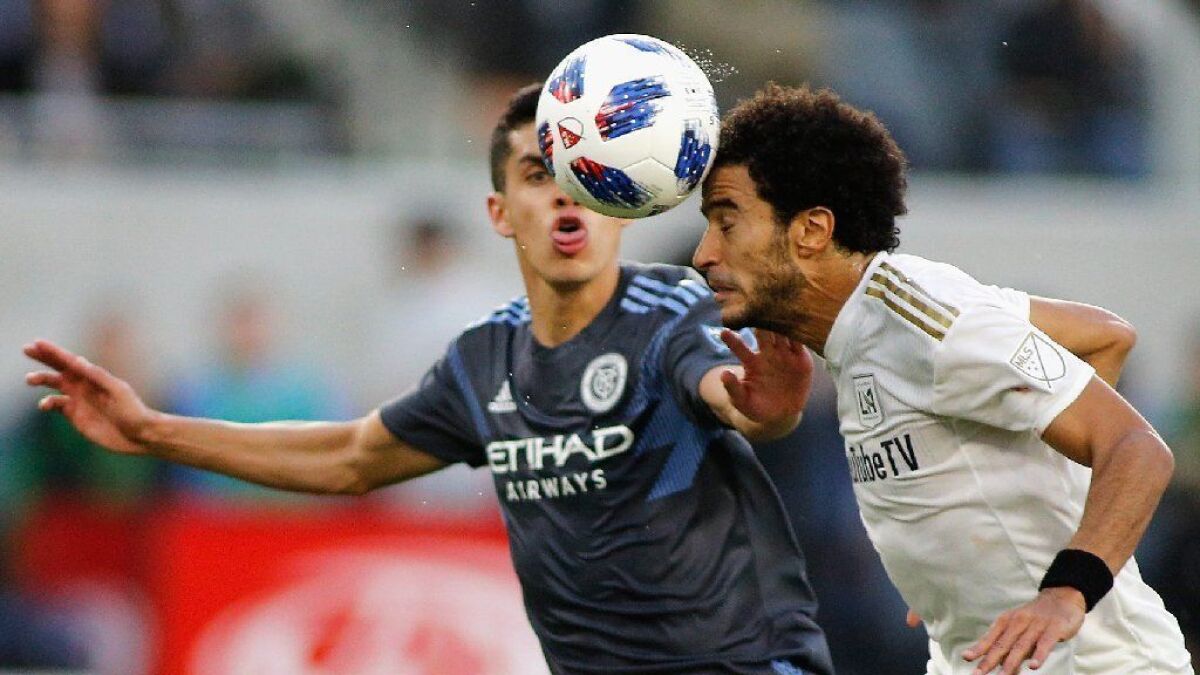 "It's something that is completely individual, based on their individual desire," Soboh said. "If a player feels that he doesn't want to fast, no one can force them to fast. And if a player says, 'I want to fast,' no one can force him to break his fast.
"It's all about personal choices and individual decisions."
Gaber, who plays in MLS with the expansion Los Angeles Football Club, said he had no choice but to fast although he said it makes both training and playing difficult. However, his more famous Egyptian teammate, Mohamed Salah, broke his temporarily in the run-up to last month's Champions League final. (At least one religious leader said the shoulder injury Salah sustained in the Champions League final, which could keep him out of Egypt's World Cup opener, was God's punishment for breaking his fast.)
Ramadan, the ninth month in the Islamic calendar, is not observed on the same dates every year and this summer's World Cup is not the first major sporting event that has taken place in and around the holy month. The 2012 Olympics, 2014 World Cup and 2016 Euros were also played during Ramadan.
Those on minority-Muslim teams find it particularly difficult to abstain, which is why no French or German players fasted during the Euros two years ago. Nor did Mesut Ozil during Germany's run to the World Cup title.
A series of studies over the last 15 years have shown that eating just two meals a day — one before sunrise and one after sunset, in accordance with the fast — can lead to nutritional deficiencies. And going all day without water can lead to dehydration.
But there are creative ways to fast and stay hydrated.
In two recent friendlies Tunisian goalkeeper Mouez Hassen, noticing his fasting teammates were flagging, faked an injury at sundown and as he lay on the pitch receiving treatment, his teammates were able to dash to the sidelines to drink water and snack on dates.
The strategy produced immediate results, with Tunisia rallying from deficits to earn draws with Portugal and Turkey.
The Ramadan fast is a particularly difficult issue for players from pious Egypt, where broadcasters have been known to interrupt calls of the game to ask God for help if the team is struggling or to offer prayers of thanks when it is doing well. Even the players pray publicly after goals and collectively read from the Koran before games.
But now, with the team's first World Cup qualification since 1990, the people back home are also embracing soccer with religious fervor, forcing the players to seek a delicate balance between preparation and piety.
"This generation, we have big ambitions, big dreams that we have to achieve," Gaber said. "It will not be OK for us and for the people in Egypt that we go to play only in the group. We have very good players, we have a very good team so I'm pretty sure we will [advance] from the group."
Also struggling to accommodate both faith and football is Hector Cuper, Egypt's Argentine coach.
"Maybe Egyptian players are accustomed to doing this but I as a Western person am not," Cuper told a TV interviewer, according to Yahoo Sports. "How can I train them during the day without water and when they had nothing to eat?"
Last spring Egypt's soccer federation hired a team of specialists to help Cuper monitor his players.
"We are working on this," Cuper told reporters, "and seeking to find the best way to overcome fasting fatigue and prevent it from hurting the players."
Egypt's top theologian also weighed in, giving the national team players the right to opt out of the fast. In April, mufti Shawki Allam issued a fatwa, or religious edict, that noted Muslims who are traveling are permitted by Islamic law "to postpone their fasting" until they return home. But while that would permit national team players to postpone fasting, he stressed it would be best if they observed the custom.
That's what Gaber intends to do. And Soboh, the Islamic Shura Council chair, said other players also believe the spiritual benefits of fasting outweigh the physical risks.
"Faithful Muslims have a strong belief that if you do something for God, God will help you do things better," he said. "If I'm fasting on God's command, then they have confidence that God will help them in their soccer games, that God will [help] them play better.
"In general, most Muslim athletes practice and exercise while they're fasting with no problem because their body got used to it since they were kids."
kevin.baxter@latimes.com | Twitter: @kbaxter11