Jair Marrufo grew up playing soccer like many kids in his El Paso neighborhood. And like many kids who grew up playing soccer, Marrufo dreamed about some day running onto the field at a World Cup.
His father knew he was unlikely to make it there with a ball at his feet, though, so when his son was 19, he stuck a whistle in his mouth.
"I was like, 'What? No way!' " Marrufo protested of the move from player to referee. "Why would I want to do that?"
It turns out father knew best because next month Marrufo will be one of two U.S. referees officiating World Cup games in Russia.
Full coverage: 2018 World Cup »
"I never imagined that I'm going to pick up the whistle and be a World Cup referee," he said. "All the hard work that you go through in every game leads up to that moment. And yeah, I'll be nervous.
"But once you blow that whistle, you just start focusing and you concentrate on the game. And it's going to be something awesome."
Marrufo will be joined in Russia by fellow MLS referee Mark Geiger, who will be working his second World Cup. That makes the U.S., which does not have a team in the competition, the only country to have two center referees among the pool of 99 officials.
MLS also will have three assistant referees in Russia — Americans Frank Anderson and Corey Rockwell as well as Canadian Joe Fletcher, who worked games in Brazil four years ago. MLS will have more officials in Russia than any other league in the world.
For Marrufo and his father, the invitation to Russia is both an honor and a makeup call by FIFA, which selects the tournament officials. Antonio Marrufo, who called Mexican league games for more than 15 years, was under consideration to work the 1998 World Cup in France but didn't make the final cut. Jair said he was on the short list for both the 2010 and 2014 tournaments, only to be passed over both times.
That makes this summer's World Cup special for both men.
"I think he's living his dreams through me, and he's very excited," Jair said of his father. "He knows the process, and it's not easy. It's more than just talent. There's got to be a lot of hard work and dedication involved too."
Jair, who was the center referee in Saturday's LAFC-Dallas game at Banc of California Stadium, is a former MLS referee of the year who is in his 16th year in the league. Along the way, he has worked two U-17 World Cups, four CONCACAF Gold Cups, a Copa America tournament and the Beijing Olympics.
That's a big departure from his first assignment, a youth-league game between teams of 6-year-olds in an El Paso park. He quickly worked his way up the ranks with his father's help — even if that help wasn't always appreciated.
"After every game, he would just tell me, 'Hey, you need to do this better. You missed that. Why didn't you run this way instead of that?'" remembers Marrufo, 40. "When I was a young referee I thought I knew everything. I was like, 'I know what to do.' But I didn't.
"He knew better. He had the experience. I still take his advice."
He also has begun taking advice from Geiger, a former high school math teacher and two-time MLS referee of the year who four years ago became the only American to officiate a World Cup knockout-round game.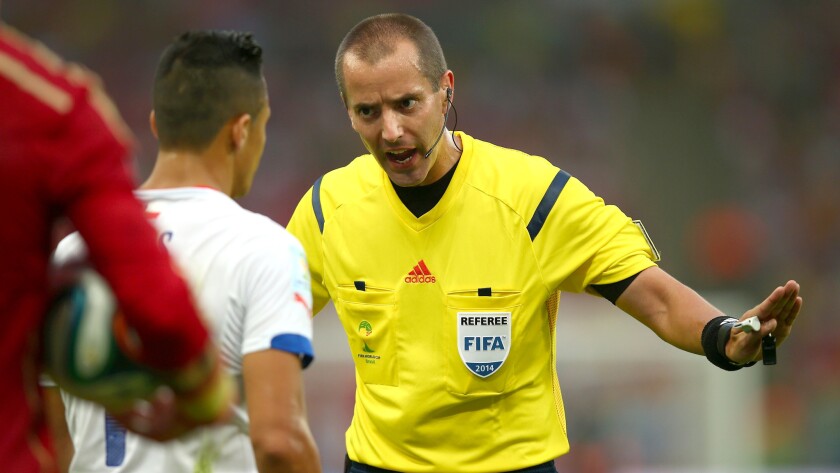 "He said, 'Just take it in.' Take that moment for yourself and look around because you never know if you're going to have that experience ever again," Marrufo said.
That's probably good advice considering Geiger and David Socha, who called one game in both 1982 and 1986, are the only U.S. officials to participate in multiple World Cups. Geiger worked two group-play games and a round-of-16 match in Brazil, the most World Cup appearances by an American official.
"It just shows the level of refereeing that we have in North America, and that we are improving," said Geiger, 43. "Certainly with PRO [the Professional Referee Organization] and U.S. Soccer things have been going in a positive direction."
Of more importance to FIFA, though, is the fact the American officials have experience working with the video assistant referee, or VAR, protocol, which has been in use for two seasons in MLS but will be making its World Cup debut this summer.
Under the VAR protocol, the referee, with help from an assistant using a video monitor, can pause play to review calls involving four game-changing situations: goals and the buildup to goals, penalties, red cards and mistaken identity in awarding a card. For the decision on the pitch to be overturned, the referee or his assistant must find "clear error" has been made.
Only eight countries have national leagues using FIFA-approved VAR systems, and four of them will not have a referee at the World Cup.
"It's a big learning curve," Geiger said.
So is adapting to the pressure of the World Cup, where officials, like the teams, must perform well to continue on in the 64-game tournament.
"We know what it's going to be like, the pressures we're going to feel," Geiger said. "That's something that was new in Brazil. We still need to perform, and we need still to do our job in the very first game if we want to be able to move forward."
kevin.baxter@latimes.com | Twitter: @kbaxter11
---