Column: From Russia with love: Now we'll see how the World Cup turns out
Reporting from MOSCOW —
After eight years of planning and billions of dollars in spending, the 2018 World Cup kicks off Thursday, and more than the competing teams have a lot riding on the outcome.
For Russian President Vladimir Putin, inviting the world is seen as a way to boost his country's prestige and push back against its global isolation. For FIFA President Gianni Infantino, a successful and lucrative tournament could help move global soccer's governing body beyond the scandals and infighting that led to Sepp Blatter's ouster and Infantino's election 2 ½ years ago.
Don't expect things to get off to a rousing start, though. The first game, between Russia and Saudi Arabia, scheduled to start at 8 a.m. PDT, is the least-compelling World Cup opener ever. Russia, whose roster was only recently cleared in a doping probe, hasn't won a game since October and is ranked 70th in the world, three spots behind its opponent. It's the first time an opening World Cup game has matched two teams ranked outside the top 30 in the world ranking.
However, this particular 31-day, 64-game tournament may be more about perception than perfection.
"The World Cup has this unique faculty of being able to change the perception people have about a place, about a country," Infantino said. "People will see Russia as a different country."
Russia also hosted the 2014 Sochi Winter Games, but the glow from that $50-billion spectacle has long faded. Since then, Putin has invaded Ukraine, annexed Crimea, waged war in Syria, meddled in the U.S. presidential election and allegedly poisoned a former Russian spy and his daughter in England.
With the World Cup, he gets something of a mulligan.
"For our country it is a great joy and honor to welcome the international football family," Putin said in a video released by the World Cup organizing committee. "We've opened our country and our hearts."
Russia will make history by becoming both the largest country to host a World Cup and the first Eastern European nation to do so. Games will be spread across 11 cities, from Kaliningrad in the west to Yekaterinburg, nearly 1,600 miles to the east on the Europe-Asia border; from the cultural capital of St. Petersburg in the north to Sochi, 1,100 miles south next to the Black Sea.
Meanwhile, Infantino is out to dispel doubts and to be perceived as the kind of skilled, dynamic leader FIFA thought it was getting when it chose him. Elected largely on a promise to reform an organization that had become synonymous with graft and corruption, Infantino has stumbled out of the blocks and badly needs his first world championship as president to go off without a hitch.
A little bit of excitement wouldn't hurt either.
"What is nice about the World Cup is that there are always surprises, right?" he said. "Of course, at the end you will maybe have the usual teams, but maybe there will be a surprise too, or some players that we have never seen. I am looking particularly forward to watching those teams who have qualified for the first time."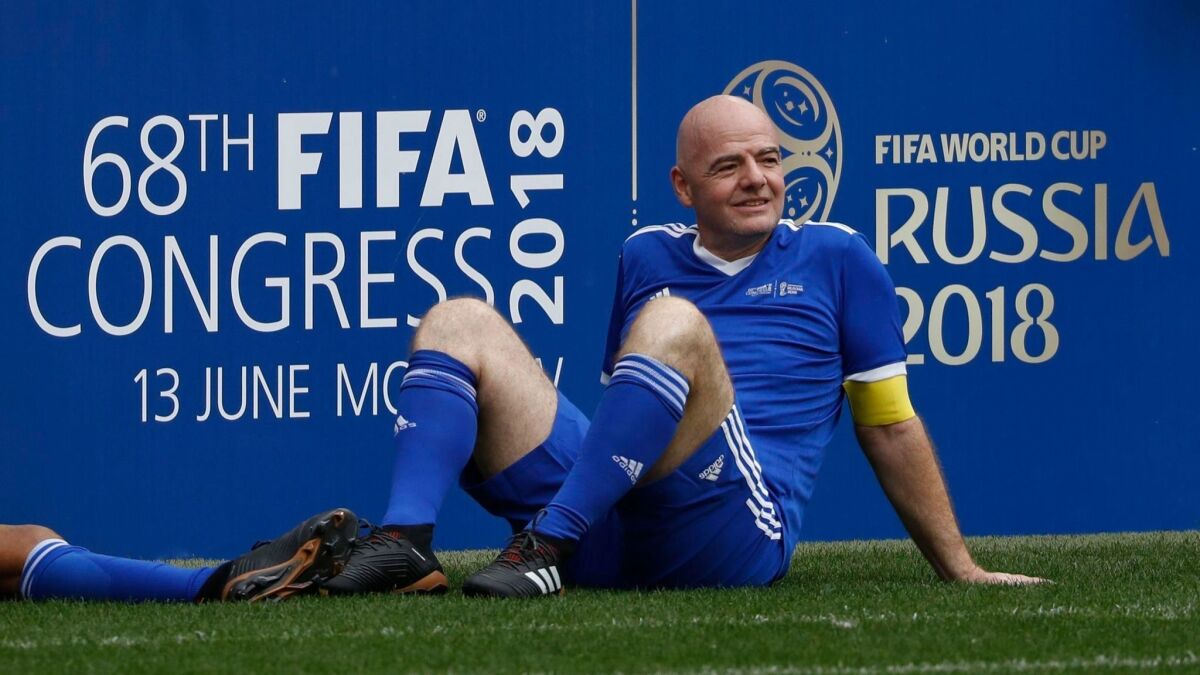 The first-timers are Panama and Iceland, which, with a population of about 350,000 is the smallest country to compete in the World Cup.
Then there are the proven commodities, such as the two greatest players of this generation, Argentina's Lionel Messi and Portugal's Cristiano Ronaldo, who are chasing the major title that has eluded them; and defending champion Germany, which will try to become the first back-to-back winner since 1962.
Brazil, the last country to repeat as champion, is seeking a record sixth title but will have to contend with strong teams from Spain, France and Belgium in addition to Germany. Mexico, eliminated in the first game of the knockout round in the last six World Cups, will be looking to play a fifth game for the first time since 1986.
One team that won't be participating is the U.S., which failed to qualify for the first time in 32 years.
"What I'm looking very much forward to are the matches, to see the ball rolling, to see the fans celebrating, to see the most beautiful spectacle in the world," Infantino said.
He and Putin can hope that they're still celebrating when the ball stops rolling a month from now.