Here's the biggest takeaway for the 2022 World Cup
Reporting from moscow —
If one thing became obvious during the World Cup's month-long run in Russia, it's that Qatar is going to need a bigger country.
More than 1 million visitors flooded Russia, packing Red Square, partying along Samara's riverfront embankment and strolling the canals of historic St. Petersburg. But Russia is the largest country in the world. What happens when that many people show up four years from now in Qatar, which is smaller than Connecticut and has fewer people than Orange County?
"What we saw in Moscow, which has two stadiums, is that a city can be very quickly overwhelmed by big crowds," senior Qatari official Nasser Al Khater said. "The fact you're going to have the fans of 32 teams pretty much in a city, I think, is going to be electrifying."
Or 48 teams — FIFA apparently can't make up its mind. Either way it's going to overwhelm tiny Doha, Qatar's pocket-sized capital.
But that's not the only takeaway from Russia 2018, a World Cup that may have been the most exciting, most hospitable and best organized in recent memory. There were as many surprises are there were goals — and there were more of those than at all but one World Cup in the last 20 years.
Top-ranked Germany, the defending champion, bowed out in the group stage, while No. 70 Russia, the lowest-ranked team in the tournament, made it to the quarterfinals.
Iceland became the smallest country to play in a World Cup and Croatia the second-smallest to make the final. Cristiano Ronaldo scored four goals in his first 94 minutes but didn't get another as Portugal exited in the round of 16; Lionel Messi and Argentina went out that same day.
Mexico fell in the round of 16 for the seventh straight World Cup, extending its record for most losses in tournament history to 27, while Neymar and his Brazilian teammates, who knocked out Mexico, took a dive one game later.
The Video Assistant Referee (VAR) system made its debut in this World Cup and though it is clearly here to stay, it's just as clear players, coaches, fans and even referees are going to have to make adjustments to the system.
Russia 2018 broke records for both penalty-kick attempts (29) and penalty-kick goals (22). While VAR wasn't responsible for all of that, it did catch penalties that would have gone unnoticed and led officials to award penalty kicks when previously they would have allowed play to continue.
In Sunday's final, for example, Croatia's Ivan Perisic was called for a penalty after a corner kick deflected off France's Blaise Matuidi, struck his hand and went out of bounds. Yes, the ball hit Perisic's hand and caused it to change direction. But it didn't significantly alter the play.
Argentine referee Nestor Pitana missed the handball and seemed ready to continue before a VAR official contacted him by handset and convinced him to consult a replay. Faced with video evidence, Pitana felt he had no choice but to award a penalty, which Antoine Griezmann converted. France never trailed again.
"In a World Cup final you do not give such a penalty," Croatian coach Zlatko Dalic protested afterward.
He's right. The contact between hand and ball was inconsequential and shouldn't have been allowed to impact the biggest game in four years. To fix this, referees must be given latitude to interpret the video rather than simply reviewing the pictures. They are tasked with interpreting plays all the time — Foul or no foul? Shove or no shove? Offside or onside? This would just be an extension of that power.
Iranian coach Carlos Queiroz, originally a supporter of the system, agreed it needs some tweaks. The use of expensive technology — including video feeds from 37 cameras, eight working in super-slow motion and six in ultra slow-motion — leaves no tolerance for errors like the missed call that helped eliminate his team.
"We accepted human mistakes before; that was part of the game. Players make mistakes, coaches make mistakes and referees make mistakes," he said. "But now you have one system that cost a fortune. It's high-tech with five, six people inside and what happens? Nobody takes responsibilities.
"So in my opinion everybody agreed that VAR is not going well. That's the reality; there's a lot of complaints."
Or not.
"VAR has been an undeniable success," said Alexi Lalas, a former World Cup defender and current Fox Sports analyst. "It has been accurate and consistent."
The consensus view is Queiroz is more right than Lalas.
There was another obvious change in the way the game is played and that had to do with set pieces, which came to define the tournament. A record 70 goals — more than 40% of all scoring in Russia — came from dead-ball situations.
VAR certainly contributed to that, but there were other factors, chief among them a shift in tactics and changes in coaching practices.
"It's harder to break teams down; that's the first thing. The second is the VAR. It's brought a good, honest assessment of what happens in the box," Belgium coach Roberto Martinez said. "But in general it's because now, with the technology that we have, every team is very well organized and it can work a lot on nullifying the opposition.
"So it's harder to open things up and score goals from open play."
Plus in the short time national teams have to prepare for major tournaments, practicing set pieces is both easier and more effective than trying to implement complicated offensive schemes. As a result many teams now have set-piece coaches who use video to study their opponents' tendencies on corners and free kicks.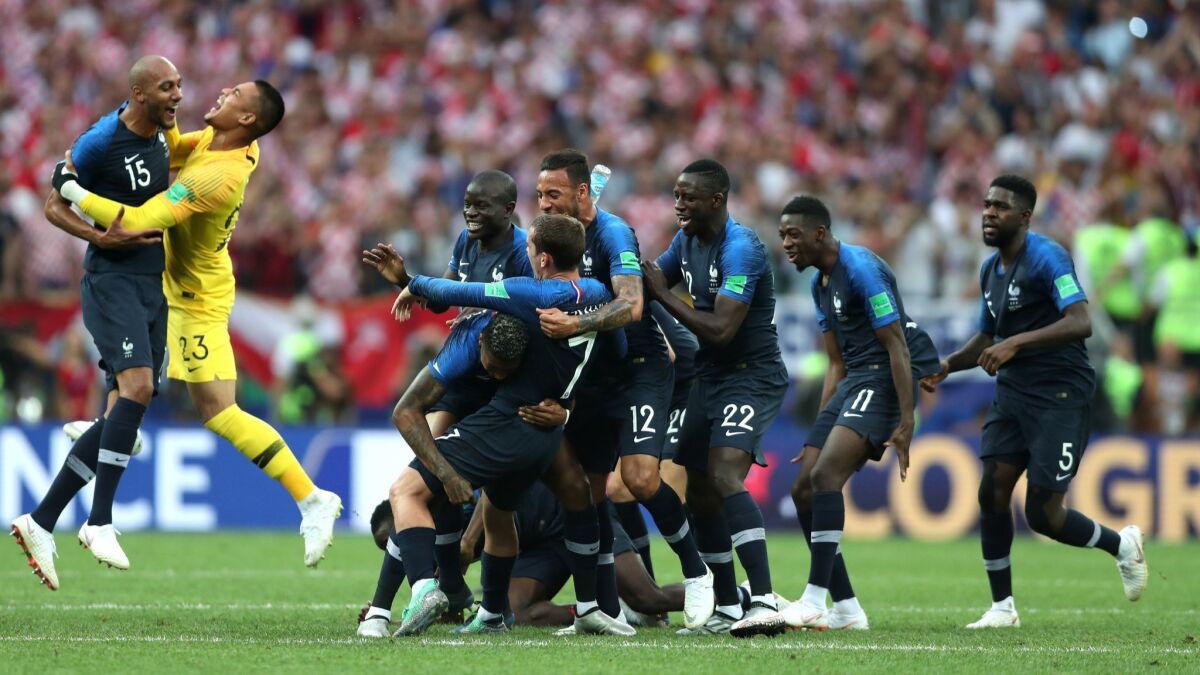 In the end, however, success doesn't depend so much on the environment as it does on controlling that environment. So in a tournament in which VAR led to more penalty-kick goals than ever, no team had more than France's three. There were also a record for own goals (12), and France got more of those than anyone else too.
More set-piece goals? Of the six scores France allowed, just two came directly off dead-play situations.
So in a World Cup that wasn't perfect, France became the champion by mastering those imperfections.
kevin.baxter@latimes.com | Twitter: @kbaxter11
All about the beautiful game
Go inside the L.A. pro soccer scene and beyond in Kevin Baxter's weekly newsletter.
You may occasionally receive promotional content from the Los Angeles Times.