Galaxy rookie Gyasi Zardes is considered a diamond in the rough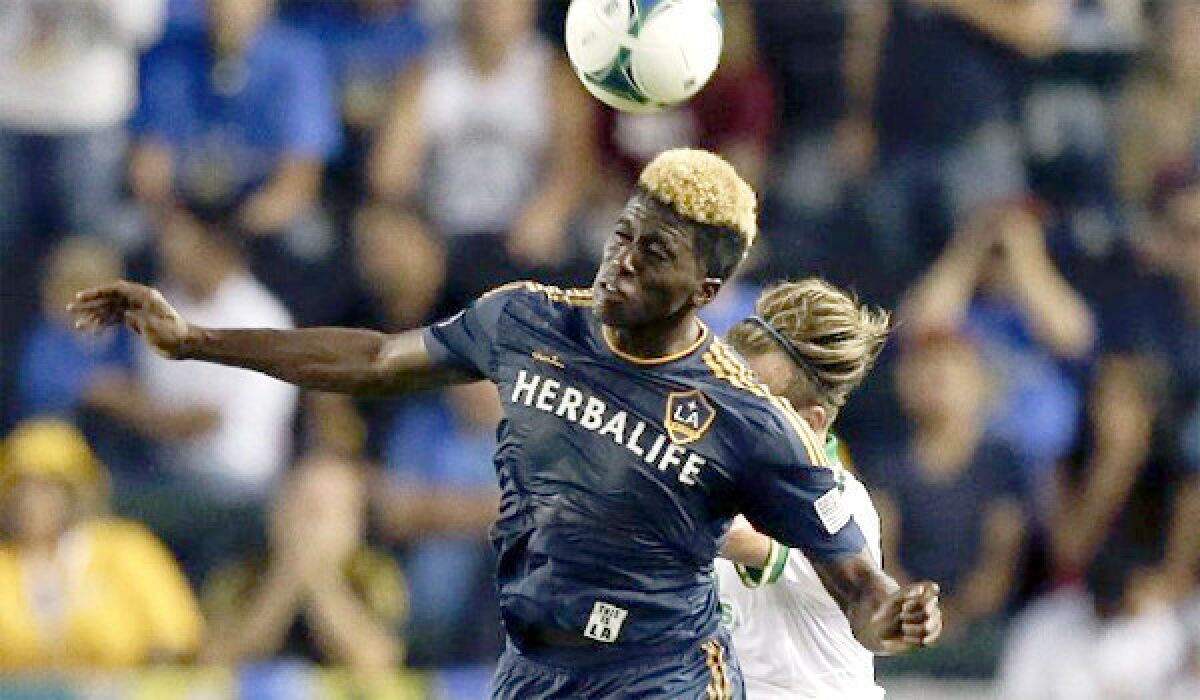 It's not yet 11 a.m. and the temperature already is nearing 90 degrees as Galaxy rookie Gyasi Zardes drives his right leg through one penalty kick after another on a practice field next to StubHub Center.
When practice is over, the 21-year-old forward strolls off the field sweating heavily but smiling, and why not? The Hawthorne native scored the only goal in the Galaxy's recent 1-0 win over Chivas USA.
The 6-foot-2, 175-pound Zardes — easily recognizable with his blond-and-black Mohawk haircut — is one of the Galaxy's most promising players.
He's powerful, fast and had eight shots overall against Chivas USA, two more than Chivas USA had as a team. But several of his shots were high or wide of the goal, and that's why Zardes is considered a diamond in the rough by such Galaxy stars as Landon Donovan and Robbie Keane.
Obviously they were delighted Zardes' goal gave them a victory. But their praise of Zardes was guarded because they believe his shot-making needs to be more selective, not unlike a free-swinging batter who needs to learn patience at the plate.
"Everybody else is doing everything they can to get you in that position [to shoot], they're defending to get you an opportunity," said Donovan, the Galaxy's all-time leading scorer.
"So when [Zardes] gets to those moments, I want to make sure that he really takes it seriously," Donovan said. "It's not, 'Oh, if I don't score, I'll get the next chance.' He might not get the next chance."
Galaxy Coach Bruce Arena said after the Chivas USA game that Zardes (pronounced ZAR-des) "has a ways to go, but he's an athletic kid with a pretty good understanding of the game. He's going to get better."
Zardes agreed. "I have to keep working and training hard at practice to be consistent" in kicking shots directly to a target in the goal, he said.
"They really want me to make the goalie work, make the goalie make a save," and that means "hitting the frame every opportunity I get," Zardes said.
Zardes grew up in Hawthorne, where his parents Glenn and Linda still live, and attended Leuzinger High School in nearby Lawndale. He took up soccer at age 12 and excelled on school and club teams; he also was a kicker on the high school football team.
Then came three years at Cal State Bakersfield, where he scored 38 goals, and he played on the Galaxy's Academy youth teams before being signed to the big-league club in December.
His signature haircut also started in college. "I like the Mohawk and then I just put some color in it to give it a little bit of flair, just for something different," he said.
Zardes got off on the wrong foot with the Galaxy, literally, when he broke a bone in his left foot in preseason training, which required surgery in February and sidelined him for two months.
Now that the foot has healed and he's starting games for the Galaxy, the reigning Major League Soccer champions, "it's like a dream come true," he said. "I just have to keep working hard so I can keep a spot on the team."
He'll certainly get the chance this month — starting with the Galaxy's game Thursday night against the Columbus Crew at StubHub Center — because Donovan will be playing for the U.S. national team most of the month.
But Zardes said he's not concerned about trying too hard during Donovan's absence.
"Even when he's here I give it my all," Zardes said. "It's the same."
---
All about the beautiful game
Go inside the L.A. pro soccer scene and beyond in Kevin Baxter's weekly newsletter.
You may occasionally receive promotional content from the Los Angeles Times.