Column: Galaxy and LAFC working to make MLS playoffs run through L.A.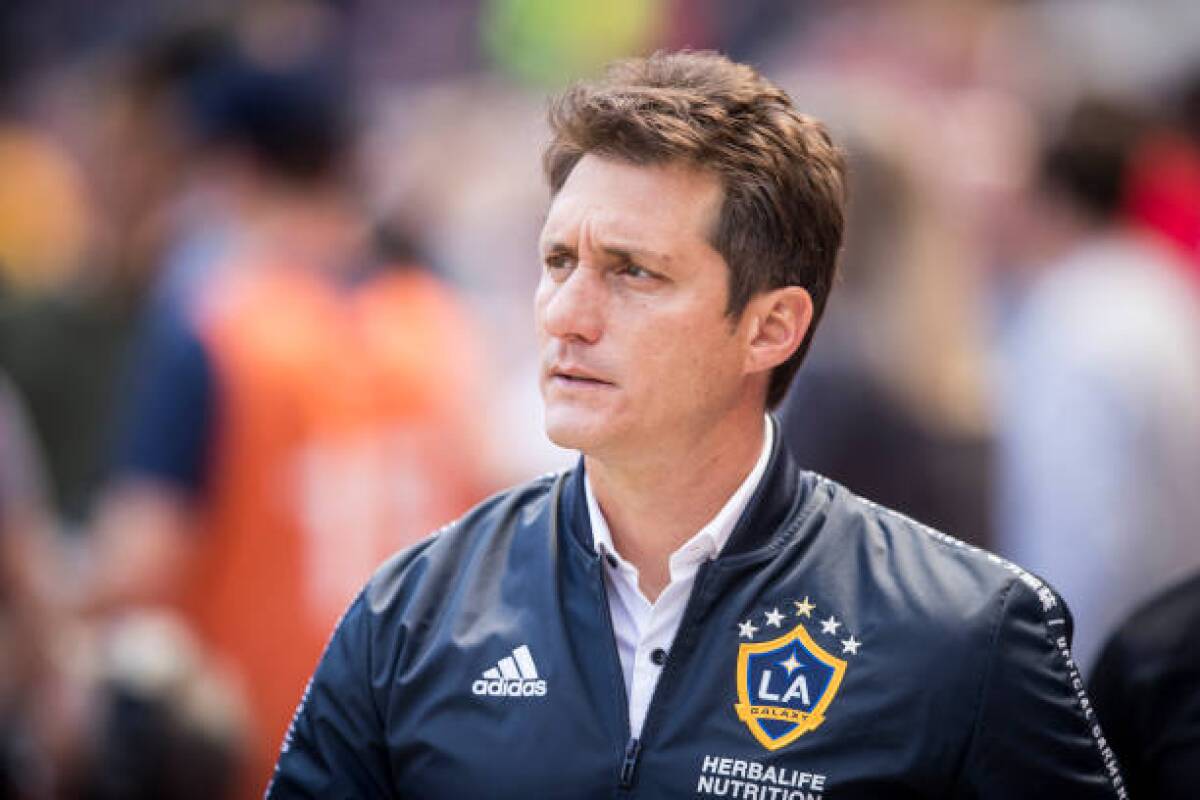 Shortly after new coach Guillermo Barros Schelotto opened Galaxy training camp in January, he set a target for the season.
"The objective," he said, "is simply to put together a team that can get to the playoffs."
It was an ambitious goal for a team that hadn't played in the postseason since 2016, yet it proved easier than expected, with the Galaxy finishing 22 of the first 30 weeks of the regular season among the top three in the MLS Western Conference standings before finally clinching a postseason berth this week.
Now, Schelotto and his team head into the final home game of the regular season Sunday against Vancouver with their aim set a little higher: home-field advantage through the first two rounds of the playoffs and a home date for November's MLS Cup final. That's a significant objective since the Galaxy's 11 home wins are tied for second in the league.
To grasp this final brass ring, the Galaxy (16-13-3) almost certainly will have to go through LAFC, their cross-town rival that has some unfinished business of its own.
With its 20th victory of the season last week, LAFC, a second-year team, won its first trophy by grabbing the league's Supporters' Shield. That prize goes to the team with the best regular-season record, and it guarantees LAFC (20-4-8) a first-round playoff bye and home games through November's MLS Cup final, as long as it keeps winning.
Where, when and who the Galaxy play in the postseason will be decided over the next eight days, ending with next weekend's regular-season finale in Houston.
Behind LAFC, the conference standings remain tightly bunched with just five points separating second-place Minnesota United from fifth-place Real Salt Lake. Finishing in the top four would give the Galaxy — currently in third place — a home date to open the playoffs. Finishing second or third would keep them at home through the first two rounds, possibly longer, if they continue to win in the 14-team tournament, which will be contested in a single-elimination format.
"You just want to finish as high as you can. The first goal is to get in the playoffs, and the second one is obviously you want to host games," goalkeeper David Bingham said. "That's a big advantage, especially when you're going one and done."
MLS team administrators are tasked with getting players, their families and sometimes their pets set up in the U.S. once those players have signed from abroad.
The Galaxy also want to continue building momentum, having won three in a row for the first time since April. Striker Zlatan Ibrahimovic and his newly acquired Argentine sidekick, winger Cristian Pavon, have led the team's late surge, combining for six goals and five assists in those three games.
"The confidence is good," defender Rolf Feltscher said. "We started with a big result three games ago. I knew we would be [in the playoffs] 100%. Even during the hard times."
Speaking of hard times, LAFC's first postseason run didn't last long, ending in an opening-round loss at home, a result that has both haunted and inspired the team. So coach Bob Bradley's squad goes into its final road game against Minnesota on Sunday looking to regain the form that fueled three unbeaten streaks of six or more games this season.
"We want to be going into the playoffs feeling that everybody is as sharp as they can be," Bradley said. "We want to play good football. We're always just trying to become a better team."
Sign up for our free soccer newsletter >>
LAFC's playoff schedule won't change regardless of what happens in its final two regular-season games: It will have a first-round bye and will play at home, where its 12-1-3 record is best in the league. But there are still some significant milestones within reach.
A win and a draw in its final two games would give LAFC 72 points for the season, one better than the New York Red Bulls' year-old league record. Winning both matches not only would break the points record but also would make LAFC just the fifth MLS team with 22 or more victories in a season.
Individually, LAFC forward Carlos Vela is already the second player in league history with 30 goals in a season; one more and he'll tie Josef Martinez's record. That would improve his chances of winning the MVP award over Ibrahimovic, whose 28 goals could make him the most-prolific scorer in MLS history not to win the Golden Boot.
"We obviously know there's a lot of records that, if we continue to play well, we'll be able to break. As a team and individually," goalkeeper Tyler Miller said. "But our main focus is just to continue to play our football, continue to work and improve in the ways that we know we can going into these last two games of the regular season that will put us in the best spot for [the] playoffs."
---
All about the beautiful game
Go inside the L.A. pro soccer scene and beyond in Kevin Baxter's weekly newsletter.
You may occasionally receive promotional content from the Los Angeles Times.