Germany devastates Brazil, 7-1, in World Cup semifinal
Brazilian soccer fans can't hide their shock at the FIFA Fan Fest area in Rio de Janeiro.
(Leo Correa / Associated Press)
Fans of Brazil, gathered on Copacabana beach in Rio de Janeiro, watch their team in a devastating loss to Germany in the World Cup semifinals.
(Leo Correa / Associated Press)
A Brazil fan cries at the FIFA Fan Fest in Sao Paulo as Germany thrashes the host nation.
(Dario Lopez-Mills / Associated Press)
German forward Thomas Mueller celebrates with teammates after scoring. Mueller scored the first goal in the 11th minute.
(Francois Xavier Marit / AFP/Getty Images)
A fan cries outside the stadium in Belo Horizonte.
(Bruno Magalhaes / Associated Press)
Brazil supporters sit in shock as Germany scores seven goals against the host nation's team.
(Natacha Pisarenko / Associated Press)
Miroslav Klose of Germany celebrates after scoring the second goal for his team. Klose is now the all-time leading World Cup scorer, with 16 total goals.
(Fernando Bizerra Jr. / EPA)
Referee Marco Rodriguez, center, blows the final whistle in front of Brazil's David Luiz, right, and Dante.
(Ballesteros / EPA)
A Brazilian fan sits alone in the stands after Germany crushed Brazil, 7-1, in the World Cup semifinals in 2014.
(Frank Augstein / Associated Press)
A dejected fan kneels in Sao Paulo during Brazil's 7-1 loss to Germany on Tuesday.
(Miguel Schincariol / AFP/Getty Images)
Andre Schuerrle of Germany, left, celebrates after scoring his team's sixth goal Tuesday.
(Francois Xavier Marit / Getty Images)
Brazil players wait at midfield after Germany scored its seventh goal.
(Natacha Pisarenko / Associated Press)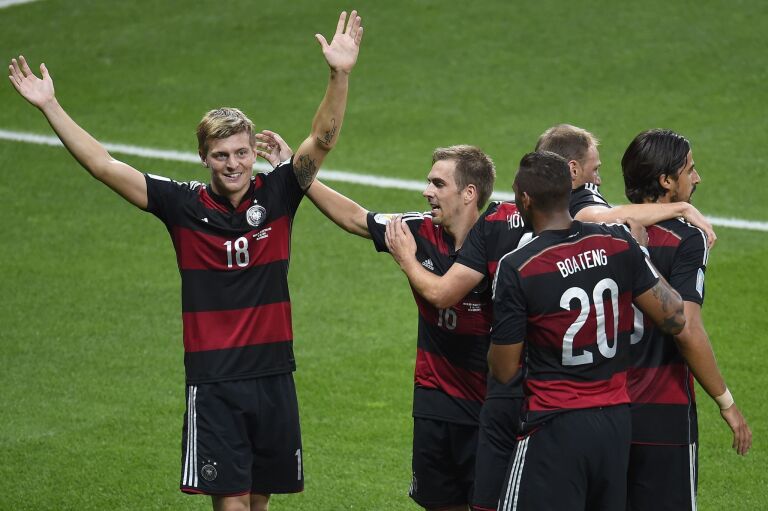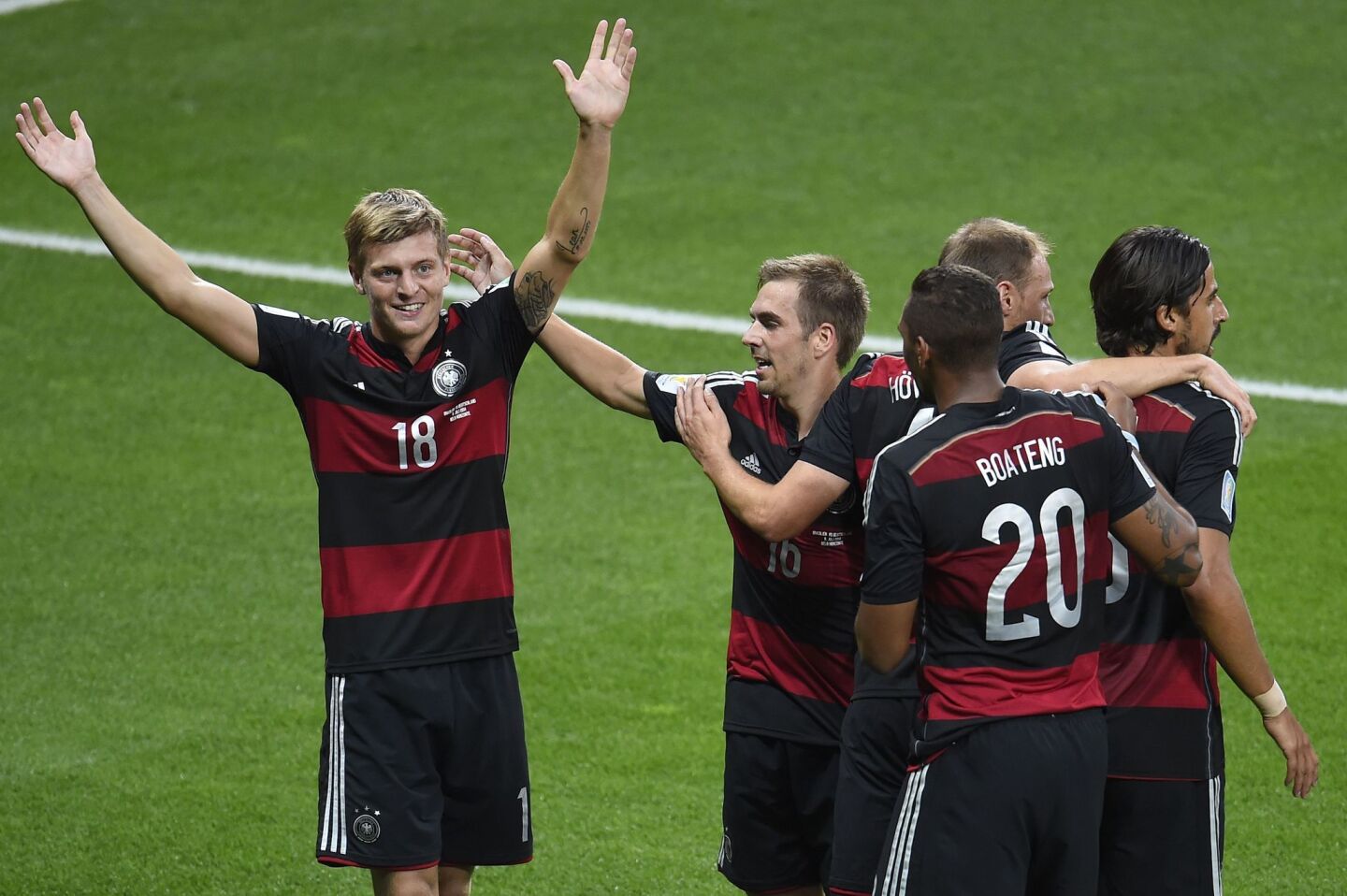 German midfielder Toni Kroos, left, celebrates after a goal against Brazil on Tuesday.
(Odd Andersen / AFP/Getty Images)
Germany celebrates its fifth goal against Brazil on Tuesday.
(Patrik Stollarz/ AFP/Getty Images)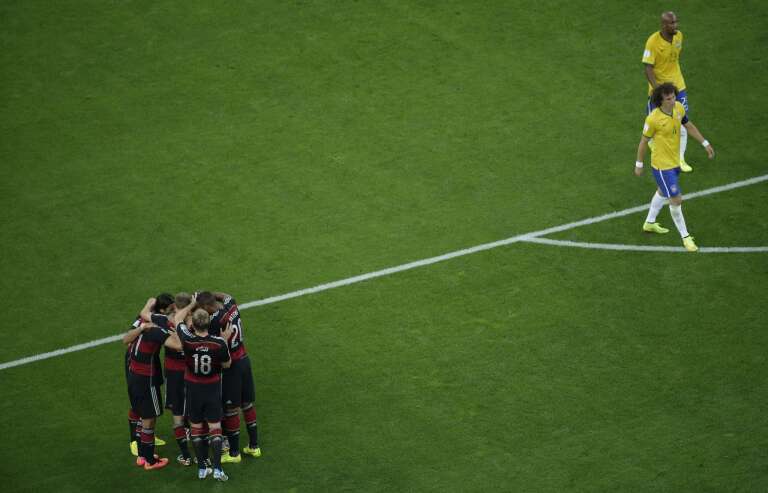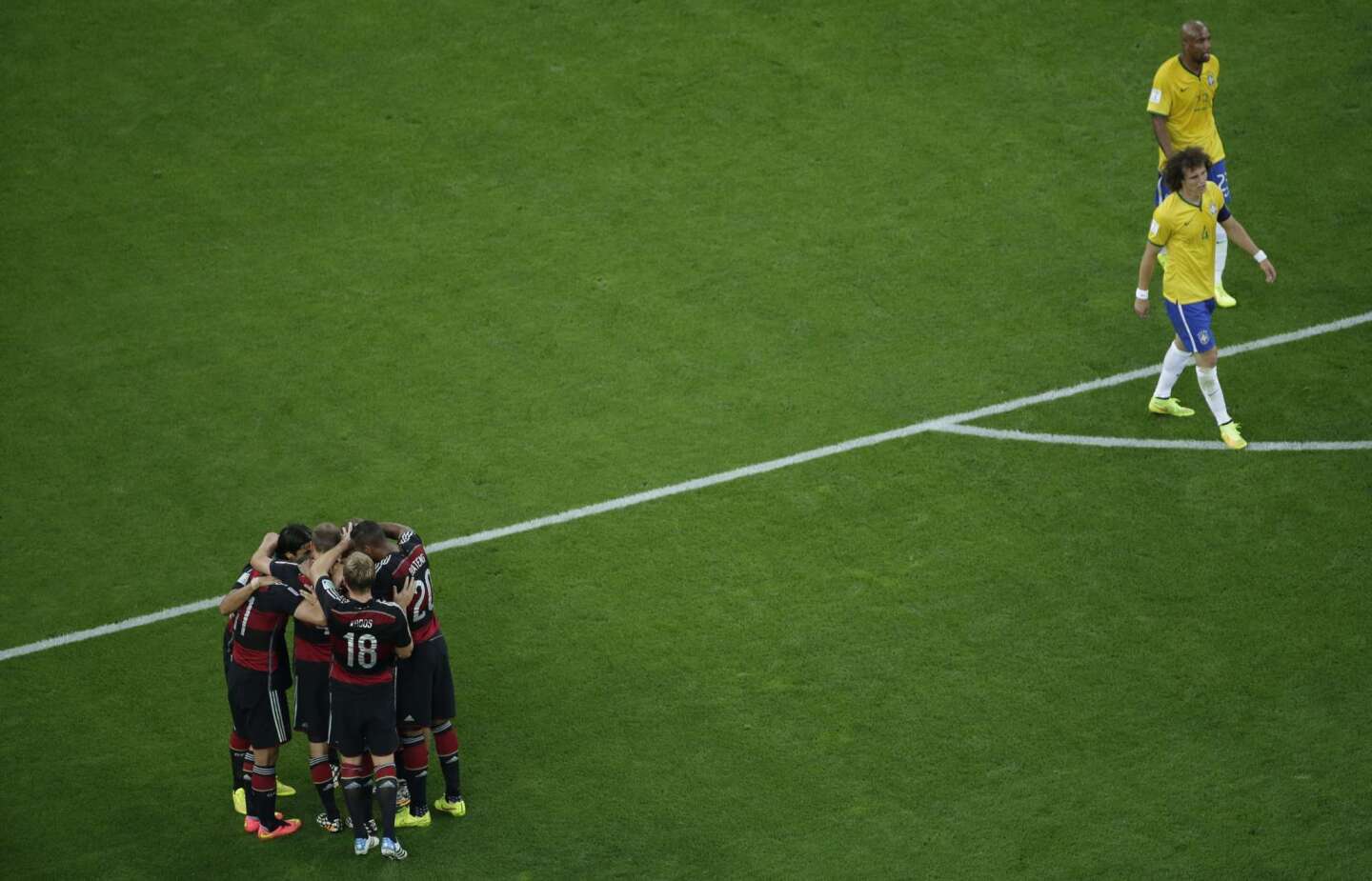 Germany scored five goals in the first half against Brazil, devastating the South American team and fans.
(Francois Xavier Marit / AFP/Getty Images)
A Brazilian fan shows his disgust with the team's on-field performance.
(Peter Powell / EPA)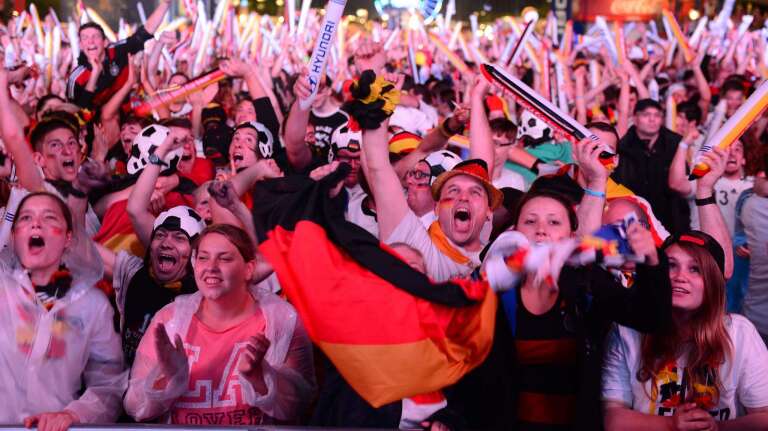 German fans cheer at the Brandenburg Gate in Berlin as Germany scores its first of seven goals against Brazil in the World Cup semifinal.
(John MacDougall / AFP/Getty Images)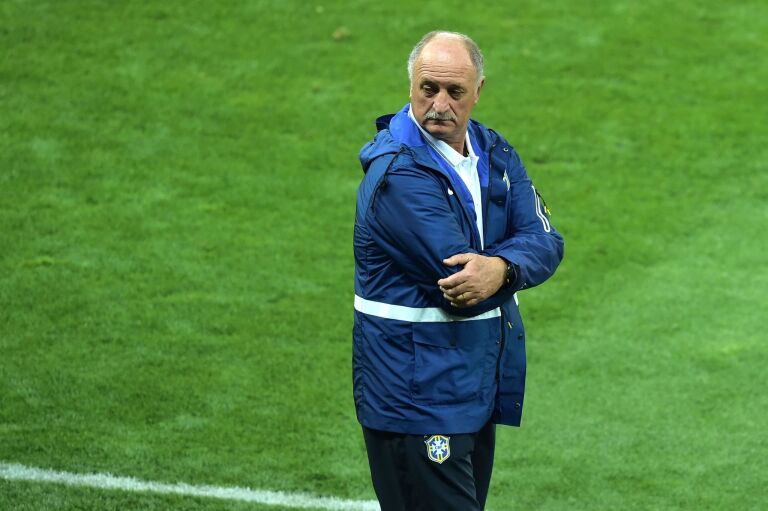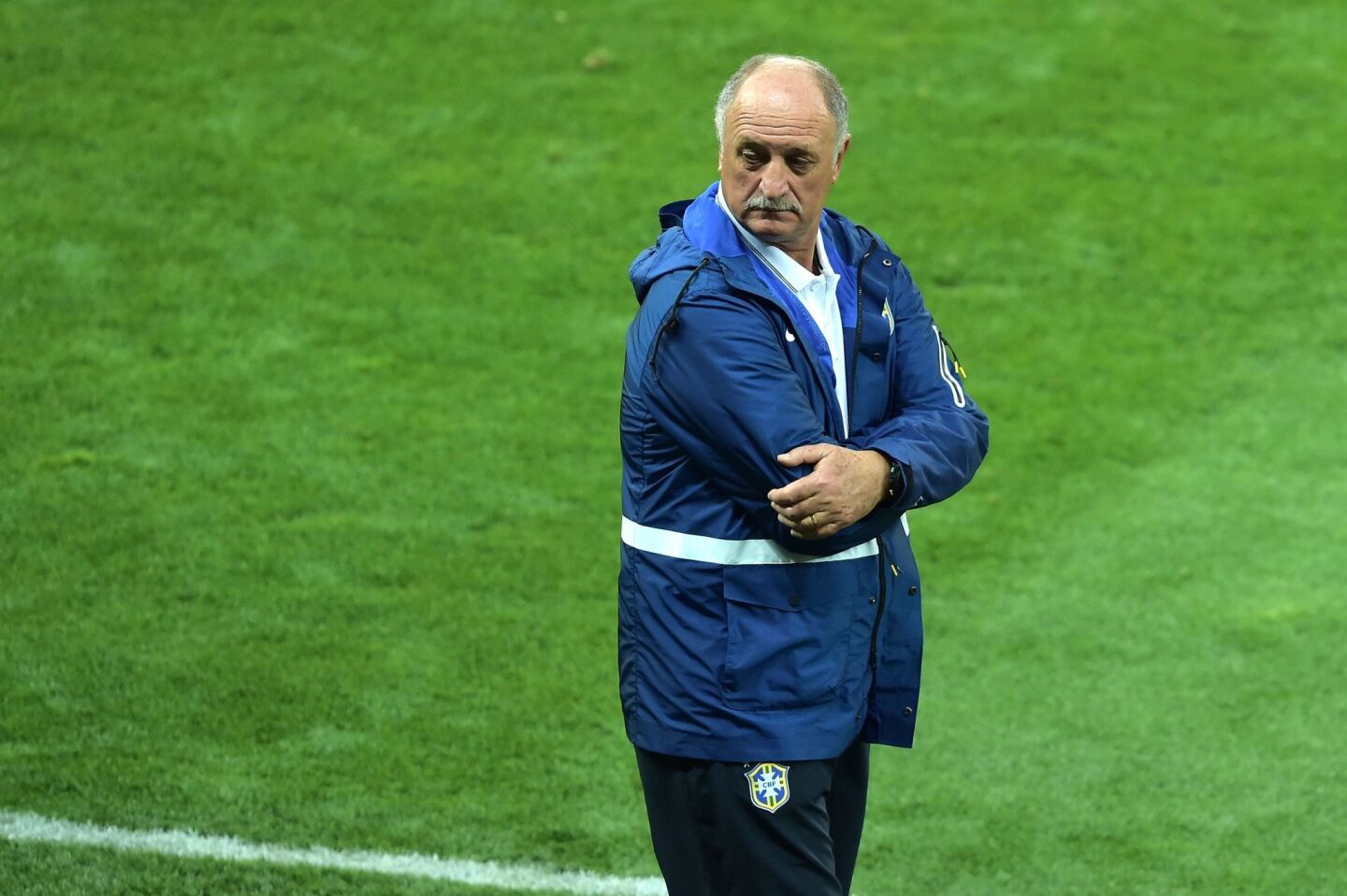 Brazil's coach, Luiz Felipe Scolari, was without two key players, Thiago Silva and Neymar Jr. for Tuesday's match against Germany.
(Gabriel Bouys / AFP/Getty Images)
Thiago Silva, right, who could not play in Tuesday's semifinal, comforts teammate David Luiz after Brazil's run at its sixth World Cup title was ended by Germany on Tuesday.
(Peter Powell / EPA)
Brazilian fans' expressions mirrored this spectator's at Mineirao Stadium in Belo Horizonte on Tuesday.
(Patrik Stollarz / AFP/Getty Images)
Reporting from Sao Paulo, Brazil —
It's unlikely any team has played a World Cup under more pressure than Brazil faced this summer.
But it's certain no team unraveled more quickly or more completely than Brazil, which was blown out in the World Cup it is hosting in a 7-1 semifinal loss to Germany on Tuesday in Belo Horizonte.
With the win, the Germans advance to a World Cup final for the second time in four tournaments. On Sunday, they will play the winner of Wednesday's second semifinal between Argentina and the Netherlands in Sao Paulo.
Brazil, meanwhile, is scheduled to play the loser of that game in the third-place match on Saturday. It will likely take every bit of courage and resolve for Brazil to show up for that game given what it has dealt with over the last month.
With the government having spent a record $11.5 billion to put on this tournament, Brazil's national team was expected to win the title to justify the cost. But that proved to be a too big a burden for this young team to carry. Twice Coach Luiz Felipe Scolari had to call in a psychologist to counsel his players, many of whom cried openly on the field during Brazil's tense penalty-kick shootout with Chile.
When they were forced to play Germany without Neymar, their most dangerous striker who was injured, and Thiago Silva, their captain and best central defender who was suspended a game with two yellow cards, the players finally cracked, giving up more goals in the first 29 minutes than they had allowed in five full games leading up to the semifinal.
Thomas Mueller got the rout started in the 11th minute, scoring his fifth goal of this World Cup off Toni Kroos' bending corner from the right side into the box. Mueller slipped his defender easily, then volleyed the cross out of the air and by Brazilian keeper Julio Cesar.
And it would soon get worse -- much worse -- for the home team with two goals by Kroos and one each from Miroslav Klose and Sami Khedira in a six-minute span making it 5-0 Germany before the half-hour mark.
Germany made it look easy, beating the disorganized Brazilians down the field with superior numbers on every rush.
Klose got the next goal in the 23rd minute, burying his own rebound for his 16th World Cup goal, breaking the record he had shared with Brazil great Ronaldo.
Kroos then scored twice -- in the 24th and 26th minutes -- and the rout was on.
The first Kroos goal came on a left-footed shot from inside the area, although it could have been just as easily scored by Mueller, who was standing next to Kroos and was just as open.
The next one two minutes later was even easier, with Kroos scoring from the edge of the six-yard box. By now Brazil's defense was in tatters, its team appeared depressed and many of its once-hopeful fans were weeping in the stands.
The two goals from Kroos made Germany the first team in history to build a four-goal lead on Brazil. Then Khedira scored in the 29th minute, pulling up deep in the box, waiting for a return pass and then sending it home to make Germany the first team to build a five-goal lead on Brazil.
At this point, the Germans weren't celebrating their goals. And that all five goals came from well inside the 18-yard box was as big an indictment of the Brazil defense as it was a compliment to the Germany attack, which was given free rein near the goal.
Brazil simply had no answer. When the game paused, mercifully, at halftime, the Brazilians were booed off the field and some fans began to file out into the night.
Brazil came out to start the second half intent on getting a goal – or at least earning some respect – but German keeper Manuel Neuer refused to cooperate, making nice saves on Oscar and Paulinho in the opening minutes.
Oscar finally got the best of Neuer in second-half stoppage time but they then Germany, which the exception of Neuer, appeared to be going at half-speed. Yet they still couldn't help scoring with Andre Schurrle, a second-half substitute scoring twice late in the second half.
Brazilian keeper Julio Cesar was clearly withering under the onslaught and was getting no help from his teammates. It would take the referee's final whistle to bring him some relief.
---
All about the beautiful game
Go inside the L.A. pro soccer scene and beyond in Kevin Baxter's weekly newsletter.
You may occasionally receive promotional content from the Los Angeles Times.