'We have a lot of work to do': New Sparks GM Karen Bryant prepares for free agency
Karen Bryant was supposed to be interviewing candidates for the Sparks' general manager position. Then she turned into the top choice.
The former Seattle Storm executive went from behind-the-scenes contributor to the Sparks' rebuild to primary architect Tuesday when the team announced her hire as general manager and chief administrative officer. With the franchise mired in its worst two-year stretch, Bryant will create the foundation of the Sparks' new era through the upcoming free agency period.
"This is a critical year for us," Bryant said in her virtual introductory news conference Wednesday along with head coach Curt Miller. "Curt and I are here to help lead a transformation on the basketball side of the organization and we have a lot of work to do."
The Sparks, who have missed the playoffs in consecutive years, have just two players on guaranteed contracts next year with six unrestricted free agents. They have the most available cap space available. They don't have a 2023 first-round draft pick, which they traded in a deal that involved acquiring Chennedy Carter from Atlanta, who then sent the selection to Washington.
Bryant has personally seen the value of top draft picks in the WNBA. During her 15-year tenure with the Seattle Storm, the team built much of its success on No. 1 picks Lauren Jackson and Sue Bird. After she resigned in 2014, the Storm won two more championships as No. 1 picks Jewell Loyd (2015) and Breanna Stewart (2016) carried the franchise forward with Bird, who retired in 2022.
As the Storm's inaugural chief operating officer before moving to president and chief executive officer for seven years, Bryant helped solidify the franchise's standing as a premier WNBA team with business successes like the Storm's first jersey partnership.
The Sparks hired former Seattle Storm executive Karen Bryant as chief administrative officer and general manager. Eli Horowitz promoted to assistant general manager.
But she hasn't held a position like this in 25 years since when she was named general manager of the defunct American Basketball League's Seattle Reign in 1998.
Times have changed drastically in women's professional basketball. Combining general manager and head coaching duties — as Miller did for six years in Connecticut — is no longer feasible for most teams, according to Miller, because of the collective bargaining agreement approved in 2020 that has made salary cap decisions more difficult. Analytics, scouting and personnel are all more advanced. Bryant joked technology still scares her.
Bryant acknowledged that she's "rusty" at evaluating players, sorting out salary cap demands and making decisions about roster construction. There's a "steep learning curve" ahead, she added.
When the Sparks dismissed Derek Fisher last June, Bryant was simply assisting the team's search for a general manager as a strategic advisor, a role she began in 2021. When the team started its coaching search in earnest after the season, Bryant began talking with Miller, who was then the coach of the Connecticut Sun. A shared vision emerged, and ownership approached Bryant about stepping into the general manager role herself.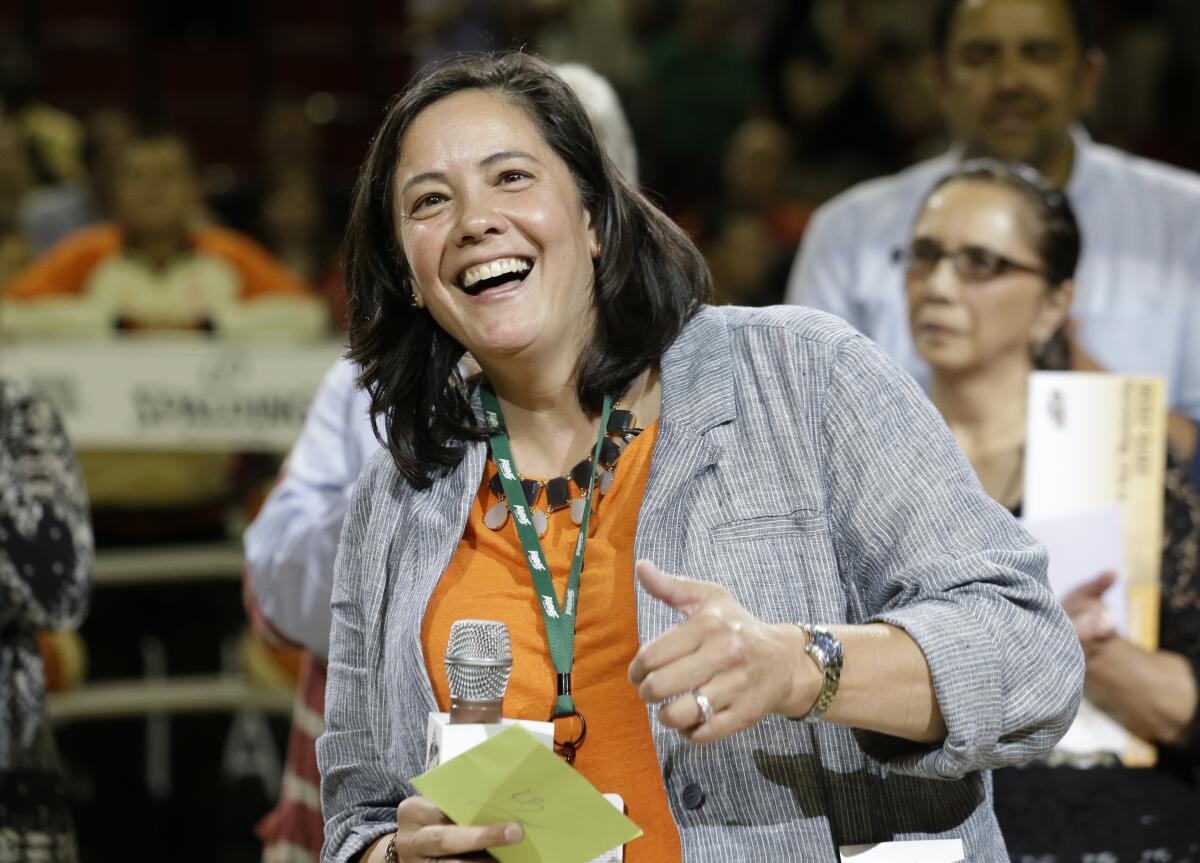 "Unexpected for me and I think ultimately unexpected for the organization," Bryant said, "but I think as we sit here today as partners, I think we're both extremely thrilled and confident about our ability to collaborate and lead this organization going forward."
New assistant general manager Eli Horowitz, who has spent most of his six-year tenure with the team working in communications, will join Bryant and Miller. He will oversee player personnel, scouting, salary cap management and basketball analytics after working last season as the senior director of communications and basketball analytics.
Her experience in roster construction is limited in the WNBA, but Bryant pointed out she helped bring coaches Anne Donovan and Brian Agler to Seattle. They each won one WNBA title for the franchise.
"She is on top of this, and she understands this league and most importantly, she wins," Miller said. "And she knows how to put winning teams together."
The Sparks' Curt Miller era will open on May 19 against the Phoenix Mercury, as the WNBA released its regular-season schedules Wednesday.
Miller started putting together his coaching staff Wednesday, announcing Chris Koclanes and Steve Smith as assistants and hiring Nola Henry as the player development coach. Koclanes oversaw Connecticut's defense under Miller for the past two seasons. Smith previously worked in L.A. under Orlando Woolridge (1998), Michael Cooper (2008-2009), Jen Gillom (2010) and Penny Toler (2014), before he and Miller worked on Agler's Sparks staff in 2015. Miller brought Smith to Connecticut from 2016-18.
Miller said he is still "actively pursuing" a third assistant coach, which is allowed if teams hire former WNBA players.
During the past six months, the Sparks have completely redone their business and basketball operations with a new president, coach and general manager. With free agency set to begin in four weeks, a new roster is on the way. The franchise has pushed restart and the rebuild could be long and at times frustrating for impatient fans, but Bryant and Miller believe it will be worth it.
"We will be measured, we will be disciplined in our approach," Bryant said. "We won't take shortcuts and we're in this for sustained success."