Abel Sanchez to be honored Friday as boxing's trainer of the year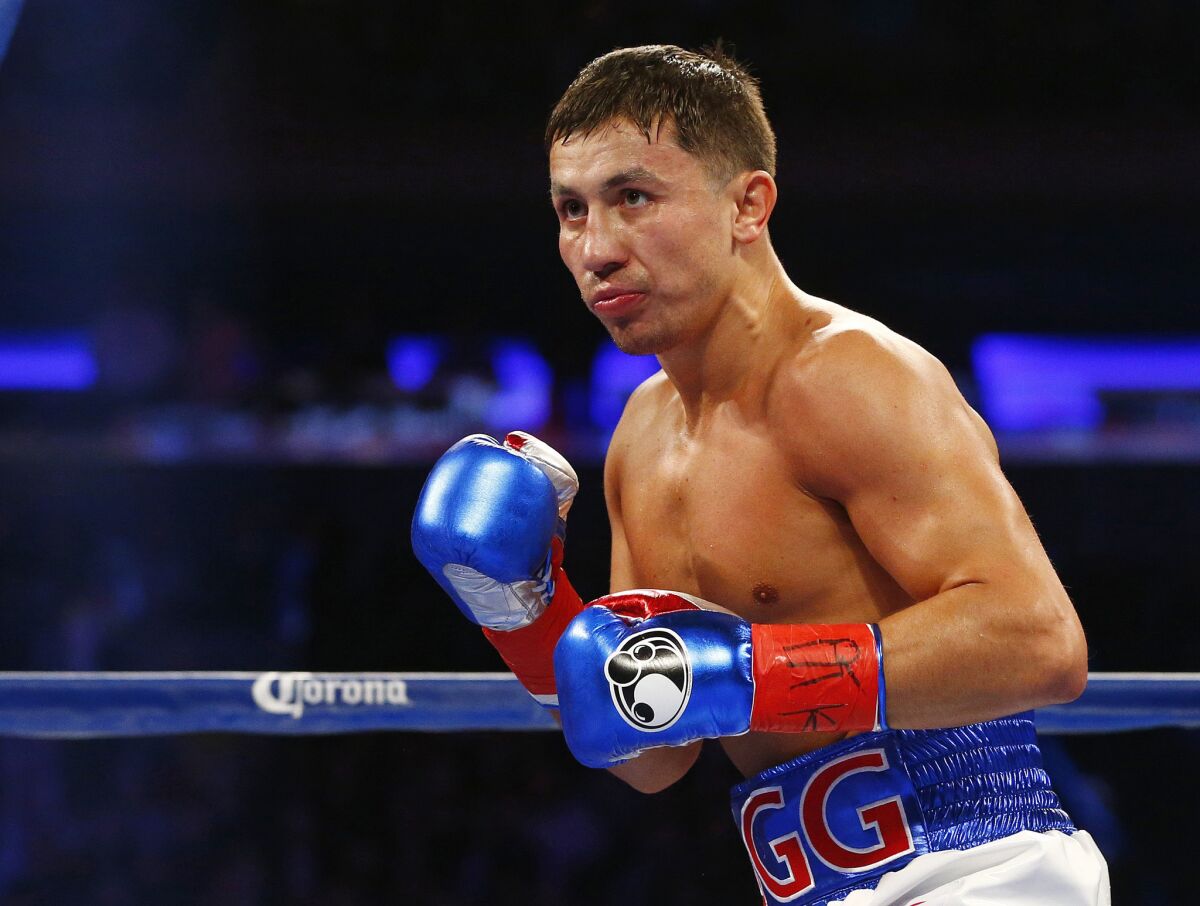 Reporting from New York —
The lessons Abel Sanchez gained as a contractor who's built custom homes around Southern California has parallels in his craft of constructing a fighter.
Sanchez will be honored Friday night as trainer of the year at the Boxing Writers Assn. of America dinner here – mostly for his work in Big Bear with unbeaten middleweight champion Gennady Golovkin.
"God put us on this earth to do something, and if we're fortunate enough to find our calling, we're going to do well," said Sanchez, who turned 60 in November.
"I think I was put here to be a teacher because I can convey what I know in a way people can understand. In both fields, you're not finished unless you're finished. There's details that have to be done toward the end, always little details that have to be taken care of or else it's not a finished product. I see that in the fight game and in the final walk-through. It takes a specialist to finish it off."
In Golovkin (35-0, 32 knockouts), Sanchez has spent more than six years training a Kazakhstan product who's posted 22 consecutive knockouts and won 16 consecutive World Boxing Assn. middleweight title fights – four short of Bernard Hopkins' record.
It's not just Golovkin's powerful right hand that wins fights, it's his ability to cut off the ring, move his feet into effective positions and land precise blows against those who haven't been as well-schooled as he is at Sanchez's "The Summit" gym in Big Bear.
Sanchez's previous products included champion brothers Terry Norris and Orlin Norris.
Part of Sanchez's teaching method was to send Golovkin into a private room and have him study videos of the attacking instinct and body punching of the great Julio Cesar Chavez Sr.
"Not only in building a home, but in having employees, you learn how to talk to people, how to direct people, how to manage personalities," Sanchez said. "Hiring someone, you can see who's more manageable than the other. And when it comes to building a house, if you don't have a good foundation – a good structure – than it doesn't hold up well. Same thing with a fighter. That's true in both the technical and mental aspect of a fighter. How they behave, what kind of person they are, is critical."
That buy-in from Golovkin and most of the other nine fighters in Sanchez's stable, including rising unbeaten cruiserweight Murat Gassiev, has created a bond of trust.
"We can't teach character," Sanchez said. "They have to be good people. If I'm going to be married to them for five or six years, I have to be able to get along with them. The second trait I love having is someone who's willing to be taught. We always want to win, but a lot of times we don't have the fighter who's willing to give us that wholeness to allow us to direct them.
"When Gennady came into camp, I promised I could do this, that and the other for him if he'd give me his undivided attention. And to this day, he hasn't questioned anything. So his success is a result of him doing his part and me doing my part. Trainers aren't magicians. We have to have help. And he's not a finished product. Every training camp, we work on something new. Ten fights down the road, we've covered just about everything you need to win a fight."
While Golovkin has selectively chosen his spots to call out an opponent, like Canelo Alvarez, the San Gabriel Valley's Sanchez has no problem pounding the drum for his fighter.
Alvarez's and Golovkin's promoters struck a verbal agreement for them to fight in fall 2017, with Golovkin likely to fight once-beaten Chrus Eubank Jr. of England in the U.K. in September.
"I promised I'd stopped bashing Canelo if he gave up that [World Boxing Council] belt, so now our goal and focus is getting the four belts, then who knows – 168 or a rising star in the middleweight division," Sanchez said. "Canelo could be in our future, but that's up to them."
While Sanchez will miss Friday's dinner as he trains veteran lightweight Denis Shafikov for a July 2 main event in Reading, Pa., versus Jamel Herring, he said he's "truly humbled by [the honor] and to be in the company of great coaches who I really respect.
"There's a lot of great coaches and teachers. I've been around this game awhile and had some decent fighters. Right now, I have a fighter that has captured the attention and imagination of a lot of people. I'm lucky."
Get our high school sports newsletter
Prep Rally is devoted to the SoCal high school sports experience, bringing you scores, stories and a behind-the-scenes look at what makes prep sports so popular.
You may occasionally receive promotional content from the Los Angeles Times.