Angels' Joe Smith can pitch Wednesday after his ankle injury heals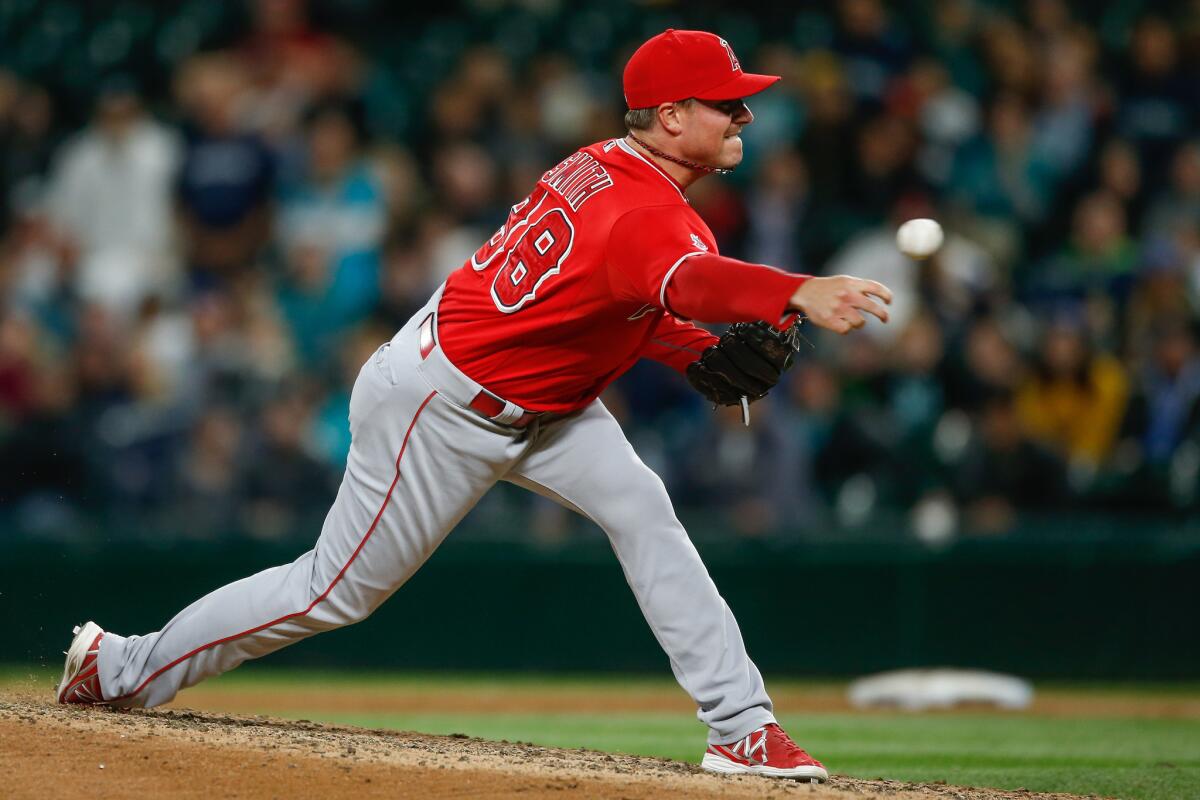 Setup man Joe Smith will be available to pitch Wednesday just 11 days after he sprained his left ankle when he tripped down a flight of stairs at the team hotel in Minneapolis, a potentially huge boost to the Angels bullpen.
Smith, his ankle heavily taped, threw 17 full-effort pitches off a mound Tuesday, simulating how he would warm up before entering a game, and completed a series of fielding drills.
"I've done everything they've asked me to do, passed all the tests," Smith said. "Today, I felt back to normal."
Smith, who is 5-5 with a 3.71 earned-run average in 67 games, believes he's ready to assume the closing role vacated by Huston Street, who suffered a left groin strain Saturday night.
Manager Mike Scioscia said the sidearm-throwing right-handed Smith would pitch "somewhere in the back-end," in the eighth or ninth inning depending on the situation. If Smith needs an inning to "get his feet on the ground," as Scioscia said, Smith will understand.
"I'll pitch wherever Sosh wants me to pitch," Smith said. "I feel good, my stuff was coming out very good. I was throwing strikes."
Play on
In the wake of Monday' night's 5-4 walk-off win over Oakland was a teachable moment for veteran outfielder Shane Victorino, whose base-running miscue almost cost David Murphy a game-winning hit but would not have cost the Angels the winning run.
The bases were loaded with no outs in the ninth when Murphy stroked a run-scoring single to left field. Victorino, who was on first base, stopped half way to second, threw both arms into the air and joined the celebration. He never touched second base.
Had the Athletics appealed — they didn't — Victorino would have been out at second and Murphy would have been credited with a fielder's choice. The run still would have scored.
"We talked to Victorino," bench coach Dino Ebel said. "He knew the game was over, but he also knew that if they did appeal, he would have felt bad that he took a hit away from his teammate. With no outs, the rule says if you appeal at second, it's an out, but the run scores, and the game is over."
Ebel had a simple reminder for Victorino.
"Right away we told him, touch the base," Ebel said. "Play the hit out, then celebrate. He knew. He said he made a mistake."
Dipoto detente
While friction between former Angels general manager Jerry Dipoto and Scioscia was clearly a factor in Dipoto's July 1 resignation, Dipoto, who was named the Seattle Mariners' GM on Monday, denied that his 3 1/2-year tenure with the Angels was marked by constant conflict with Scioscia.
"I think the general narrative, the popular narrative, is that Mike and I were constantly at war during my time with the Angels — that's the furthest thing from the truth, and I think Mike would share that belief, as well," Dipoto said at his introductory news conference in Seattle on Tuesday.
"Like many managers and general managers, we had disagreements in certain areas, and we agreed on a lot of things along the way, as well."
Dipoto went on to add that the relationship between a GM and manager "needs to be a partnership … and sometimes personalities get in the way."
mike.digiovanna@latimes.com
Get our high school sports newsletter
Prep Rally is devoted to the SoCal high school sports experience, bringing you scores, stories and a behind-the-scenes look at what makes prep sports so popular.
You may occasionally receive promotional content from the Los Angeles Times.