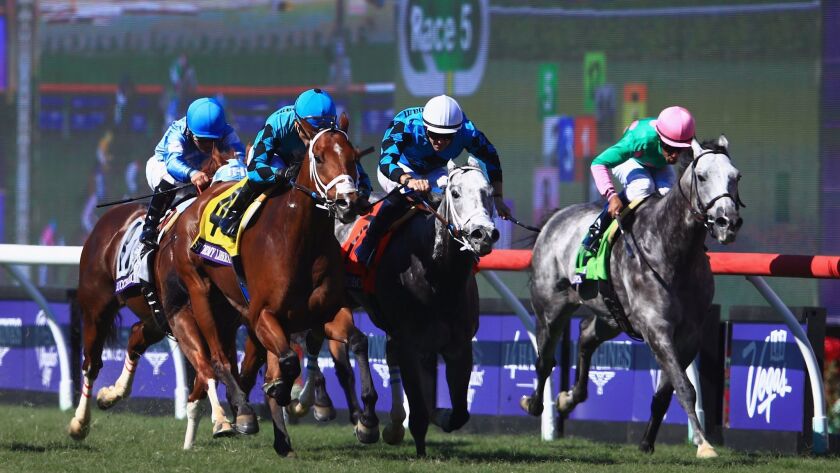 Reporting from Del Mar —
Gary Hartunian used to be a youth baseball enthusiast in the San Fernando Valley. He ran a top travel baseball team while his son, Matt, played at Van Nuys Montclair Prep. He donated money to build Hartunian Field next to the Encino Velodrome.
In 2013, he used his success in rental properties to go full in as a thoroughbred owner under Rockingham Ranch. Fast forward to Saturday at Del Mar. His horses Stormy Liberal and Richard's Boy finished one-two in the $1-million Breeders' Cup Turf Sprint under jockeys Joel Rosario and Flavien Prat.
Hartunian called it the "greatest thing that's happened to me in my career." Two hours later, he was a winner again when Roy H won the $1.5-million Breeders' Cup Sprint.
"It's the second-greatest thing that's ever happened to me," he said.
Hartunian, who's known to place a bet or two, didn't have the $277.50 exacta in the Turf Sprint or bet on the 30-1 Stormy Liberal.
"I blew it," he said.
He did bet on 9-2 Roy H, whom he owns with David Bernsen. "I didn't screw this one up," he said.
Trainer Peter Miller has helped guide Hartunian in his racing purchases, and the two celebrated with their first Breeders' Cup wins.
"This is the first time I didn't give instructions to the jockey," Hartunian said about Rosario. "I was running down saying, 'I want to talk to you, Joel,' and he jumped on the horse, so I was so upset. Then I said, you know, I'm going to bet Richard's Boy now, and that's what I did."
"I always tell the jockeys, whatever he said don't listen to him," Miller said.
Joyous reunion
The career paths of Ralph Nicks and Mike Smith had not intersected since they were teenage apprentice jockeys at Louisiana Downs decades ago.
Despite their enduring friendship, Smith, the mostly California-based jockey, and Nicks, whose training is centered in Florida and New York, had never teamed up on a horse — until Saturday.
A few weeks ago, Nicks believed he had a Breeders' Cup entrant worthy of Smith's services. He phoned the jockey's agent, Brad Pegram, who watched video of Caledonia Road and accepted on behalf of his client. There was no revisiting old times prior to the race, only some brief planning.
Afterward, with Smith (at 52, two years older) scoring his unprecedented 26th Cup victory and Nicks his first in three tries, all the trainer could recall them saying to each other was, "Extra special."
"I think we'll have some old tales over glasses of wine tonight," said Nicks, who polished off one filled with champagne immediately after the race.
Super-sized flag
The Breeders' Cup went big and bold for the playing of the national anthem, especially notable nowadays at sports events. A flag that extended from the track's inside rail to the grandstand was unfurled and held aloft by a crew of about 40. A flyover by jets punctuated the song's performance.
Crowd control
The 37,500 attendance maximum established by Del Mar somehow was slightly exceeded as 192 fans took the crowd count above the cap. More spacious Santa Anita drew 72,811 a year ago for the second day of the Cup.
4-year-old son of Candy Ride takes $6 million race at Del Mar
One number that came as a relief to Del Mar: none. There were no apparent in-race injuries to participants for the 13 Cup races. However, the Cal-bred Cheekaboomboom had to be euthanized following a pre-Breeders race Friday after breaking down.
Del Mar was plagued by serious, often deadly mishaps in 2016 but reduced the number during the latest summer session. Friday's fatality was the first of the current mini-meet that began Wednesday.
Tale of ill Ulysses
There was only one horse scratched from the 13 Cup races, but it was impactful. Ulysses, the morning-line 7-2 favorite in the Turf on Saturday, was diagnosed with mild inflammation of the left fetlock by the track veterinarian and was deleted Friday night from the field.
The move meant that a record for number of horses entered who commuted from overseas would not be broken. With Ulysses' defection, the high mark of 34 was tied this weekend. The England-based Ulysses was scheduled to hop on one of two cargo planes filled with expensive equine flesh back to London on Sunday.
Though his fate was frustrating to the connections, the cost was not as steep for a wasted week as it might seem. Expenses for transportation are borne primarily by the Breeders' Cup, which provides $40,000 per horse.
Shoemaker Award
Jockey Javier Castellano won the Bill Shoemaker Award given to the most outstanding jockey at the Breeders' Cup. He had a victory, a runner-up, three third-place finishes and a fourth.
---