College football: No. 6 Texas, No. 16 Texas A&M and No. 20 Wisconsin fall; No. 7 Georgia takes out No. 9 Florida
Taylor Cornelius threw three touchdown passes and ran for two scores, the last with 5:44 remaining to help Oklahoma State beat No. 6 Texas 38-35 on Saturday night.
Cornelius completed 23 of 34 passes for 321 yards, and his scoring run on third-and-10 gave Oklahoma State (5-3, 2-3 Big 12) a 38-28 lead after its 31-14 halftime advantage had been whittled down to just three points.
Tylan Wallace had 10 receptions for 222 yards and two touchdowns. The Cowboys snapped a two-game losing streak.
For Texas (6-2, 4-1), Sam Ehlinger returned from a shoulder injury suffered in the previous game. After struggling a bit in the first half, Ehlinger completed 17 of 27 passes for 175 yards and two touchdowns in the second half.
Tre Watson's 1-yard touchdown run with 1:46 remaining pulled Texas to 38-35, but Dillon Stoner recovered the ensuing onsides kick for Oklahoma State. The Cowboys were then able to run out the clock after Cornelius gained a first down on third-and-4 with an 8-yard rush.
at Northwestern 31, No. 20 Wisconsin 17: Clayton Thorson ran for two touchdowns and threw for one, and Northwestern beat No. 20 Wisconsin 31-17 on Saturday in Evanston, Ill.
The Big Ten West-leading Wildcats (5-3, 5-1) moved 1 1/2 games ahead of the Badgers (5-3, 3-2) and gained some revenge for a loss at Camp Randall Stadium early last season that helped keep them out of the conference championship game.
With quarterback Alex Hornibrook missing the game because of a concussion and the defense without several injured starters, it was simply a rough afternoon for Wisconsin. Northwestern turned two fumbles by star running back Jonathan Taylor and another by quarterback Jack Coan into 17 points on the way to its fourth straight victory.
Thorson was a bit shaky again after struggling in a narrow win at Rutgers. He completed 17 of 30 passes for 167 yards with three interceptions against a short-handed defense. But he ran for two TDs in the first half and found Kyric McGowan for a 24-yard score in the third quarter.
Isaiah Bowser ran for 117 yards and a touchdown. He scored on a 2-yard run early in the fourth, making it 31-10 after Coan fumbled deep in Badgers territory.
Coan was 20 of 31 for 158 yards and a touchdown in his first career start.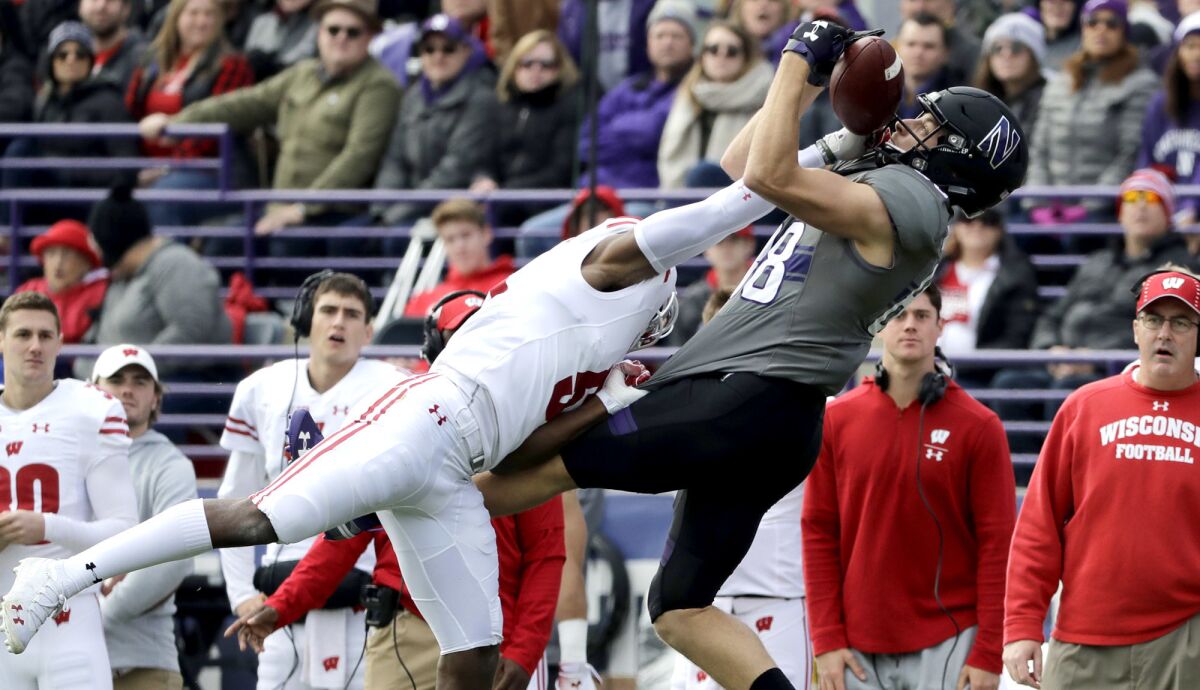 Taylor, the nation's leading rusher, ran for just 46 yards on 11 carries after finishing with 100 or more in eight straight games.
No. 7 Georgia 36, No. 9 Florida 17: Jake Fromm threw three touchdown passes, ending speculation about freshman Justin Fields supplanting him in the starting lineup, and No. 7 Georgia beat ninth-ranked Florida 36-17 on Saturday.
The Bulldogs took advantage of Florida's three turnovers and an injury to cornerback C.J. Henderson to win the "World's Largest Outdoor Cocktail Party" for the second straight year.
Fromm completed 17 of 24 passes for 240 yards, none bigger than the three for scores — all on third down. The first two went to Jeremiah Holloman, who beat C.J. McWilliams both times. The Bulldogs (7-1, 5-1 Southeastern Conference) clearly were picking on McWilliams after he replaced Henderson (back) on the first series.
at No. 17 Penn State 30, No. 18 Iowa 24: Nick Scott intercepted a pass to thwart Iowa at the Penn State 2 with 3:18 left and the No. 17 Nittany Lions held on to avoid a third straight home loss with a 30-24 victory Saturday over the No. 18 Hawkeyes.
Penn State (6-2, 3-2 Big Ten) needed one last defensive stand to hold off Iowa (6-2, 3-2), which got to the Nittany Lions 44 with less than a minute left.
On fourth-and-10 with 7 seconds left, Penn State's pass rush swarmed Nate Stanley, who flipped backward to offensive tackle Tristan Wirfs. The 300-pounder rumbled 15 yards before being dragged down with no time left.
Mississippi State 28, No. 16 Texas A&M 13: Nick Fitzgerald threw for 241 yards and two touchdowns and ran for two more scores to lead Mississippi State over No. 16 Texas A&M 28-13 on Saturday night.
Mississippi State (5-3, 2-3 Southeastern Conference) won thanks to an unexpected boost from its passing game, which was among the least productive in the SEC coming into the night. One week after throwing four interceptions in a miserable loss to LSU, Fitzgerald completed 14 of 22 passes, including several big gains that swung the game in favor of the Bulldogs.
The biggest might have been a 84-yard strike to Stephen Guidry on third-and-21 that set up a 1-yard touchdown run by Fitzgerald and gave the Bulldogs a 21-13 lead early in the fourth quarter.
at Houston 57, No. 21 South Florida 36: D'Eriq King had a hand in a career-high seven touchdowns, throwing for 419 yards and five scores and running for 134 yards and two more touchdowns in Houston's 57-36 victory over No. 21 South Florida on Saturday.
King threw touchdown passes of 15, 38, 30, 52 and 27 yards and had scoring runs of 47 and 36 yards. He finished 28 of 41 passing. The seven total touchdowns set a career high.
Marquez Stevenson caught six passes for 106 yards and two touchdowns, Jeremy Singleton had five receptions for 125 yards and a touchdown and Courtney Lark caught four passes for 85 yards before exiting early in the fourth quarter with an injury. Houston (7-1, 4-0 American) won its fifth straight, totaling a season-high 684 yards of offense.
Syracuse 51, No 22. North Carolina State 41: Eric Dungey threw for three touchdowns and ran for another, and Syracuse held off No. 22 North Carolina State 51-41 on Saturday night to become eligible for the postseason for the first time in five years.
Syracuse (6-2, 3-2 Atlantic Coast Conference), which snapped a two-game losing streak last time out with a 40-37, double-overtime victory over North Carolina, improved to 5-0 in the Carrier Dome.
N.C. State (5-2, 2-2), which was coming off its first loss of the season, a 41-7 thrashing at No. 2 Clemson, fell behind early, rallied, then ran out of time at the end. Orange linebacker Andrew Armstrong sealed the victory with an interception at the Wolfpack 23-yard line with 2:18 left.
No. 2 Clemson 59, at Florida State 10: Trevor Lawrence threw four touchdown passes, and the Tigers handed the Seminoles their worst home loss in program history with a 59-10 victory on Saturday.
Lawrence completed 20 of 37 passes for 314 yards before staying on the sideline for good late in the third quarter. Tee Higgins and Amari Rodgers each had two touchdown receptions.
The Tigers (8-0, 5-0 Atlantic Coast Conference) moved to 8-0 for the seventh time in school history, including the third time in the last four seasons. They were dominant in the second quarter, scoring four touchdowns on consecutive drives en route to their fourth straight victory over the Seminoles.
Florida State (4-4, 2-4) couldn't get out of its own way, suffering its most-lopsided defeat at home — surpassing a 58-14 loss to Southern Miss in 1981. It was also the most points allowed by the Seminoles at Doak Campbell Stadium.
No. 3 Notre Dame 44, Navy 22: Ian Book threw for 330 yards and two touchdowns, Dexter Williams ran for 142 yards and three scores and No. 3 Notre Dame overwhelmed Navy 44-22 on Saturday night to remain undefeated and in the playoff picture.
JaFar Armstrong added a rushing touchdown for the Fighting Irish. They are 8-0 for the first time since 2012, when they remained undefeated until being routed by Alabama in the BCS national title game.
Notre Dame had 584 yards of total offense as it extended its dominance in the oldest continual intersectional rivalry to 78-13-1.
at No. 8 Oklahoma 51, Kansas State 14: Kyler Murray passed for 352 yards and three touchdowns and ran for another score to help No. 8 Oklahoma beat Kansas State 51-14 on Saturday.
The Sooners (7-1, 4-1 Big 12) rolled up a season-high 702 total yards and only punted once, and that was in the fourth quarter after Murray was done for the day.
CeeDee Lamb caught four passes for a career-high 160 yards and two touchdowns, and Kennedy Brooks ran for 94 yards and two scores. The Sooners won their second straight since losing to Texas.
Oklahoma held Kansas State (3-4, 1-4) to 245 yards. Alex Barnes, who entered the game as the Big 12's leading rusher, was limited to 28 yards on 13 carries.
The Sooners gained 209 yards in the first quarter and took a 17-0 lead. Murray threw two touchdown passes in the period, including an 82-yard connection with Lamb.
No. 12 Kentucky 15, at Missouri 14: Terry Wilson threw a 2-yard touchdown pass to C.J. Conrad on the final play to give No. 12 Kentucky a 15-14 victory over Missouri on Saturday.
Kentucky took over on its own 19 with 1:24 left. With 4 seconds left, Wilson threw toward Ahmad Wagner in the back left corner of the end zone. Wagner caught the ball out of bounds, but Missouri cornerback DeMarkus Acy was called for pass interference, giving Kentucky an untimed down that it turned into the winning score.
Lynn Bowden Jr. returned a punt 67 yards for a touchdown with 5:18 left to pull the Wildcats (7-1, 5-1 Southeastern Conference) to 14-9.
In other games Saturday:
— Texas Tech's Alex Bowman was called for a safety with 4:39 left, Hakeem Butler added a 48-yard TD catch from Brock Purdy just over two minutes later and Iowa State (4-3, 3-2 Big 12) rallied for a 40-31 victory over the visiting Red Raiders (5-3, 3-2).
— Rocky Lombardi threw for 318 yards and two touchdowns in his first start for Michigan State (5-3, 3-2 Big Ten), and the host Spartans halted a four-game winning streak by Purdue (4-4, 3-2) with a 23-13 victory.
— Bryce Perkins threw for three touchdowns and ran for another and Virginia beat North Carolina 31-21 Saturday. Perkins ran for 112 yards for the Cavaliers (6-2, 4-1 ACC), who are in first place in the ACC's Coastal Division. The loss was the fourth straight for the Tar Heels (1-6, 1-4).
— Matt Colburn II rushed for career highs of 243 yards and three touchdowns, Sam Hartman threw two TD passes and Wake Forest (4-4, 1-3 Atlantic Coast Conference) rolled up 591 yards in a 56-35 rout of host Louisville (2-6, 0-5).
— Adrian Martinez passed for 213 yards and two touchdowns and Devine Ozigbo ran for 110 and another score — all in the first half — and Nebraska (2-6) prepped for next week's trip to Ohio State with a 45-9 win over visiting Bethune-Cookman (4-5).
— Jordan Asberry caught a touchdown pass and ran for another as Army (6-2) picked up a 37-22 victory over Eastern Michigan (4-5) for a fourth consecutive win that secured bowl eligibility for the third straight season.
— Grant Breneman ran for two touchdowns and the Colgate defense gave up only 36 total yards as the Raiders (7-0, 4-0 Patriot League) beat Georgetown 38-0 for their 12th win in a row. The Hoyas (4-5, 3-1) had a three-game winning streak stopped.
— Javon Leake rushed for three touchdowns and scored on a 97-yard kickoff return, Kasim Hill had the best passing game of his career and Maryland rolled past Illinois 63-33. Leake is the first Maryland player to score four TDs in a game since D.J. Adams in the 2010 Military Bowl. Hill threw for 265 yards and three touchdowns and Maryland amassed 712 yards in offense.
— Peyton Bender threw two touchdown passes to Pooka Williams, the Kansas defense forced a fumble at its own 6-yard line with 58 seconds left and the Jayhawks held on to beat TCU 27-26 to end a four-game losing streak. Kansas had taken its final lead on Williams' second TD grab, and Darius Anderson fumbled at the other end of the field to allow the Jayhawks to ultimately run out the clock.
Other scores:
Arizona State 38, USC 35
No. 14 Washington State 41, No. 24 Stanford 38
California 12, No. 15 Washington 10
Arizona 44, No. 19 Oregon 15
Oregon State 41, Colorado 34, OT
Akron 17, Central Michigan 10
Alabama Birmingham 19, Texas El Paso 0
Boise State 48, Air Force 38
Central Connecticut 49, Wagner 24
Cincinnati 26, Southern Methodist 20, OT
Charlotte 20, Southern Mississippi 17
Coastal Carolina 37, Georgia State 34
Columbia 17, Yale 10
Dartmouth 24, Harvard 17
Dayton 38, Butler 28
Eastern Kentucky 31, Eastern Illinois 23
Florida International 38, Western Kentucky 17
Furman 28, Citadel 17
Holy Cross 56, Lehigh 0
Indiana (Pa.) 56, Seton Hill 14
Louisiana Lafayette 47, Arkansas State 43
Marist 48, Morehead State 21
Michigan Tech 35, Northern Michigan 33
Middle Tennessee 51, Old Dominion 17
Nevada 28, San Diego State 24
Northern Illinois 7, Brigham Young 6
North Texas 41, Rice 17
Penn 13, Brown 7
Pittsburgh 54, Duke 45
Plymouth St. 10, Westfield St. 7
Princeton 66, Cornell 0
Randolph-Macon 56, Emory & Henry 21
Rhode Island 21, William & Mary 10
RPI 42, Rochester 0
San Jose State 50, Nevada Las Vegas 37
South Carolina, 27, Tennessee 24
South Carolina St. 27, Howard 21
South Dakota St. 38, Illinois St. 28
Stetson 56, Davidson 53
Texas State 27, New Mexico State 20
Tulane 24, Tulsa 17
UMass 22, UConn 17
Utah State 61, New Mexico 19
Vanderbilt 45, Arkansas 31
Virginia 31, North Carolina 21
---
Get our high school sports newsletter
Prep Rally is devoted to the SoCal high school sports experience, bringing you scores, stories and a behind-the-scenes look at what makes prep sports so popular.
You may occasionally receive promotional content from the Los Angeles Times.