College football spotlight: All that hot-seat talk in the SEC comes with a hefty price tag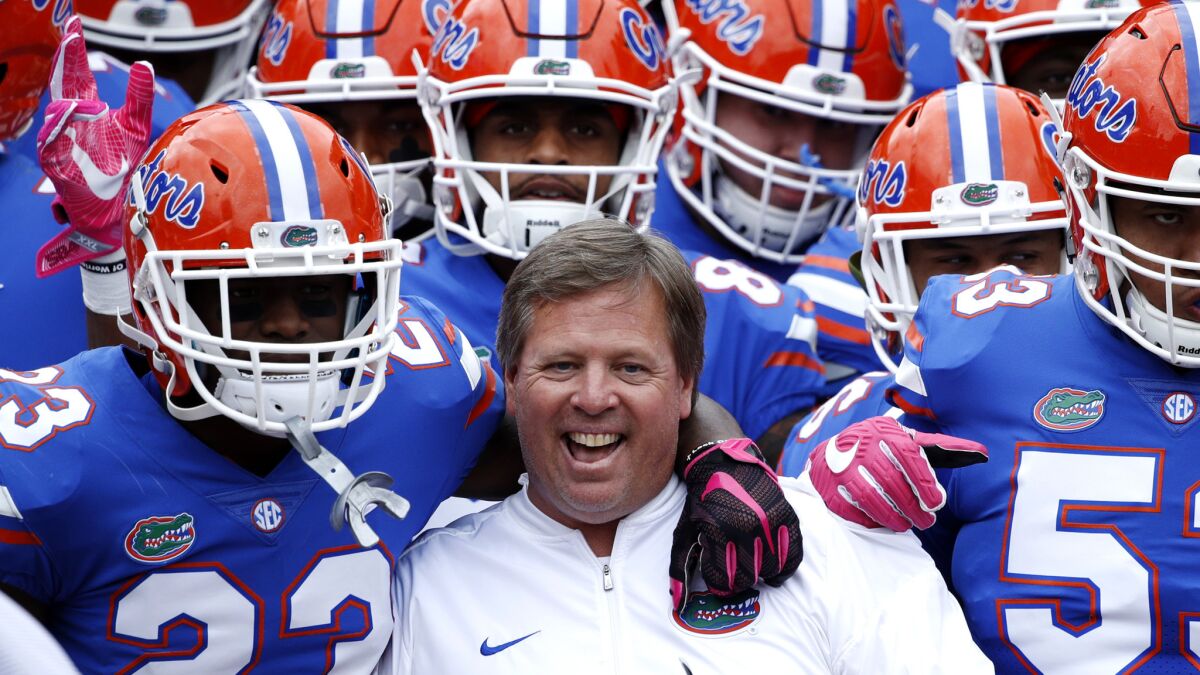 It could be an expensive year around the SEC, where tolerance has never been in abundance and a coach is only as good as his team's last play.
Most "coaches on the hot seat" speculation includes Butch Jones (Tennessee), Barry Odom (Missouri), Matt Luke (Mississippi), Kevin Sumlin (Texas A&M), Bret Bielema (Arkansas) and Ed Orgeron (LSU). It's a group that totals $36 million in buyouts, according to USA Today.
Meanwhile, Florida officials were hard at work Saturday trying to convince people that Jim McElwain — and his $12.9-million buyout — should not be on that list.
The week has been strange in Gainesville, even by Florida standards. McElwain said that his family and players had received death threats because of their poor performance. Administration officials said they met with their coach, who offered no further details. McElwain then backed away slightly, saying "It comes with the territory" and proclaiming "I'm confident we're all right."
That failed to drain the swamp. Darren Heitner, a sports attorney and Florida alum, tossed out on Twitter that administration officials and McElwain were in talks about a buyout.
Athletic director Scott Stricklin reacted with a statement Saturday: "No one representing the University of Florida or our athletic department has had any conversations with Coach McElwain or his representatives regarding a buyout of his contract. Our focus is on this great Florida-Georgia rivalry today in Jacksonville."
People might want to check back in with Stricklin this week.
After No. 3 Georgia scored three touchdowns during its first eight plays, two things accelerated with Florida — their unhappiness with McElwain and their intake at "The World's Largest Outdoor Cocktail Party."
The Bulldogs continued their Sherman-like march to No. 1 Alabama with a 42-7 victory.
Playing Har-Baugh
Michigan coach Jim Harbaugh had seen enough, especially with the Wolverines playing the hottest team in the Big Ten.
OK, it was Rutgers.
But the Scarlet Knights had won back-to-back conference games for the first time. So, after a sluggish start, Harbaugh decided that Michigan quarterback John O'Korn must be benched.
O'Korn had thrown for just 13 yards and had one pass intercepted. Enter Brandon Peters with the score tied, 7-7, in the second quarter. He produced two touchdowns before halftime, one a 20-yard touchdown pass to Chris Evans.
Peters, a redshirt freshman, completed 10 of 14 passes for 124 yards and a touchdown in a 35-14 victory.
Harbaugh claimed that the decision to play Peters was made during the week.
"That was the plan, and we stuck to the plan," Harbaugh said post-game.
Peters' performance left the Michigan media hollering for more. Before the Wolverines could shower, a Detroit Free Press headline post-game screamed, "Brandon Peters has to be Michigan starting QB moving forward."
Harbaugh was a little more cryptic, telling reporters, "Like a bird leaving the nest, kids leaving the house and going out on their own. It's time."
Michigan fans might say it was overdue. After all, Peters was once compared to Stanford's Andrew Luck … by Harbaugh.
Come fly with me …
University of San Diego football players can bank on an exotic location for vacation this year, provided they signed up for frequent-flier miles.
The Toreros reside in the Pioneer Football League, a conference that features a singer (Drake), a servant (Butler) and a hat (Stetson). It also covers eight states, and though you couldn't win the presidency with them, it would be a good start in an election (171 electoral college votes).
On the far left is San Diego. The closest conference opponent is Drake in Des Moines, Iowa, which is 1,744 miles away.
Yet the Toreros are once again the bull in the conference's china shop.
San Diego traveled to Florida for the second consecutive week and returned with a 48-7 victory over Stetson. Anthony Lawrence, a third-year starter at quarterback, threw for 271 yards and two touchdowns, giving him 69 in his career.
It left the Toreros atop the conference standings with a 5-0 record. This is nothing new. San Diego has won or shared the last six conference championships. The program launched Harbaugh's head-coaching career in 2004. He won two conference titles before moving on.
Like Harbaugh, current coach Dale Lindsey, certainly needs to keep a bag packed, though not because of unhappy alums. The Toreros will have logged 9,320 miles for conference games by the end of the season.
While the Toreros must trudge through the Midwest, East and Deep South, their opponents have it a little better coming west. San Diego was named the most beautiful campus in the United States by the Princeton Review.
Cowboy up
Oklahoma State's Mason Rudolph did not practice in the week leading up to the West Virginia game. Coach Mike Gundy told reporters that his quarterback was "just dinged a bit."
That diagnosis seemed to be confirmed by Rudolph on Saturday. He threw for 216 yards and three touchdowns and ran for another. The No. 11 Cowboys needed his performance, as they nearly squandered a 20-point lead before scraping out a 50-39 victory over No. 22 West Virginia.
Rudolph's day left him with a school record 77 career touchdown passes, two more than Brandon Weeden. It was also his 29th victory as a starter, surpassing the Oklahoma State record held by Gundy.
The victory left the Cowboys tied for first place in the Big 12.
Gundy wasn't in a celebrating mood after his team's victory.
According to ESPN, Gundy was asked what he would have said if someone told him the Cowboys would win while giving up a touchdown on an interception return and another on a blocked punt. Gundy replied, "I would have said that they were drinking and I wish I was drinking with them."
Road tripped up
The signs were there from the start. Nothing was going to go right for Michigan State.
First, the flight to Chicago was canceled Friday, forcing the team to take a 239-mile bus ride to play Northwestern.
The Spartans' first possession ended with a fumble on the Wildcats' seven-yard line. Their last possession ended with quarterback Brian Lewerke having a pass intercepted by Brett Walsh in the third overtime to preserve Northwestern's 39-31 victory.
And coach Mark Dantonio's post-game news conference was interrupted twice when his cellphone rang at the podium. After the second time, Dantonio said, "There's always firsts. There's a first."
Something Dantonio should keep in mind on the way home.
Look out below?
Columbia lost to Yale, 23-6, Saturday, leaving the two teams tied for first in the Ivy League.
Lions fans, who were on the rise after a 6-0 start to season, had to cringe knowing losses tend to pile up for Columbia. The Lions lost 44 consecutive games in the 1980s and had a 24-game losing streak from 2012 to 2015.
Columbia, though, wasn't the only team having a stressful day around the Ivy League. ESPN reported that Dion King, a defensive quality control coach for Dartmouth, punched and shattered a window in the press box at Harvard Stadium, sending glass flying, after the team fumbled a punt.
King, ESPN reported, was escorted from the stadium. Dartmouth blew a 14-0 lead in a 25-22 loss to Harvard and fell a game behind Yale and Columbia.
Dartmouth officials said King would pony up the Big Green to pay for the damage.
The Los Angeles Dodgers in the 2017 World Series
Get our high school sports newsletter
Prep Rally is devoted to the SoCal high school sports experience, bringing you scores, stories and a behind-the-scenes look at what makes prep sports so popular.
You may occasionally receive promotional content from the Los Angeles Times.