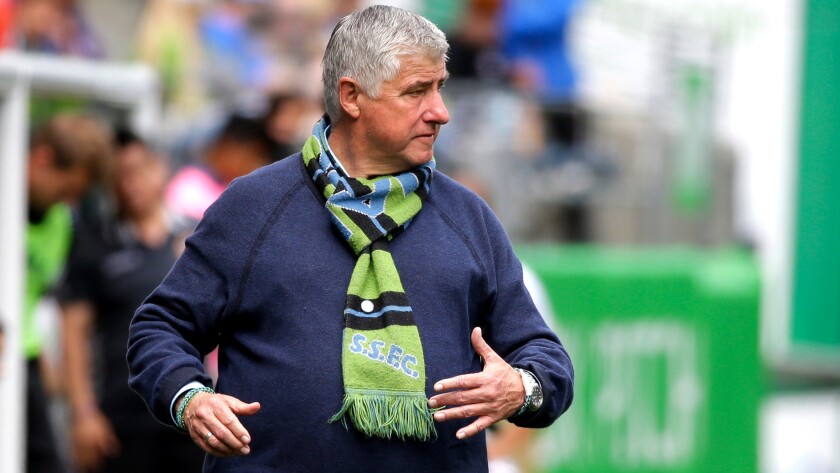 A year ago the Seattle Sounders were floundering.
They had six wins through 20 games, were near the bottom of the MLS Western Conference standings and had shown little heart under Sigi Schmid, the only coach the franchise had never known. So they fired Schmid, signed midfielder Nicolas Lodeiro and went on to win the MLS Cup for the first time.
Now Schmid, 64, hopes to work the same magic with the struggling Galaxy, who picked him to replace Curt Onalfo, who was fired Thursday with the team in its longest losing streak in a decade.
The winningest coach in MLS history took over the Galaxy at Thursday's morning training session and will be on the sideline Saturday when they play the Sounders at the StubHub Center. Schmid said the deal came together in less than 72 hours.
"We certainly had been evaluating things for some time," Galaxy President Chris Klein said. "The decision to go with someone like Sigi, if you look at his history and his track record and look where we're at now, we felt that he was the best hire for us."
Although Schmid will inherit a Galaxy team in a situation similar to the one he left in Seattle last summer, it will be a different team than the one Onalfo guided to a 6-10-4 record. The team signed Mexican national team player Jonathan dos Santos, reuniting him with older brother Gio dos Santos to provide the midfield spark the team has been lacking.
Jonathan dos Santos is expected to take part in his first training session Friday and could make his MLS debut next week.
"The reality of being at this club is results do matter," Klein said. "And as we build through this, we have to take steps so that we continue to move forward. In the end that's what this was about."
The Galaxy paid a $5.8-million transfer fee to Spanish club Villarreal for the rights to Dos Santos, 27, then signed him to a multiyear designated-player contract worth more than $2 million a season. He'll join brother Gio, 28, and Romain Alessandrini, 28, to give the Galaxy a trio of designated players just entering the prime of their careers.
Including the playoffs, Schmid has won 254 games, two league titles and a record five U.S. Open Cups in 17 seasons with the Galaxy, Columbus Crew and Seattle. He also won three NCAA titles during 19 years at UCLA.
He was fired last July with the Sounders struggling under his leadership. Longtime assistant Brian Schmetzer took over and that same week Seattle signed Lodeiro, who led the Sounders to the playoffs and spearheaded an improbable postseason run that ended with a title.
"Certainly the example that they set is the example that this club needs to look at," Schmid said. "It's just a matter of getting into the playoffs and then anything's possible. So we need to now get it together and continue to grow our team."
Schmid will retain Onalfo assistant Rob Becerra and goalkeeper coach Daniel Gonzalez but assistant Ante Razov, who spent two seasons on Schmid's staff in Seattle, will be transferred to another job with the Galaxy.
Schmid, who grew up in Torrance and was a four-year starter at UCLA, said he followed MLS closely during his year away from coaching and believes he knows where the Galaxy need to improve.
"When you look at the numbers and when you look at the statistics, certainly in the last series of games, the issue has been just goals allowed," he said. "We need to make sure that we solidify ourselves defensively and give our offense a chance to show what it can do and produce the goals that it is able to produce.
"You can't give up three goals a game and expect to win."
Onalfo, a defender on the Galaxy's first team in 1996, returned to the franchise in 2011 to first coach the reserve team, then the franchise's USL affiliate, Galaxy II, before replacing Bruce Arena as the first-team coach when Arena left to coach the U.S. national team last fall.
But the team was decimated by injuries from the start of the season, forcing Onalfo to rely on young, unproven products of the club's player-development system for nearly 40% of the minutes played this season.
"I've been very honest about the changeover that we've had to go through … transitioning an older roster," Klein said. "And we are building. So certainly this doesn't lay at anyone's feet."
The team did not make Onalfo available for comment.
The Galaxy played well in stretches, putting together an eight-game unbeaten streak in May and June. But with Onalfo struggling to win the support of many players, the team imploded over the last month.
"I don't think there was a lack of belief or effort," Klein said. "We just felt that now was the right time for a different voice in this locker room. A voice like Sigi Schmid's and the success that he's had in our league and understanding this club was very important. We just felt it was the right change for now."
Onalfo previously coached in the MLS for DC United and the Kansas City Wizards, leading Kansas City to the playoffs in 2007. He has an MLS record of 36-51-29 with three teams.
Follow Kevin Baxter on Twitter @kbaxter11
---