Former coach George Karl blasts Carmelo Anthony in upcoming book: He was 'a user of people'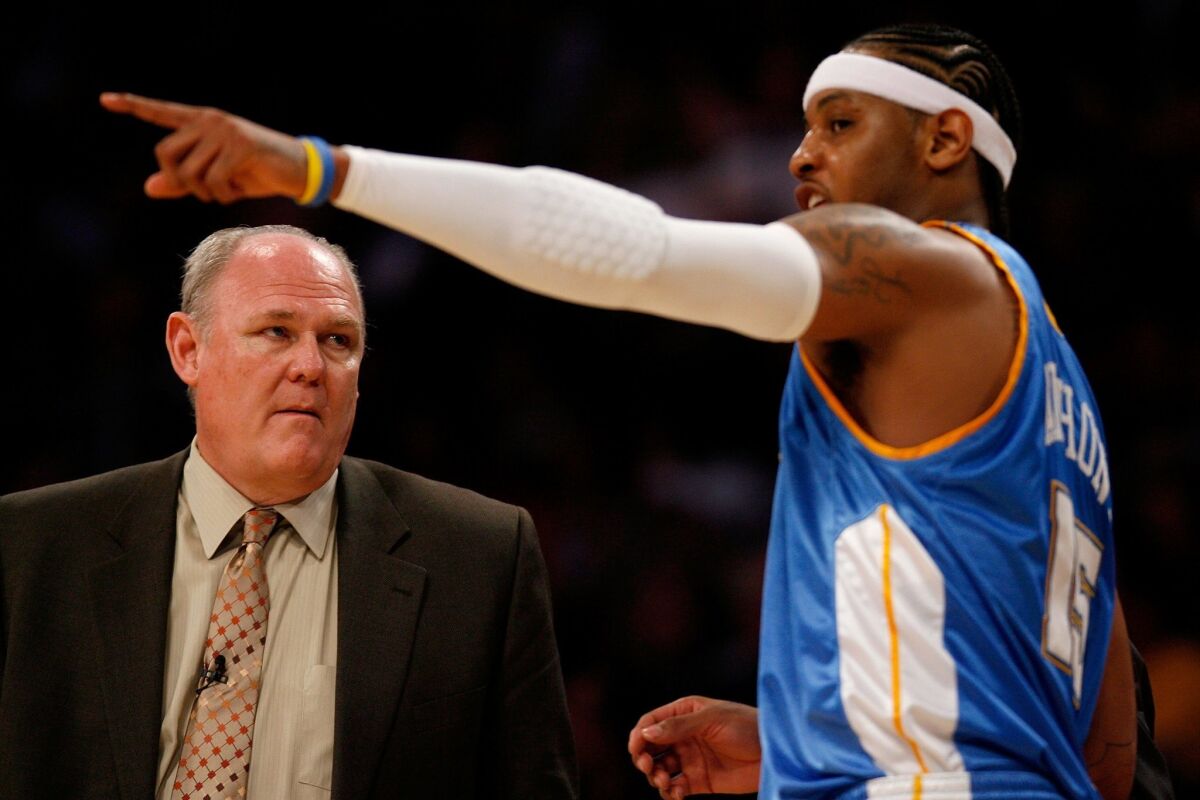 George Karl doesn't paint a pretty picture of New York Knicks star Carmelo Anthony in his upcoming memoir.
Karl, who coached Anthony while they were with the Denver Nuggets, wrote: "Carmelo was a true conundrum for me in the six years I had him. He was the best offensive player I ever coached. He was also a user of people, addicted to the spotlight and very unhappy when he had to share it."
The New York Post obtained an advance copy of "Furious George," which comes out in January. In it, Karl also wrote that Anthony "was such a talented kid,'' he could've "become the best defender at his position in the NBA.''
But that wasn't the case, George said.
"He really lit my fuse with his low demand of himself on defense," George wrote. "He had no commitment to the hard, dirty work of stopping the other guy. My ideal — probably every coach's ideal — is when your best player is also your leader. But since Carmelo only played hard on one side of the ball, he made it plain he couldn't lead the Nuggets, even though he said he wanted to. Coaching him meant working around his defense and compensating for his attitude."
He added: "I want as much effort on defense — maybe more — as on offense. That was never going to happen with Melo, whose amazing ability to score with the ball made him a star but didn't make him a winner. Which I pointed out to him. Which he didn't like."
Karl also referred to Anthony and then-Nuggets teammates Kenyon Martin and J.R. Smith as "AAU babies'' — not unlike "the spoiled brats you see in junior golf and junior tennis'' — and wrote that "Kenyon and Carmelo carried two big burdens: all that money and no father to show them how to act like a man."
And Karl wrote that Anthony's trade to the Knicks in the middle of the 2010-11 season was "a sweet release for the coach and the team, like popping a blister.''
The former coach also had additional critical words for Smith, writing that he carried "a huge sense of entitlement, a distracting posse, his eye always on the next contract and some really unbelievable shot selection."
Karl added: "When we traded J.R. in 2011, I was disappointed that I hadn't helped a clearly talented player advance his game more.''
Twitter: @chewkiii
---
Get our high school sports newsletter
Prep Rally is devoted to the SoCal high school sports experience, bringing you scores, stories and a behind-the-scenes look at what makes prep sports so popular.
You may occasionally receive promotional content from the Los Angeles Times.