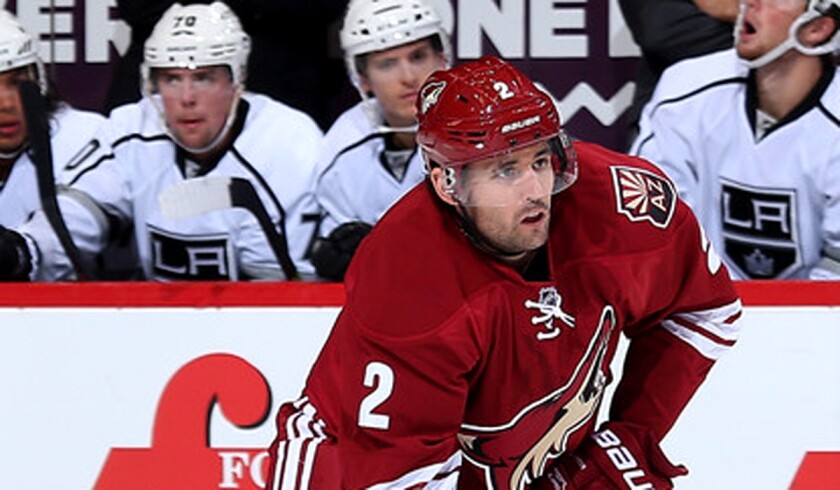 The Kings will be signing veteran Jamie McBain to a league-minimum contract ($550,000) to help their greatly depleted defense corps, according to General Manager Dean Lombardi.
Their options were severely limited because of salary-cap problems. Faced with uncertainty over the continued absence of defensemen Slava Voynov (indefinite suspension) and Robyn Regehr (lower-body injury), Lombardi moved quickly to find a solution.
By waiting to make the signing official on Tuesday, the Kings improved their salary-cap room. Even incremental amounts -- in fact, waiting a day -- are helping them at this point. Even as recently as Saturday, they were unable to make a minimum recall.
Said Lombardi: "We're going to need a defenseman ..."
It appears Regehr could be out longer than just a few days, and the Kings were waiting to hear news in regard to Voynov's legal case. Redondo Beach police said previously that detectives were scheduled to meet with the Los Angeles district attorney's office Monday afternoon in connection with Voynov's arrest last month on suspicion of domestic violence.
McBain had been on a pro tryout with their minor league affiliate in Manchester, N.H., and played five games with the Monarchs. He arrived in Los Angeles on Sunday and practiced with the Kings on Monday morning. The 26-year-old has 265 games of NHL experience, primarily with Carolina's organization and more recently with the Buffalo Sabres.
He had been invited to Arizona's training camp, but did not make the Coyotes' team. McBain returned home to Minnesota and had been mostly skating at his father's rink in Bloomington. Then came the phone call asking him to come to Manchester, and he called the recent series of events "a crazy few weeks here."
"I was just skating there [in Minnesota] mostly by myself," McBain said on Monday. "There were a few guys around still and a few buddies -- men's leagues and things like that. Just keeping my feet going and training by myself and waiting for that right opportunity to come along."
Kings Coach Darryl Sutter: "I've seen very little of him live, being in the other conference. Probably two to three games, that would be it. I saw him in training camp" with Arizona.
The Kings were forced to play with five defensemen, instead of six, in Saturday's 5-1 win against the Vancouver Canucks.
Sutter lauded his team's effort.
"When you have a lead, it's much easier for your defense," Sutter said. "It's the first time ever that I've dressed five defensemen. I've been on a team that's dressed only five defensemen, so to be able to come away with a win is unique.
"Be thankful that we had the days between games. Clearly being short of manpower hurt us, has cost us points. When you look at Pitttsburgh, Philadelphia, those situations, clearly ... the back-to-backs, Detroit, clearly affected our game."
---