Morning Briefing: Fans don't want Luke Walton fired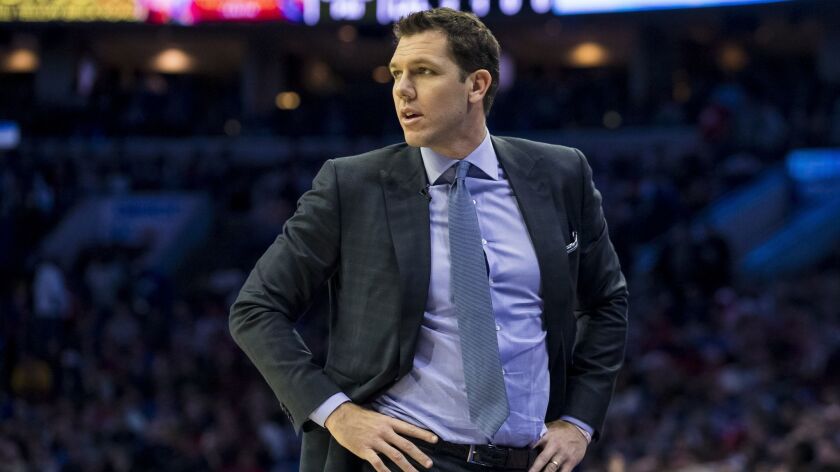 We asked readers of our new daily sports newsletter (which you can sign up for on our website) to take part in an informal poll: Should the Lakers fire Luke Walton? And 18,146 votes later, here are the results:
Yes: 29.7%
No: 70.3%
But if the Lakers do fire Walton, be it after the next losing streak or at the end of the season, here are the odds on the potential candidates to replace him, courtesy of BetOnline.
Jason Kidd, 3-1
Tyronn Lue, 7-2
Mark Jackson, 5-1
Brian Shaw, 6-1
Juwan Howard, 10-1
Mike Krzyzewski, 16-1
Rick Pitino, 16-1
Jay Wright, 16-1
Bill Self, 18-1
Tom Izzo, 33-1
Phil Jackson, 33-1
Magic Johnson, 33-1
LeBron James, 50-1
LaVar Ball, 500-1
Only 500-1 on LaVar Ball?
Tough words
Disgruntled Pittsburgh Steelers star Antonio Brown, who has demanded a trade, told fans on Twitter that he would answer 10 questions they put to him.
And the first one was a doozy:
"What caused the conflict between you and Ben Roethlisberger?"
Brown didn't hold back in his answer, tweeting:
"No conflict just a matter of respect! Mutual respect! He has a owner mentality like he can call out anybody including coaches. Players know but they can't say anything about it otherwise they meal ticket gone. It's a dirty game within a game. #truth"
Is Kap coming back?
Mark Geragos, the attorney for quarterback Colin Kaepernick, told CNN on Saturday night that his client still wants to play. Then he dropped an astounding prediction: Someone will sign Kaepernick within two weeks.
"I think you're going to see ... within the next two weeks that somebody is going to step up and do the right thing, and you want me to predict who?" Geragos said. "Besides the [Carolina] Panthers, it would not surprise me if [New England Patriots owner] Bob Kraft makes a move."
Kaepernick backing up Tom Brady in New England might be just enough to make the minds of many NFL fans explode (not to mention the effect it would have on President Trump). Would Kaepernick be next to Brady when he kneels? It would be worth the Patriots signing him just to find out.
One step away
Former Heisman Trophy winner and NFL quarterback Tim Tebow is at spring training with the New York Mets again this year, and if all goes according to plan, he will be assigned to triple-A Syracuse when the season starts, putting him just one step from the majors.
"This will be like, sort of the biggest spring training for me," Tebow told ESPN Sunday. "This journey isn't defined by just getting there. I think, shoot, I've already enjoyed it enough to say it's worth it. The whole process. Would that be awesome? Of course it would. It would be such an amazing thing and it would be so enjoyable, but at the same time, regardless of what happens, I know that I'll enjoy it every day, and I think that's the biggest thing for me."
Tebow hit .273 with six home runs and 36 RBIs for double-A Binghamton last year.
"It's kind of hard to put into words how much more comfortable I feel, to be honest with you. Just in the little things. Shoot, in knowing what I'm going to grab to bring out there with me for practice, you know?" Tebow said. "Just playing catch, going through the motions, balls off the bat, off the wall, all of those things."
---
Get the latest on L.A.'s teams in the daily Sports Report newsletter.
You may occasionally receive promotional content from the Los Angeles Times.