Morning Briefing: Bru McCoy mulls transfer back to USC?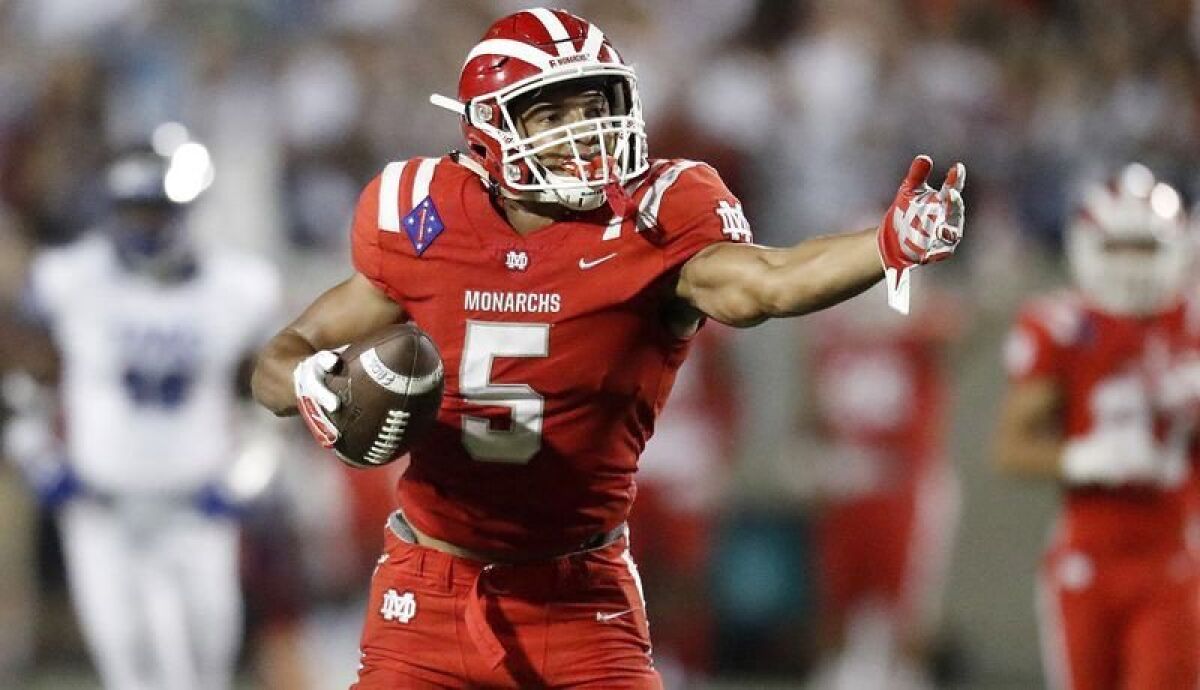 Hot college football rumors in May. How great is that?
USC fans will be especially fond of this one:
There were several reports out of Texas on Monday regarding Bru McCoy, the hotshot wide receiver out of Santa Ana Mater Dei High, one of the highest-rated high school football athletes from the 2019 recruiting class, The Times' player of the year, the … we could go on and on.
Anyway, McCoy, the guy who signed early with USC and then jilted the university — really … the whole thing — after Kliff Kingsbury decided he would rather be coach of the NFL's Arizona Cardinals than offensive coordinator for the Trojans, is reportedly ready to complete a 360.
You might remember that McCoy entered the NCAA transfer portal early this year — tiring of USC after all of two weeks — before settling on Texas.
And was Tom Herman ever happy about it.
"I applaud Bru and his courageousness to say, 'Hey, this is not where my heart is, and I'm going to do something to change that,'" the Texas coach said of McCoy's move from L.A. to Austin.
Oh man, there's ironic and then there's that quote.
As an early enrollee, McCoy had a strong spring at Texas and was thought to have positioned himself to have an impact as a freshman for the Longhorns if — and it's a big if — the NCAA grants his request for a waiver that would give him immediate eligibility.
Without it, he wouldn't be eligible for a year because of his transfer. But wait: Now the next transfer could be to the school he transferred from just months ago!
So, now we're guessing the question becomes: If McCoy ends up back at USC, is he immediately eligible because it's the place he transferred from originally? What's the boomerang rule?
We trust the NCAA will sort this out.
Yeah, not really. Anyway, stay tuned.
Milk money
Retired athletes, particularly superstar athletes, sometimes have trouble adjusting to the real world. Take, for example, NBA star Dwyane Wade, who retired after the regular season ended.
Wade's wife, Gabrielle Union, was on "The Late Late Show With James Corden" and talked about her husband's adjustment to retired life.
"He has no idea how much milk costs," Union said. "He's like, 'What is that, about $20?' I'm like, 'What kind of goat's blood milk are you drinking?' No! It's... like, what?"
Of course, considering Wade was paid about $200 million in his career, $20 for milk doesn't seem so bad.
Glad to be out
Denver Nuggets forward Michael Porter Jr. sat out what would have been his first NBA season after undergoing back surgery. And he's glad he did.
"It's a huge advantage," Porter told the Denver Post. "Just being on the bench, watching them play, seeing where I'm going to get my shots in the offense, and just learning the NBA game. It's a lot different than college, spacing and everything."
It's not often you hear that missing an entire season is an advantage. Maybe the Lakers and Clippers should have their draft picks sit out all next season. Actually, we probably shouldn't give the Lakers that idea. They might do it.
Get our high school sports newsletter
Prep Rally is devoted to the SoCal high school sports experience, bringing you scores, stories and a behind-the-scenes look at what makes prep sports so popular.
You may occasionally receive promotional content from the Los Angeles Times.