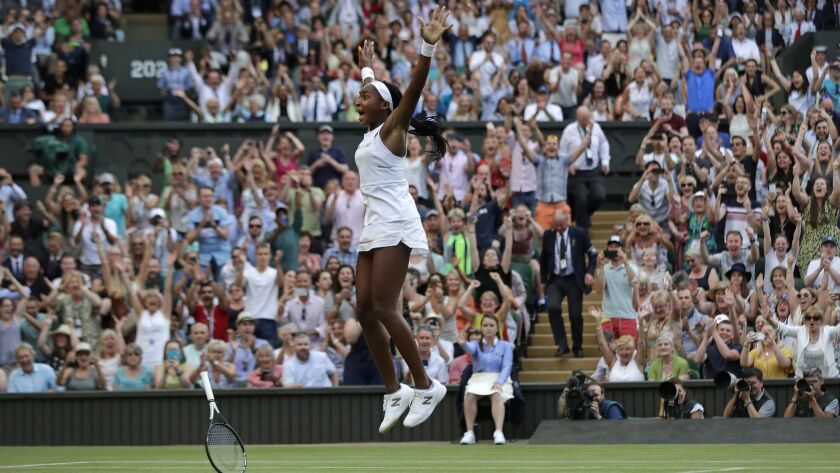 Fifteen-year-old Coco Gauff had a memorable run at Wimbledon this year, including defeating her idol, Venus Williams, in the opening round. She lost in the fourth round Monday to Simona Halep, but is already turning her attention to the future.
"I'm going to go and practice and improve some things," Gauff told the Associated Press before smiling and adding, "so that next time, I can win the tournament."
Gauff was the youngest player to qualify at Wimbledon in the professional era. Then she upset Williams. And then she became the youngest player to reach Week 2 at the All England Club since 1991.
She was ranked 313th when Wimbledon began and is projected to jump into the top 150 next week.
But what's truly next for Gauff? She is about two weeks away from finishing her freshman year of high school, via the internet-based Florida Virtual School.
"I don't even know what today is," Gauff said. "These past two weeks, I didn't know what day it was. All I knew is, 'Oh, I play tomorrow.' My mind has just been somewhere else. I already had respect for the people who win [Grand Slam titles]. But now, like, experiencing one and being to the second week, I have way more respect, because I can see how difficult it is to be able to stay focused for two weeks. It's just a lot. It's a lot. But I can see myself doing better in the future."
Sports poll
With all the free-agent moves in the last few days, the NBA Western Conference will be really deep next season. Most oddsmakers have the Clippers favored to win the conference title. Who do you think will win? Vote in our poll at poll.fm/10358770 (or click here if you are reading this online) or email me at houston.mitchell@latimes.com. Results will be revealed next week.
Your favorite sports moment
What is your favorite all-time L.A. sports moment? Here's the next one in our occasional series. Email me your favorite sports moment (houston.mitchell@latimes.com) and it might run in a future Morning Briefing.
Our next one comes from David Weber of Avondale, Ariz.:
"I'm 66 and a lifelong Angeleno (until moving to Arizona in April). There are so many great sports moments I recall. But the one that was the most emotional for me was the Lakers' championship in 1972.
"I suffered, really suffered with them in the 60s, particularly the devastating loss in the '69 Finals. I started college in the fall of 1971 (UCSB-Go Gauchos!) and several of my dormmates and I would watch or listen to all the Laker games. During the 33-game winning streak (kids, ask your parents), we developed a ritual of playing Elton John's 'Burn Down the Mission' before every game. Great song; no idea what it had to do with basketball. That's rituals for you."
Bedtime story
Houston Astros third baseman Alex Bregman hit eight homers in 2016 and 19 in 2017 before surging to 31 last season. He already has 23 home runs at the All-Star break this year, on pace for 41. What caused the surge in power?
Bregman thanks teammate Justin Verlander. Bregman told the New York Times that Verlander approached him in May 2018 and said he looked fatigued. He asked him how many hours of sleep he gets a night, and Bregman said about six. Verlander told him he should be sleeping at least 10 hours every night.
"I felt like that's overdoing it," Bregman said. "You shouldn't sleep that much. Then I started sleeping that much and, next thing you know, I hit 30 homers after that."
---