Kyle Larson ready for busy weekend before NASCAR Cup race at Michigan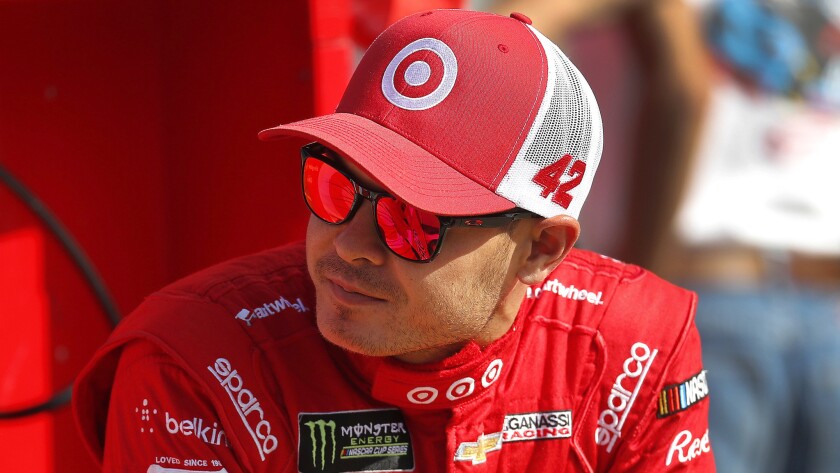 Kyle Larson is ready for a hectic weekend befitting his status as one of racing's rising stars.
Larson is set to race in Saturday's Knoxville Nationals, squeezing in the prestigious sprint car event before returning to Michigan to compete in Sunday's NASCAR Cup Series race. Chip Ganassi, Larson's team owner on the Cup circuit, gave him permission to race Saturday in Knoxville, Iowa. He qualified ninth in his Cup car Friday at Michigan.
"Chip's allowing me to go to Knoxville (on Saturday), which is great," Larson said. "Cool weekend for me and really excited for it."
Brad Keselowski won the pole, putting himself in good position to try for an elusive victory at his home state's track. Keselowski is winless in 16 career Cup races at Michigan. He does have eight top-10 finishes.
Keselowski's pole was his 14th on the Cup Series and first at Michigan. It was his second this year. Joey Logano qualified second, followed by Kevin Harvick. Keselowski took the pole with a lap of 35.451 seconds (203.097 mph) in his No. 2 Ford.
The 25-year-old Larson has two Cup victories this year — including in June at Michigan — and is third in the standings. He also won at Michigan last August .
Larson performed well enough in qualifying Wednesday to make the field for Saturday's top race at Knoxville. He said he spoke to Ganassi about it Thursday, after Chevrolet's event in Detroit introducing its 2018 Cup car.
"My deal with Chip is I can't race a sprint car or midget or anything really the night before I'm on track," Larson said.
Larson said Ganassi is making an exception for Saturday night.
"Ultimately, it's all Chip's decision," Larson said. "I know my fans really appreciate it, all my sprint car fans and NASCAR fans. So Chip is a hero today and this weekend. I appreciate it."
In a video posted on the Twitter account for Chip Ganassi Racing, Ganassi addressed fans who had been calling on him to let Larson race in Saturday's event.
"I've been hearing you all the last few days. My phone and my Twitter account's blowing up," Ganassi said. "OK, OK, OK. We're going to let him race in Knoxville."
Ganassi is hoping Larson's presence at Knoxville could draw more viewers to Sunday's Cup Series race.
"We know the guy's an amazing talent. We know he can win at Knoxville," Ganassi said. "We've got to have him win here Sunday in Michigan, too, in the NASCAR race. Kyle's an amazing talent. Let's have him win in Knoxville. Let's bring him back to win here in Michigan, and then I want all you fans in Knoxville to be turning your TVs on NASCAR on Sunday."
If Larson wins a third straight Cup race at Michigan, he'll be the first driver to do that since Bill Elliott, who won four in a row from 1985-86. Larson, who has seven runner-up finishes this year to go along with his two wins, has been in a bit of a rut lately, finishing out of the top 20 in his past three races.
With only four races left before the playoffs, this isn't a good time for a slump.
"We have had probably more bad luck than bad runs," Larson said. "I think Indy we were pretty good at, probably fourth- or fifth-best car, and then same at Pocono, but we broke a driveshaft at Pocono and got in a wreck at Indy. Watkins Glen we were definitely not very good, I didn't think."
---
Get our high school sports newsletter
Prep Rally is devoted to the SoCal high school sports experience, bringing you scores, stories and a behind-the-scenes look at what makes prep sports so popular.
You may occasionally receive promotional content from the Los Angeles Times.