After another disappointing season, Josh Hamilton is injured again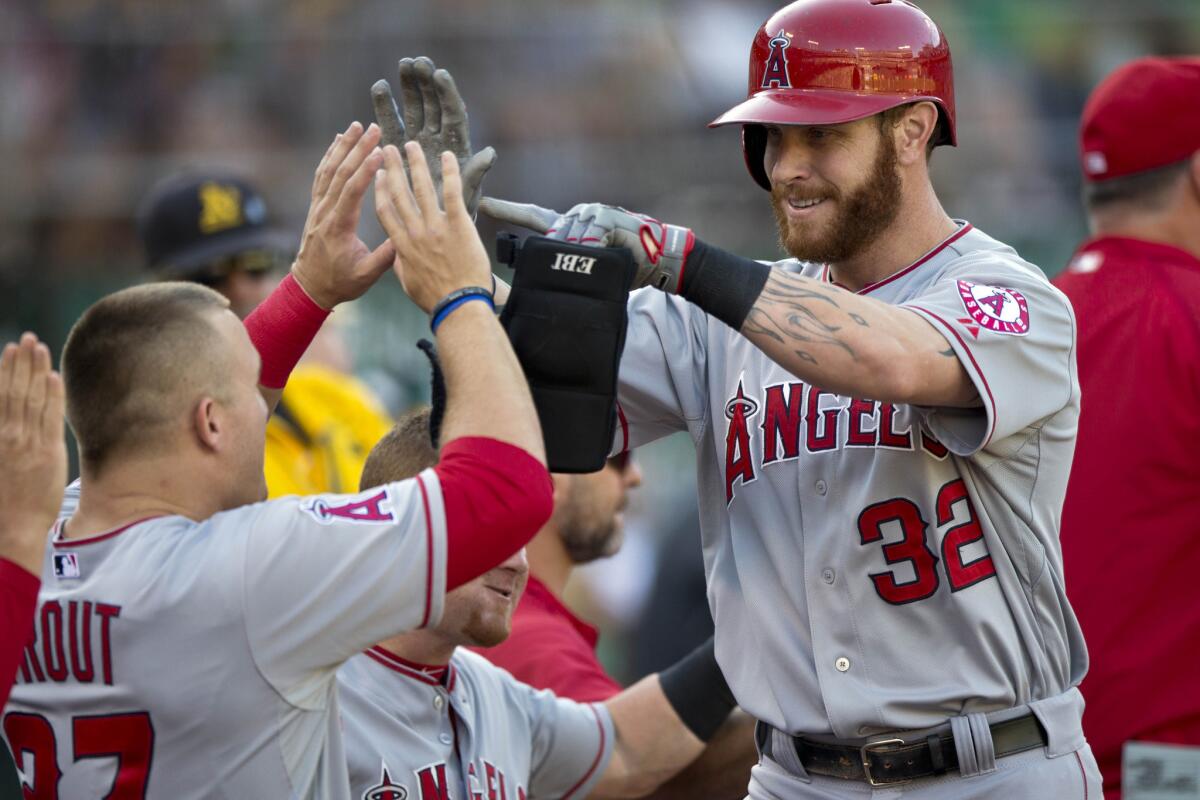 Josh Hamilton set some lofty goals for 2015, the Angels left fielder saying in late January that a .300 average, 30 homers and 100 runs batted in were "very attainable" despite his struggles and injuries of the past two seasons.
Those ambitions took a serious hit Tuesday when the team announced that Hamilton will undergo surgery to repair the AC joint in his right shoulder, a procedure that is expected to sideline him for six to eight weeks and probably force him to open the season on the disabled list.
Hamilton, entering the third year of a five-year, $125-million contract, missed most of last September because of right-shoulder, chest and rib-cage injuries that made it painful to swing.
He declared himself fit for the playoffs but went hitless — often looking overmatched — in 13 at-bats in a three-game American League division series loss to Kansas City.
Hamilton, 33, gave his body a few extra weeks to heal before beginning off-season workouts, but the shoulder flared up again last week when he tried to swing a bat with full force.
The setback raised an obvious question: Why didn't Hamilton have the surgery immediately after the season, giving him several months to heal?
"We had no idea or inclination it would be problem," General Manager Jerry Dipoto said. "We thought healing and general rest would do the trick. That was our hope. He went through his regular workouts, strength and speed training. He didn't aggravate it until he started to swing full-throttle last week."
The Angels could have treated Hamilton with physical therapy and rest, "but we tried that for multiple months, and it didn't work," Dipoto said. "So, we'll take an aggressive tack this time."
The Angels are counting on a bounce-back year from Hamilton in hopes of easing the loss of September cleanup batter Howie Kendrick, who was traded to the Dodgers in December.
Hamilton is expected to miss most of spring training and will need a minor league rehabilitation assignment before returning.
"By attacking this aggressively now, we put ourselves in a position for him to miss as little time as possible," Dipoto said. "He'll probably have to open on the DL. But his return to play should be in April."
Dipoto said the Angels did not want a repeat of last September, when Hamilton would swing a bat for a day or two and be shut down for a week or more.
"Watching him come back for the postseason after such a long layoff, knowing it was so painful for him to swing, it might not have been the best decision for Josh," Dipoto said.
"He wanted to play. It was part his decision, part ours. It didn't work out. We just want to allow him get back to whatever portion of 100% he can be instead of trying to play with pain. Hopefully this helps."
Hamilton hit .305 and averaged 28 homers and 101 RBIs in five seasons (2008-12) at Texas, winning AL most-valuable-player honors in 2010.
But he's been a bust since joining the Angels, slumping to a .250 average, 21 homers, 79 RBIs and 158 strikeouts in 2013 and hitting .263 with 10 homers and 44 RBIs during an injury-riddled 2014.
His surgery will open the door for Matt Joyce, acquired from Tampa Bay, and Collin Cowgill to share the left-field job and C.J. Cron to gain more at-bats as the designated hitter.
"We don't envision this being a long-term issue, but six to eight weeks is not a short-term thing," Dipoto said of Hamilton's injury. "We'll have a better idea when he gets back on the field doing baseball things."
Follow Mike DiGiovanna on Twitter @MikeDiGiovanna
Get our high school sports newsletter
Prep Rally is devoted to the SoCal high school sports experience, bringing you scores, stories and a behind-the-scenes look at what makes prep sports so popular.
You may occasionally receive promotional content from the Los Angeles Times.