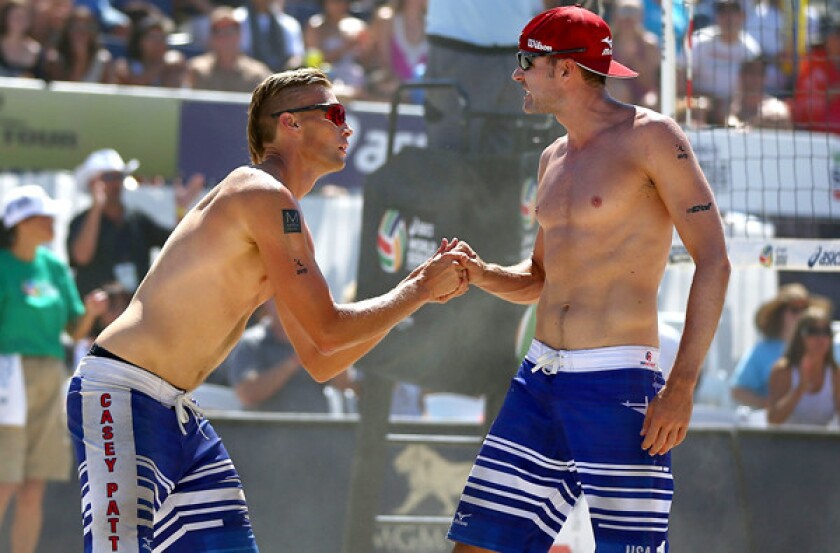 Top-seeded Jake Gibb and Casey Patterson, who had won four consecutive beach volleyball tournament titles, won't play for a fifth Sunday afternoon after being upset in their semifinal match, 19-21, 26-24, 15-13, by fourth-seeded Theodore Brunner and Nick Lucena.
In the men's final at the AVP Championships tournament in Huntington Beach, Brunner and Lucena will take on third-seeded Tri Bourne and 41-year-old John Hyden, who played in the 1996 Olympics.
Bourne and Hyden beat eighth-seeded Brad Keenan and John Mayer, 21-11, 21-18, in the other semifinal.
Gibb and Patterson, who went running into the ocean after the loss, wasted four match points. And the disappointed team must catch a midnight flight to China and head to an FIVB international tournament.
Still to come are the women's semifinals.
Three-time Olympic gold medalist Kerri Walsh Jennings and her teammate April Ross will be in one of those semis. If Walsh Jennings wins the title Sunday, she will become the winningest women's beach volleyball player with 113 tournament wins.
Walsh Jennings is tied with former partner Misty May-Treanor, who is retired. Walsh Jennings won all her Olympic medals with May-Treanor.
ALSO:
Dianne DeNecochea, 45, has tips for Kerri Walsh Jennings
Cassius Marsh sees limited playing time, UCLA coach is mum
IndyCar: Will Power wins Fontana race, Scott Dixon claims title
---