Boston officials hope to boost support with new 2024 Olympic bid plan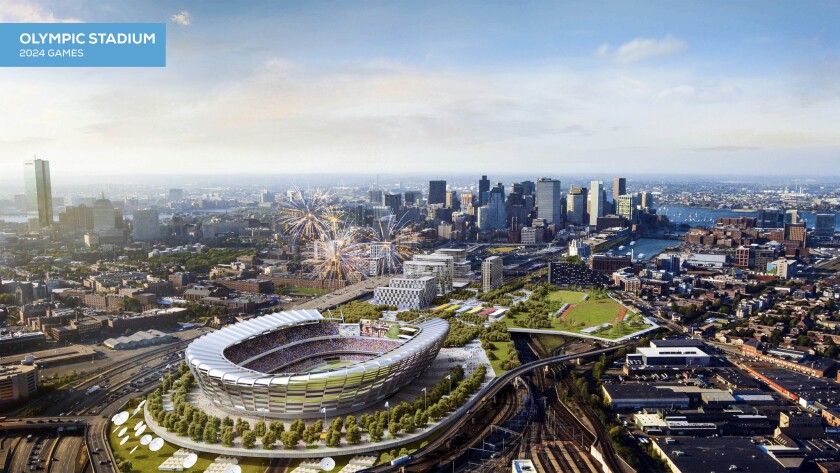 The bid committee trying to bring the 2024 Summer Olympics to Boston has released a new master plan it hopes will win over skeptical local residents who have shown little support for the campaign.
According to its "Bid 2.0," Boston 2024 projects $4.6 billion in operating costs and a $210 million surplus from ticket sales, broadcast rights and other revenue sources. Bid officials also promise to create housing and jobs while expanding the tax base.
The Monday morning announcement comes at a time when many have wondered if the U.S. Olympic Committee might abandon Boston.
Los Angeles, which lost a close USOC race to be named as bid city, would be ready to step in at the last moment, according to sources close to the situation who are not authorized to speak publicly.
With recent Olympics costing billions of dollars to stage, money has been of primary concern for Massachusetts residents. Boston 2024 officials hope to show they can produce a privately funded Games that will not rely on taxpayer dollars.
In addition, they have proposed spreading venues across the state, with canoeing in Deerfield River to the west and sailing off the coast of New Bedford in the south. That represents a shift from the initial proposal that called for a tightly clustered, "walkable" Games.
"This has been a transition from a conceptual plan," Bid Chairman Steve Pagliuca told the Associated Press. "We've now done the 'little-picture' thinking. We think we've made the major leaps."
Pagliuca took over Boston 2024 this spring amid lagging public support. A recent poll by radio station WBUR-FM showed that only 39% of Massachusetts residents favored holding the Games in their capital city.
Bid officials have pledged to be more active in letting the public know about their plans.
"People need to feel like they own the Games and it's not being dictated to them," Richard Davey, the committee's chief executive, said last week.
The recent poll showed public support rising significantly if venues were spread throughout the state.
The new proposed footprint could appeal to that broader appetite but still features 23 venues within a roughly six-mile radius.
A temporary Olympic stadium would be built in midtown. Among the most-popular sports, soccer would be played on the Patriots' home field at Gillette Stadium and basketball would be on the Celtics' homecourt at TD Garden.
The area's colleges and universities continue to figure prominently, with Harvard, Northeastern and Boston College involved in hosting sports.
The USOC, whose board is meeting in Northern California on Monday and Tuesday, must submit a bid to the International Olympic Committee by mid-September.
Paris, Rome and Hamburg have announced their intentions to try for the 2024 Games. The IOC is scheduled to select a host in 2017.
---
Get the latest on L.A.'s teams in the daily Sports Report newsletter.
You may occasionally receive promotional content from the Los Angeles Times.