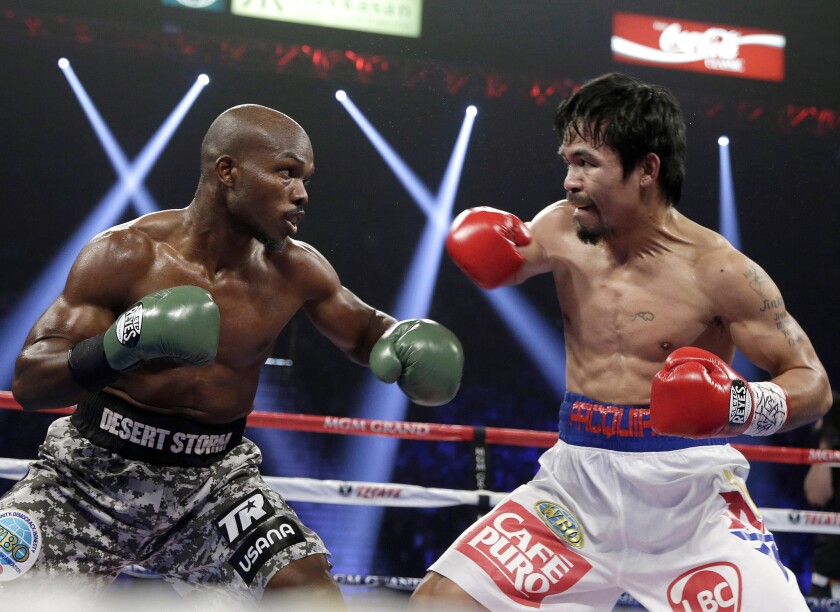 There's a confidence brimming in Timothy Bradley that's visible, something beyond the usual vacant words of those who vow this training camp has been their best.
"If I fight the way I sparred yesterday, I'll win every round," Bradley told reporters at his Indio gym.
The 32-year-old Bradley (33-1-1, 13 knockouts) is boosted by his union with trainer Teddy Atlas, the ESPN boxing analyst who formerly worked with Mike Tyson and has given Bradley confidence in a fight plan based on defense and crispness.
It resulted in a ninth-round technical knockout of former lightweight champion Brandon Rios in November. Bradley says a repeat showing should decide his April 9 HBO pay-per-view bout against Manny Pacquiao at MGM Grand in Las Vegas.
"This time around is going to be different because I'm fundamentally a better fighter," Bradley said. "You can say what you want about the Rios fight, him being fat, overweight, whatever, but check out my mechanics, how tight my punches were, how precise they were. I was in tight … ."
Bradley chafed at criticism that his 2012 split-decision victory over Pacquiao was a badly flawed decision by two judges who are no longer in the sport, but he was clearly beaten in Pacquiao's 2014 unanimous-decision victory in the rematch.
He said he pursued a mistaken fight plan to knock Pacquiao out in that bout. Ultimately, after absorbing a heavy blow from Jessie Vargas in a fight last year, Bradley said he opted to replace his longtime trainer Joel Diaz of Coachella Valley with Atlas.
"As I matured and get older, I had a need to limit my mistakes," Bradley said. "I was a five-time world champion with ability, but I was taking a lot of punishment. And to be able to fight a longer fight and hold my children and have my faculties in place, that was important to me. My wife [Monica] said, 'Tim, you can't keep taking all these punches. Can't keep fighting this way.' That punch I took from Jessie Vargas really opened my eyes.
"I'm loyal … [but] I was willing to make that change. It was for my sake, my career, to be more fundamentally sound. I stopped believing in [Diaz], wasn't listening to him, wasn't following instructions. Felt like I got comfortable. And he got comfortable. We were just going through the motions, never really looking to get better."
That decision to pursue greatness rather than stability was not based on a possible third meeting with Pacquiao, Bradley insists, although he said his wife, who also serves as his manager, speculated last year that the trilogy would happen.
And the revamped attention to detail — often honed between Bradley and Atlas during intimate 30-minute pre-training discussions about boxing in a car outside the Indio gym — is being banked upon to make the third time a charm.
"Now, it's four years later, a couple of defeats under [Pacquiao's] belt … with me being a more disciplined fighter, I'll have a better chance to beat him," Bradley said.
"I'm not spooked anymore. … And the guys who've been fundamentally sound have given him problems … [Juan Manuel] Marquez, Floyd [Mayweather], [Erik] Morales," he said. "This time around, I know exactly what I'm looking at. I know what kind of animal he is."
Bradley said he's not out to mimic Mayweather, who beat Pacquiao by unanimous decision in May by out-boxing him as Pacquiao suffered through a training-camp shoulder injury that required post-fight surgery.
Pacquiao turned 37 in December and has said this is possibly his final fight, with a Senate seat in the Philippines possible for him in a May election.
"Floyd is Floyd … but there's things that certain guys who've beaten Manny Pacquiao did … I saw a certain style, certain things they did to isolate Manny Pacquiao," Bradley said. "I just need to be strong myself. I don't need to think about him being any weaker. Being mechanically better will better my chances."
This is the second in a three-part report from Bradley's training camp in Indio. Part 3 will appear Thursday morning here at latimes.com "Sports Now."
---