Opinion: An argument in favor of enshrining steroid cheats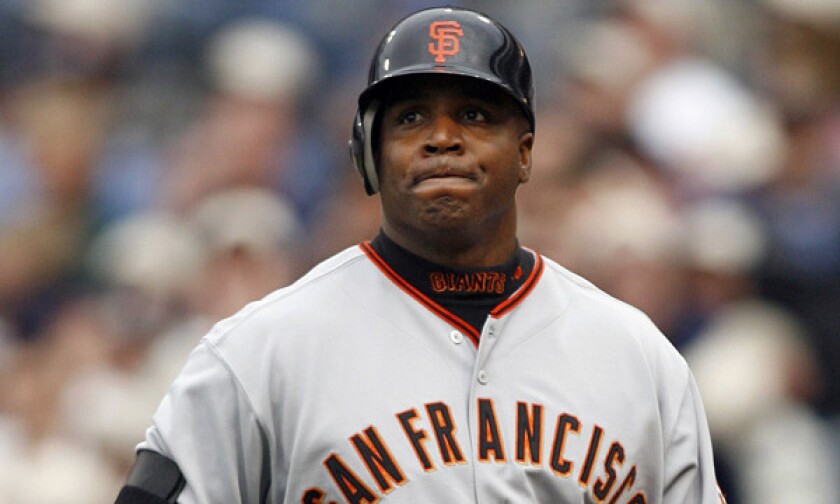 OK, I get it: steroids are bad and cheating is worse.
What I don't get is why Hall of Fame voters have decided to draw this line at this time.
Long-time members of the Baseball Writers Assn. of America, who sit as judge and jury to decide who gets in the Hall and who doesn't, voted this week to enshrine pitchers Greg Maddux and Tom Glavine and slugger Frank Thomas in Cooperstown.
Fine. All three are deserving and the Hall is much richer with their inclusion.
Passed over again, however, were Roger Clemens, Barry Bonds, Mark McGwire, Sammy Sosa and Rafael Palmeiro. They all put up numbers worthy of the Hall of Fame but they all have been passed over because those numbers were likely inflated by steroid use.
Full disclosure: I am a BBWAA member and am entitled to a Hall of Fame vote. But the Los Angeles Times has a policy against its staff members voting in postseason awards, including the various Halls of Fame. The belief is that we should report the news, not make it.
Whether we want to acknowledge it or not, baseball -- as well as many other sports -- was rife with performance-enhancing drug use in the 1990s and early 2000s. Several players, including former Dodger closer Eric Gagne, estimated as many of 80% of their teammates used steroids. And though many, from the commissioner to the lowly scribes who now vote for the Hall of Fame, either knew that or suspected it, they all chose to look the other way.
So banning Clemens and Co. from the Hall isn't a punishment for knowingly using steroids -- a charge that Clemens, Bonds, Sosa and Palmeiro continue to deny despite overwhelming evidence. It's a punishment for getting caught.
If, in fact, eight of every 10 players were using banned substances in the 1990s, what advantage did Clemens and Co. get? Seems like a pretty even playing field to me. More to the point, though, that also makes it impossible to separate tainted numbers from clean ones.
Clemens, for example, won 354 games -- one less than Maddux -- won seven Cy Young Awards to Maddux's four and had a lower ERA (3.12 to 3.16). Maddux got 97% of the vote in his first year on the ballot; Clemens has never gotten more than 38%.
The difference? Maddux has avoided the stench of the steroid era. But if drug use was as pervasive as ex-players say it was, did Clemens really get a clear advantage while Maddux was untainted?
How many steroid users did Clemens strike out? How many wins did Maddux get because a drugged-up teammate delivered a clutch hit, made a great defensive play or saved the game with a scoreless relief effort?
There's no way of knowing -- and that's the point.
No sport, with the possible exception of track and field, reveres its numbers and its history as baseball does. And while the game has gone through distinct eras, we've made allowances for that. Players from the dead-ball era, when you could lead the league with six home runs, are judged against their peers and not against the players of today.
Would Babe Ruth have hit 714 home runs if he had played against integrated teams? Probably not. But we don't discard any of baseball's pre-Jackie Robinson performances despite the fact that players from that era clearly had a competitive advantage.
Bob Gibson led the National League with a 1.12 ERA in 1968. The mound was lowered the next season and no one's come close to matching Gibson since. Yet we don't throw that number out, we simply chalk it, like Ruth's records, up to the era in which Gibson played.
We should do the same with the steroid era and simply accept the fact that a majority of players used drugs and that virtually every game from that era was affected by them.
And here's another potential conundrum: What if a player voted in now is found to be a steroid cheat later? Craig Biggio missed enshrinement by two votes this week and Mike Piazza wasn't far behind, yet there have been cruel whispers linking both to performance-enhancing drugs.
The point is, we will never be able to put the genie back in the bottle. Were players cheating -- or, like Maddux's won-lost total -- did they benefit from cheating? Absolutely.
But Gaylord Perry proudly boasted that he cheated by throwing illegal pitches throughout his career and you know where he is now? In the Hall of Fame.
The righteousness protests of nearly minted drug crusaders -- which is reminiscent of Casablanca's Captain Renault, who was "shocked, shocked to find that gambling is going on in here" -- will likely keep the sport's all-time hits leader (Pete Rose) and its single-season and career home run leader (Bonds) out of the Hall.
But there is good news because the impassioned debate that has engulfed the Hall voting proves that people sincerely care about the Hall of who gets in. And as a result, the procedure for enshrinement is sure to lead to necessary changes. The steroid controversy has so poisoned the process that we now have voters giving their ballots to websites while others turn in blank ballots in an effort to skew the numbers (a player needs to be named on 75% of the ballots cast to be inducted).
Some voters, former beat writers who haven't covered a game for years, still get ballots while other BBWAA members who attend more than 120 games a year don't because they haven't been members for at least 10 years.
I don't know what the solution is but I do know the status quo is unacceptable -- both for the people who vote and for the players who may deserve but don't get those votes.
---
Get the latest on L.A.'s teams in the daily Sports Report newsletter.
You may occasionally receive promotional content from the Los Angeles Times.