Josh Hamilton suffers substance-abuse relapse; MLB suspension likely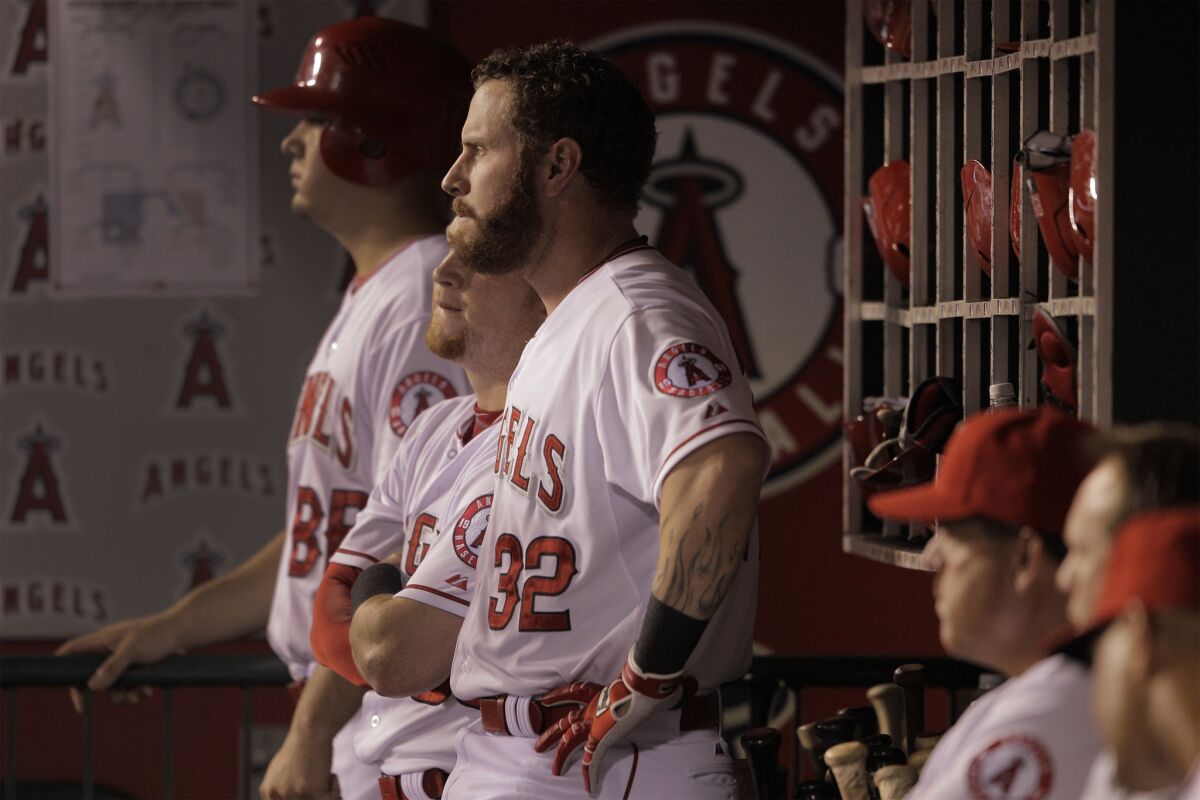 Josh Hamilton has suffered a relapse in his battle with substance abuse, and he is likely to be suspended by Major League Baseball.
That is where the Hamilton situation stood Friday, two days after the Angels outfielder met with MLB officials in New York. The Angels, already preparing to open the season without their injured outfielder, were uncertain how long Hamilton might be suspended and when the league might announce its decision.
Hamilton overcame an addiction to cocaine and alcohol to become a five-time All-Star with the Texas Rangers. His relapse was confirmed to a Times reporter by a person with knowledge of the situation. The person, who spoke on the condition of anonymity, did not specify what substance or substances were involved.
Commissioner Rob Manfred is expected to determine Hamilton's punishment after consultation with the players' union. Although players can avoid suspension after a first positive test for a drug of abuse, the league does not consider Hamilton a first-time offender, according to two other people familiar with the situation but not authorized to discuss it.
Hamilton is known to have failed at least six drug tests as a minor leaguer more than a decade ago, and he was suspended from 2004 to '06. He was reinstated in 2006, but the only term of his return publicly revealed was that he would be subject to three drug tests a week.
Suspensions for players who fail to fulfill terms of a drug-treatment program range from 15 to 25 games for an initial violation, 25 to 50 games for a second violation, 50 to 75 games for a third violation, at least one year for a fourth violation and commissioner's discretion for any subsequent violations.
However, it is uncertain whether Hamilton's reinstatement agreement would supersede that punishment schedule.
Also unknown is whether Hamilton would miss any more time than he would anyway because of his injury. Time on the disabled list counts toward serving a suspension.
Hamilton, who had shoulder surgery Feb. 4, will open the season on the disabled list. Angels General Manager Jerry Dipoto said last week that Hamilton's rehabilitation could extend into May. Arte Moreno, the Angels' owner, declined to address Hamilton's situation Friday when he was approached at the club spring training complex in Tempe, Ariz.
If Hamilton were to be suspended 25 games, he would be eligible to return May 4. If he were suspended 50 games, he would be eligible to return May 31.
In accordance with baseball's drug policy, Hamilton would be permitted to go on a minor league rehabilitation assignment during the final days of his suspension.
The Angels could recoup some of Hamilton's $25-million salary this season, which could enable them to better afford players available at the trade deadline this summer or in free agency next fall.
Players under suspension are not paid. Hamilton would lose $4.17 million per month — or $138,888 per day — of his salary.
However, it is unclear whether Hamilton would be eligible for a provision in baseball's drug policy enabling players to retain their full salary for the first 30 days of a treatment program and half their salary for the subsequent 30 days.
This is Hamilton's third known relapse as a major leaguer. His first two, in 2009 and 2012 while he played for the Rangers, involved alcohol.
For most of the last eight seasons, Hamilton has also traveled with an "accountability partner," whose primary job was to help Hamilton resist the temptations that could derail his career and embarrass his employers.
Hamilton downsized the role of his accountability partner in 2014, flying a friend from his church in Texas to road games and hiring another family friend to accompany him to games at Texas and Houston.
Hamilton makes his off-season home in the Dallas area. His wife, Katie, and four daughters lived with him in Orange County during the season. It is not known whether Hamilton had lined up accountability partners for this year.
He and his wife have filmed scenes for possible use in the coming season of "Real Housewives of Orange County." It is too soon to say whether the Hamiltons will be featured in the show, according to a Bravo network spokeswoman who said she could not be identified. The spokeswoman would not say whether any scenes address the relapse or its aftermath.
Hamilton, who turns 34 in May, did not report to spring training. The Angels granted him permission to rehabilitate his injury in Houston, Dipoto said.
Hampered by injuries, Hamilton, the 2010 American League most valuable player, has largely been a bust since signing a five-year, $125-million contract with the Angels. The contract extends through 2017.
"Obviously, with Josh, that's an MVP-caliber player," Angels right fielder Kole Calhoun said. "We'd love to have him and when he gets back here, he's going to be welcomed back with open arms."
Matt Joyce, who is likely to replace Hamilton in left field, batted .254 with nine home runs and a .732 OPS (on-base plus slugging percentage) in 418 at-bats for the Tampa Bay Rays last season. Hamilton batted .263 with 10 homers and a .745 OPS in 338 at-bats for the Angels.
Hamilton chronicled his addiction and recovery in a 2010 autobiography entitled "Beyond Belief."
"It boils down to self-responsibility, accountability and choices," he said in a 2013 interview with The Times.
"People worry about me going to big cities, having money, but if you want to do something stupid, you can do it. But God has shown me how I get to the spot where I make a decision I shouldn't make."
mike.digiovanna@latimes.com; Twitter: @MikeDiGiovanna
bill.shaikin@latimes.com; Twitter: @BillShaikin
Times staff writer Gary Klein contributed to this report from Tempe, Ariz.
Get our high school sports newsletter
Prep Rally is devoted to the SoCal high school sports experience, bringing you scores, stories and a behind-the-scenes look at what makes prep sports so popular.
You may occasionally receive promotional content from the Los Angeles Times.