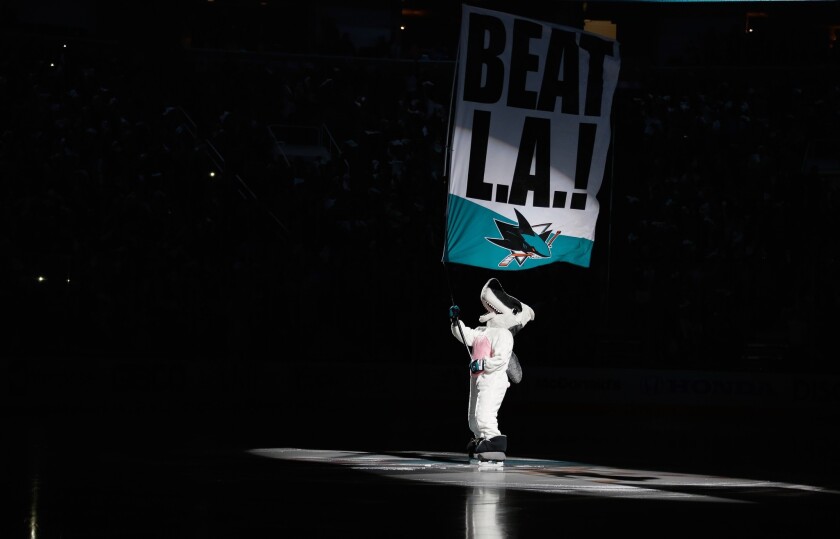 SAN JOSE — Kings defenseman Drew Doughty made it clear he doesn't like the "Beat L.A." chants that break out at the SAP Center when the Kings face the Sharks. "It's not even a good chant," he said.
For Sharks forward Logan Couture, however, it's a welcome sound and one he hopes the sellout crowd will express early and often.
"I'm sure we will. I'm sure our fans are going to be loud and we expect them to," said Couture, who grew up with Doughty in London, Canada, and remains friends with him. "If it makes it tougher for them in a loud building, then hopefully our fans can get real loud."
Of course, there's no telling what the fans might say if the Kings complete their attempt to come back after losing the first three games of this first-round series to the Sharks.
Couture said the Sharks are hoping to get an early lift from those fans and capitalize on having earned home-ice advantage.
"The thing is going to be our start in front of our fans. It's going to be loud," Couture said. "We've got to try and jump on them early and get the first goal.
"It's going to be fun. I think that's the main thing for us. In front of our fans, in our home building, in a do-or-die game. All of us have been in a spot like this before — we were in this spot last year in their building and they were able to beat us. It's time to return the favor, I guess."
---