Magic Johnson says he believes he can make Sparks profitable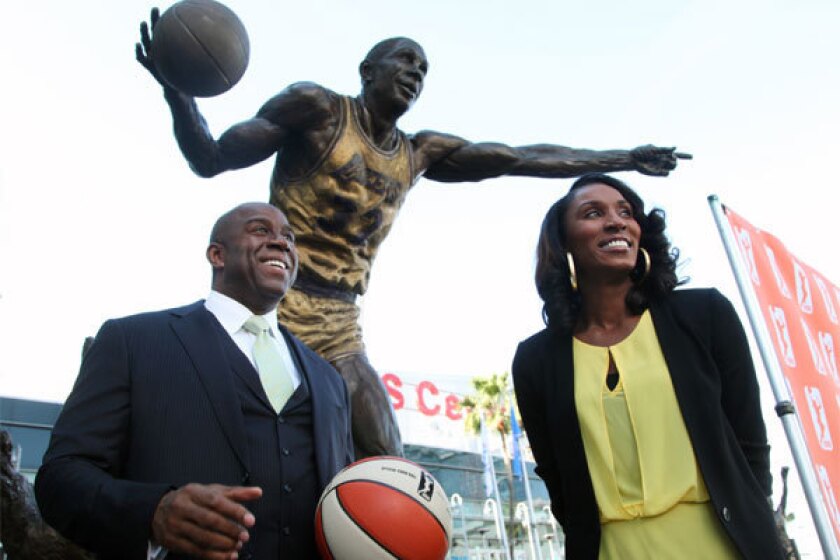 Magic Johnson said Wednesday that he believes that his investment group can turn the Sparks into a profitable WNBA team.
"We know what we're up against and that's OK," Johnson said. "We love challenges. We feel, yes, we're going to eventually make a profit, no question about it. That's why we're in business, to make a profit."
The investment group, led by Lakers legend Johnson and Dodgers controlling owner Mark Walter, just purchased the Sparks from Paula Madison and her family-owned business after Madison announced in December that her firm could no longer afford to continue underwriting the team.
Madison said Williams Group Holdings had lost nearly $12 million on the team over the last seven years, and was projected to lose more than $1 million in the 2014 season.
Johnson said he planned to turn things around in a similar way to how he helped transform the Dodgers.
"We want to increase the fan experience because that's what we did for the Dodgers, that's why we're No. 1 in MLB in attendance," Johnson said.
Johnson said that the Sparks would continue to play at Staples Center and all of the team's staff, including General Manager Penny Toler and Coach Carol Ross, would be retained.
"Everything is going to stay in place until we see how we can make it better," Johnson said.
Johnson declined to say how much money his group paid for the Sparks, but that he was "happy" about the price. He added that his group assumed all of the team's debt.
The Sparks are one of the original teams from the league's inception in 1997. When the Sparks went up for sale, the Golden State Warriors' ownership group were front-runners to buy the team. Johnson said the team was about to move to the Bay Area until his group stepped in.
"It was very close," Johnson said. "We came in at the 11th hour, and I think we were the last ones. If we didn't come in and make a deal, I think it was gone."
Johnson said his motivation to buy the team stemmed from his love for the game and the city.
"I love basketball and I love women's basketball, so this was really simple and easy for Mark and I," Johnson said. "It's funny, we were on a plane and we turned to each other and said, 'Lets buy the Sparks.' I said, 'OK, let's go do it.' So here we are. It was real simple."
It took about two weeks for the deal to close, according to Johnson.
Johnson, a five-time NBA champion and three-time MVP with the Lakers, said he doesn't feel as though he's putting his name on the line by investing in the WNBA, which has been plagued by financial trouble. (Last season, only half of the league's teams made a profit, according to WNBA President Laurel Richie.)
"No, no. it's going to turn out well," Johnson said. "Everybody said the same thing when we got the Dodgers. I love pressure. I love challenges. This is a solid investment. We understand what happened in the past, but we don't worry about that. We move it forward. Both Mark and I have been in deals where businesses have lost money and we turn them around. We know how to do that. That's what we do in our sleep."
---
Get our high school sports newsletter
Prep Rally is devoted to the SoCal high school sports experience, bringing you scores, stories and a behind-the-scenes look at what makes prep sports so popular.
You may occasionally receive promotional content from the Los Angeles Times.