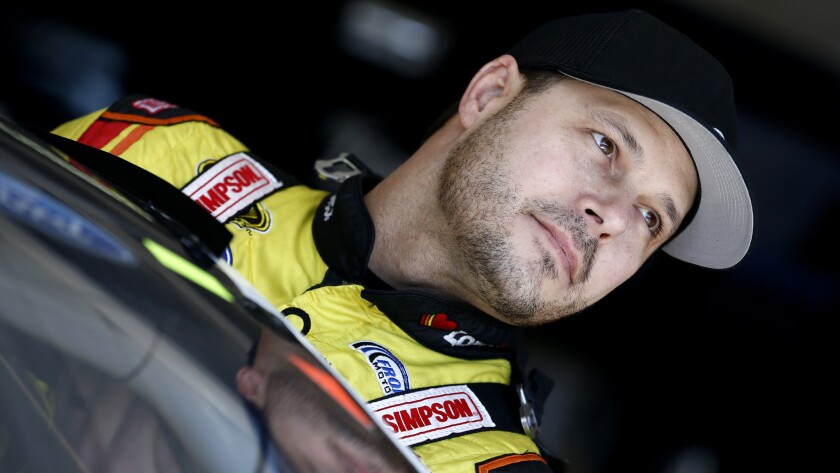 It could be another tough season for NASCAR Sprint Cup drivers David Gilliland and Cole Whitt, but this weekend the teammates at least are enjoying coming home again.
The veteran Gilliland is from Riverside and the 23-year-old Whitt is a native of Alpine, northeast of San Diego, and they're among the 43 drivers in Sunday's race at Auto Club Speedway in Fontana.
They drive for Front Row Motorsports, a team owned by Bob Jenkins that doesn't have nearly the budget of NASCAR's powerhouse teams such as Hendrick Motorsports or Joe Gibbs Racing.
As a result, Gilliland and Whitt -- who's in his first season with Front Row -- struggle to stay competitive. Gilliland currently is 20th in the Cup title standings and Whitt is 29th through four races.
"I'm happy with where we are in points, I'm not really exactly happy with the way we've run so far," Gilliland, who drives the No. 38 Ford, said in an interview. "We have made some gains as an organization but we still have some ways to go."
Whitt, still learning to adapt to his team in his No. 35 Ford, said "there's been times where I feel like we've been pretty good and times when we've been a little behind."
The two also have had to tune out some recent upheaval in their team.
Front Row's third driver, David Ragan, was tapped to replace Kyle Busch at Gibbs for at least several weeks after Busch was injured last month at Daytona International Speedway.
Ragan was replaced by Brett Moffitt, 22, but this weekend Moffitt took over Brian Vickers' car for Michael Waltrip Racing after Vickers was sidelined with blood clots.
So Front Row chose Chris Buescher, 22, to drive its No. 34 Ford this weekend, which will be Buescher's Cup series debut.
"[We're] just trying not to let it distract us and take away from what we're doing," Gilliland said of the shuffled roles. "Cole and I are focused on our deal."
Follow @PeltzLATimes for more motor racing news
---