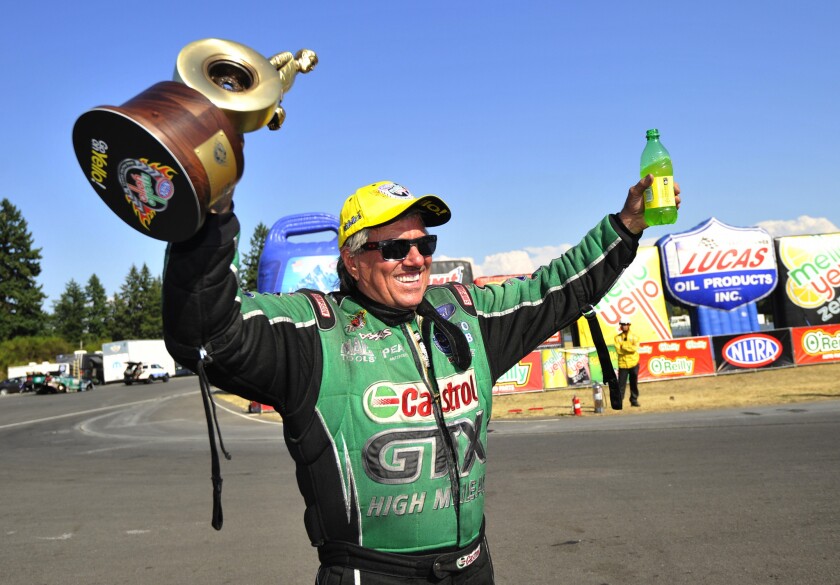 There is no interview in sports quite like one with John Force, the legendary drag racer of 300 mph funny cars who has a record 16 NHRA championships.
Force is 65, yet remarkably he's top-seeded again this year going into the National Hot Rod Assn.'s six-event title playoff that ends in Pomona on Nov. 13-16.
He also owns his Yorba Linda-based team, whose drivers include Force's daughters Courtney and Brittany.
But it's when John Force talks that he's, well, a tour de force. He's excitable, breathless and his mind moves so fast that his speech is full of run-on sentences. (Think baseball's Casey Stengel but only faster.) Yet Force is always entertaining.
Consider his comments Wednesday during a teleconference with reporters that came after Force lost last weekend at the NHRA's U.S. Nationals to Alexis DeJoria, daughter of billionaire John Paul DeJoria.
After one question ... well, we'll let Force speak for himself:
"I watched this DeJoria girl evolve. I was really excited about her, even when she whooped me, because the sport needs women. My daughters, I want them to evolve the same way.
"The kid [DeJoria], it was her day. She did everything right. God bless her. Her dad loves her, just like I love my kids. And you can't be mad because somebody beats you and got the job done.
"But I'll be ready for her next time, even if she beats me again, but I'll keep driving. But the point is you got to have heart. You got to love getting up every day. You got to love the need for speed to sit on that starting line.
"I'm stressed all day and I'm at a point where my wife says you look like you're going to pop. And all of a sudden the body goes down on that race car, the motor fires and there's another human being inside of me that all the world, all the pain, all the stress is gone because finally for those few minutes out there you do what you love to do.
"It's all about heart. It's all about winning. It's all about the fans. And I've never lost that. If I retired, I would go get me a car and I'd go racing. Even if it was a hobby, because when I drove a truck I worked all week ... and then went and raced all weekend.
"Never slept. I lived it. I loved it that much. You got to if you are going to be a champion. Nobody knows winning more than me. I surround myself with good people. I treat them with respect. If I have a bad day and I get mad, I apologize.
"But at the end it's from a love of what I do. I'm the luckiest man on earth that I can drive these race cars and now I get to be with my family and my grandkids at every national event. It's awesome.
"Does that answer that?"'
Follow @PeltzLATimes for more motor racing news
---