Column: Remembering Tony Gwynn, a great hitter and an even better person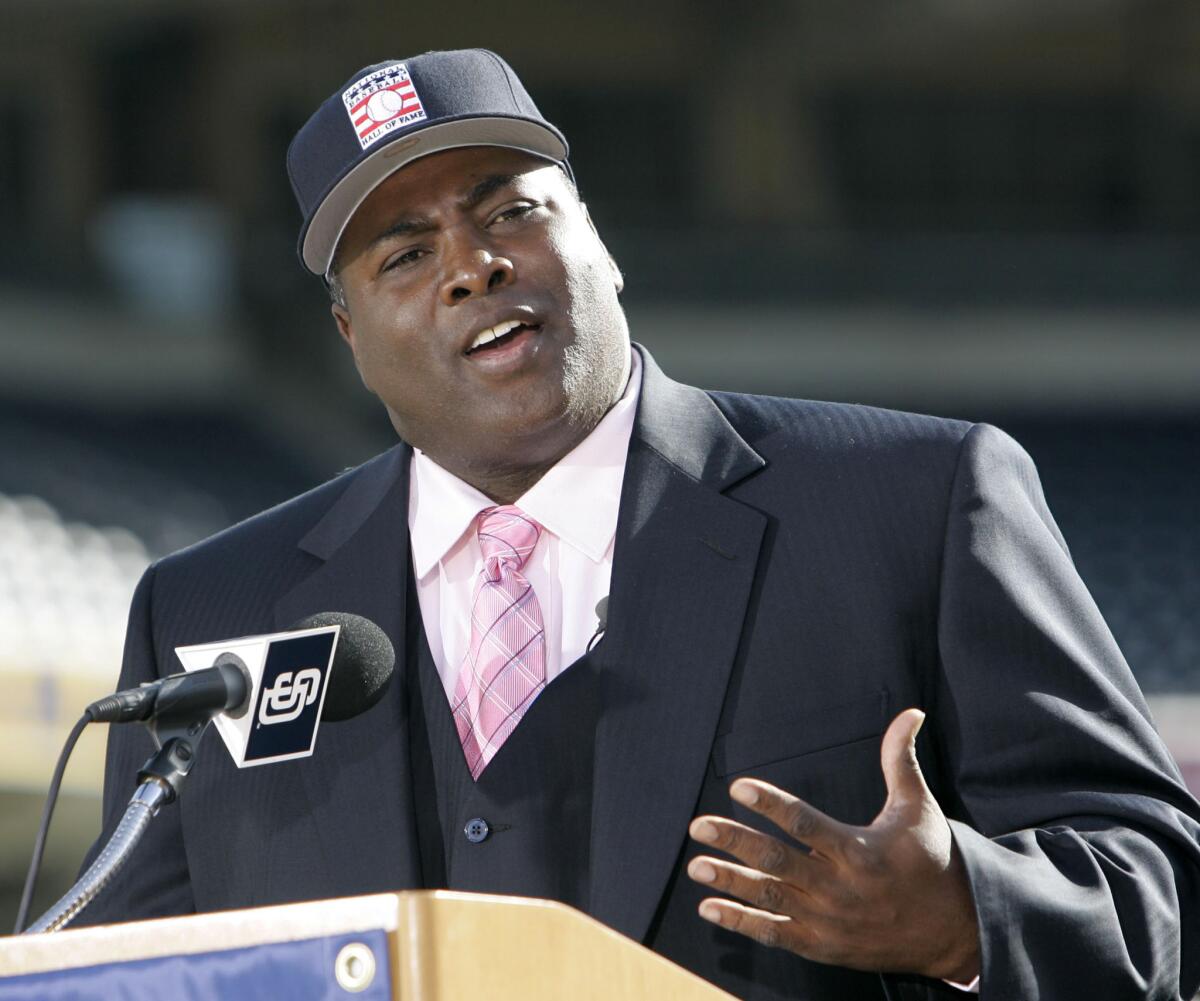 It was 27 years ago this summer, one of my first days of work at the Los Angeles Times, and I was hopelessly lost.
Walking into the San Diego Padres clubhouse to introduce myself as the new beat guy for the Times' San Diego County edition, I was stopped by a wave of angry noise.
Larry Bowa, the manager, was howling in his office. Goose Gossage, the veteran reliever, was grumbling in front of his locker. Garry Templeton, the longtime shortstop, was waving his arms in front of another locker.
The air was filled with hostility. The scene was the kind of madness that can only happen on an aging and ill-equipped baseball team owned by the nutty wife of the man who built the McDonald's empire. The Padres were headed toward 97 losses and I was headed back out the clubhouse door to catch my breath when I heard a cackling laugh that I still can hear today.
"Hey, new guy, come back in here," shouted Tony Gwynn. "It's crazy, but you'll get used to it."
I returned, and headed straight for Gwynn's locker, where I spent much of the next two seasons witnessing a unique combination of greatness and grace, toughness and kindness, heavenly skills and earthly touch.
Tony Gwynn died of cancer Monday at age 54, and the loss to the humanity of the sports world is incalculable.
He was one of the greatest pure swingers ever, a Hall of Famer with 3,141 hits. But more important, in a sports world filled with arrogance and vitriol, he was unmatched as a human being. That locker that served as my refuge was everyone's refuge, the neighborhood grocery, all welcome, all treated as an equal.
Even during the two occasions when his Padres reached the World Series, he acted as if he was still at Long Beach Poly High, just a lucky kid hanging out with friends.
He was always smiling through the sweat of his seemingly constant work. He was always willing to answer any question about anything: hitting, the Lakers, life, and always with a wisdom that didn't demean, but empowered.
"OK, listen, I'll tell you how it works . . ." he would say, and then explain everything from an opposite-field swing to the best way to handle a tempestuous teammate.
On days when it seemed the entire Padres team was angrily staring at me for something negative I'd written, Gwynn would be the first to shout my name and bellow out one of those brilliant laughs and call me over to settle my nerves.
"You're not mad, too?'' I would ask him.
"Oh, no, I'm also mad at you," he would say. "But as long you're over here talking to me, none of those crazy guys will rip our head off."
For an entire generation of sportswriters, Tony Gwynn was a teacher, a touchstone, a friend. For me, during one frightening time in 1988, he was also a baby sitter.
The Padres were playing in Cincinnati. I had brought my 15-year-old brother on the trip. When I returned to my hotel room after a Saturday afternoon game, Andrew was missing. I called the front desk. I called his mom. In a panic, I ran down to the lobby, where I discovered my brother eating pizza and talking hitting with Tony Gwynn.
It was not surprised that Gwynn turned down millions of dollars to spend his entire 20-year career in San Diego, where he became the smiling face of an often-forlorn organization. He didn't care about the money. He cared about the community. He cared about his friends.
In his later years when our paths crossed, as he became a television commentator and then the head coach at San Diego State, Gwynn would always greet me with a hug and a few memories about the crazy old days. Moments after we parted, I would turn around and see him hugging someone else.
He was perhaps baseball's finest ambassador, even to the point of using his own illness as a warning to current players, as he insisted that his cancer of the salivary gland was caused by his constant use of chewing tobacco.
Three years ago, one of Tony Gwynn's greatest legacies showed up at Chavez Ravine. It was his son, Tony Gwynn Jr., who spent two modest seasons as a Dodgers outfielder. When I approached Tony Jr. for our first interview, I felt so old — until he gave me that Gwynn hug and that Gwynn laugh.
Tony Jr. never flinched at the burden of a baseball player carrying the Gwynn name. He acted lucky to be there, and glad to have others along for the ride. His father would have been proud.
"I know this sounds funny, but I gotta tell you, I love your dad," I told him once.
"That's not funny at all," he said. "Because I do, too.''
In the end, truly, Tony Gwynn's greatest achievement was not that he was so admired or emulated, but that he was so loved.
Follow @billplaschke on Twitter
Get our high school sports newsletter
Prep Rally is devoted to the SoCal high school sports experience, bringing you scores, stories and a behind-the-scenes look at what makes prep sports so popular.
You may occasionally receive promotional content from the Los Angeles Times.