Adam Muema's decision to quit NFL combine went through Mass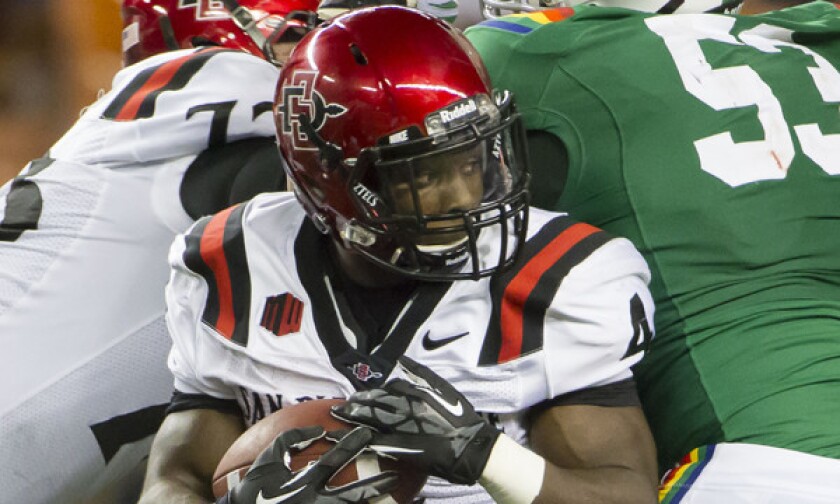 On a Saturday afternoon last month, Father Jim Baraniak noticed a young man alone in a pew at St. John the Evangelist Catholic Church in downtown Indianapolis.
The man knelt, head in his arms, and seemed to be lost in prayer.
A half-hour before Baraniak celebrated Mass for a group of NFL coaches and front-office officials in town for the scouting combine at nearby Lucas Oil Stadium, the young man stood up, walked over and asked to talk. A name emerged from the NFL-issued credentials dangling around his neck: Adam Muema.
They sat in an empty pew, Muema, a former San Diego State and Covina Charter Oak High running back, and Baraniak, chaplain for the Green Bay Packers for the last 17 years.
Muema said he decided earlier in the day to leave the combine without working out.
"He told me numbers told him to do this," Baraniak said in a telephone interview Monday. "I thought he meant the book of the Bible."
Muema had been projected to be a mid-to-late-round draft pick, but the unusual circumstances surrounding his departure transformed him into a national mystery.
He rushed for 2,702 yards and 31 touchdowns in his last two seasons at San Diego State and passed up his senior year to turn professional. However, his tale has less to do with football than numerology, a shadowy figure dubbed Lord RayEl and a brief disappearance that left Muema spending three nights in the baggage claim area at the Fort Lauderdale, Fla., airport.
On Monday, one of Muema's Oklahoma City-based agents at KMM Sports, Jay Mitchel, said the firm has ended its relationship with him.
Muema has returned to California and a San Diego State University spokesman confirmed the university's football coaches restored contact with him but didn't elaborate. No decision has been made about Muema's participation in San Diego State's March 19 pro day, where NFL hopefuls work out for scouts.
Muema remains convinced God told him the Seattle Seahawks would select him in May's draft. That belief is so strong that his Twitter biography already lists him as No. 8 for the team.
A program at the Indianapolis Mass listed Seahawks General Manager John Schneider, a longtime associate of Baraniak, as reading during the service. Muema apparently didn't realize Joe Lombardi of the Detroit Lions and Jack Del Rio of the Denver Broncos stood in for Schneider because of a previous commitment that ran late.
Muema hasn't responded to requests for comment, but in an extended post on Instagram he said the Feb. 22 Mass confirmed his decision to pull out of the combine, as well as the belief his professional home has already been decided.
The twists have left Baraniak wondering what was going on inside of the young man who looked him in the eye and came across as decent and respectful during their half-hour conversation. They spoke about faith and zeal, but Baraniak wanted to make certain the young man understood the consequences of departing the combine. Muema discussed entering the ministry and remained resolute in his belief that God instituted his departure.
At the end of the Mass, Baraniak told the 175 or so attendees that Muema was the first athlete to come in the event's eight-year history.
Muema ascribes special significance to numbers, particularly eight, as a means for communicating with God. That's promoted by Lord RayEl, who claims to be the second coming of Jesus Christ. In recent weeks, Muema posted videos of Lord RayEl on his Facebook page and emphatically defended him on social media.
On Saturday, Lord RayEl's Twitter account claimed a prophecy foretold Muema leaving the combine.
The mention of eight and Schneider's would-be appearance at the Mass made clear to Muema that leaving the combine was right, according to the Instagram post.
Not until Baraniak checked ESPN.com headlines the morning after the Mass did he realize the extent of what happened.
"I just wish I would've had more time," said Baraniak, who wasn't aware of the Lord RayEl involvement until told by a reporter. "As soon as you start peeling back these layers …"
In text messages in recent days, Muema wrote Baraniak that "I believe you will speak the truth" and "I will share my story when God believes I'm ready." Muema also said he felt loved during the Mass.
Muema is expected to resume workouts at San Diego State or with Jason David, the former Indianapolis Colts player who runs a training center in Anaheim. David is no longer speaking about Muema, a staffer said Monday.
Meanwhile, Muema continues to speak over social media about his steadfast belief in a future professional football career, among other topics.
"I did have a dream with tornadoes in cali area & everyone who prayed didn't get sacked in by the tornadoes," he wrote on Twitter on Sunday.
The next tweet predicted a tsunami.
Twitter: @nathanfenno
---
Get our high school sports newsletter
Prep Rally is devoted to the SoCal high school sports experience, bringing you scores, stories and a behind-the-scenes look at what makes prep sports so popular.
You may occasionally receive promotional content from the Los Angeles Times.