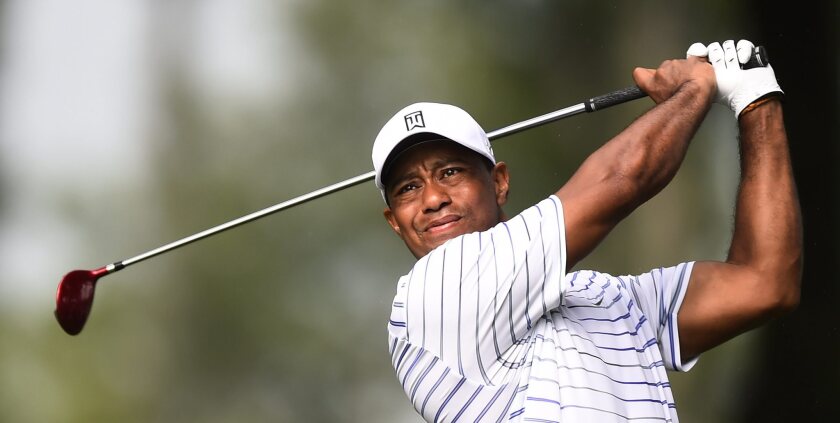 Tiger Woods missed the cut at the PGA Championship at Valhalla Golf Club in Louisville, Ky., on Friday after shooting three-over-par 74 for the second day in a row.
This is the fourth time Woods, who has 14 major titles, has missed the cut at a major championship. Woods missed the cut by five shots.
Until Wednesday, it wasn't clear if Woods, who had back surgery in March and missed the Masters and U.S. Open, would even play at the PGA. He withdrew from the Bridgestone Invitational last week because of back spasms after an awkward shot in the final round.
Woods, 38, had been granted an extension to enter the tournament before arriving at Valhalla, where he won the PGA Championship in 2000, played a practice round and deemed his body and game good to go.
He even said he thought he could win. That wasn't the case.
"I tried as hard as I could. That's about all I've got," Woods said. "Unfortunately, I just didn't play well. Consequently, a pair of 74s is not very good."
Woods said he had felt the "same feeling, same pain, same spasms" that forced his withdrawal from the previous tournament.
"It was telling me on the range that it probably wasn't a good idea (to play)," he said. "I couldn't make a backswing. I can't get the club back. I'm coming through fine. I just can't get the club back. That throws everything off. I can't get anywhere near the positions I'm accustomed to getting to. I just can't do it. I have to rely on my timing and my hands, and hope I time it just right."
After two rounds of play, Rory McIlroy, fresh off his wins at the British Open and Bridgestone, is at nine under and holds a one-shot lead over Jason Day and Jim Furyk.
Ryan Palmer, who shared the lead after the first round with Lee Westwood and Kevin Chappell, and Rickie Fowler are tied in fourth at seven under, with Phil Mickelson and Bernd Weisberger at six under.
The Associated Press contributed to this report.
---