Tow company forgives Britt McHenry for rant, others out for blood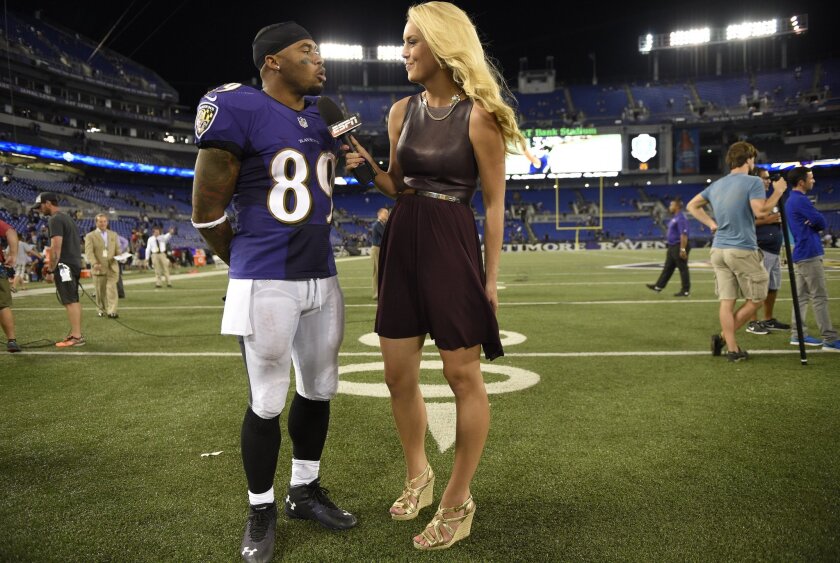 It seems people are not big fans of ESPN reporter Britt McHenry right now and they are making it known.
McHenry was suspended Thursday after a video surfaced of her berating and belittling a female employee of Advanced Towing in Arlington, Va. She was suspended for one week by the broadcast company.
Critics, though, want her off the air for good.
A petition started Thursday demanding the reporter be fired has more than 3,800 signatures and the hashtag #FireBrittMcHenry was created on Twitter.
Critics have called McHenry a bully and question why she did not receive harsher punishment.
"ESPN Inc. must now send a strong and clear message to the world that it will never tolerate these attitudes and behaviors by permanently terminating all contracts with Britt McHenry immediately," according to the petition. "We urge the leadership of all organizations involved in Britt McHenry's employment (including The Walt Disney Company and the Hearst Corporation) to act expediently to publicly reject Britt McHenry's vitriol for vulnerable Americans in order to maintain high standards of professionalism in sports media."
In the footage that was posted online, an irate McHenry goes off on the employee, cursing at her and asserting personal attacks about the woman's physical appearance.
"Lose some weight, baby girl," McHenry said toward the end on their interaction.
McHenry also boasted of her education and the fact she was a reporter, along with threatening to sue the company.
Messages of outrage were posted to McHenry's social media accounts. Some of them are brutal.
Many of the messages are a response to the apology McHenry issued Thursday.
"In an intense and stressful moment, I allowed my emotions to get the best of me and said some insulting and regrettable things," she said in a statement posted to social media. "As frustrated as I was, I should always choose to be respectful and take the high road. I am so sorry for my actions and will learn from this mistake."
Many people were unimpressed and pointed out a recent post on McHenry's apparent Facebook page, in which she said everyone should be kind to each other.
"Take the high road and be nice to people. Amazing how a small kind gesture can go so far, yet similarly so can the impact of negative words. Don't choose the latter. Thanks to all the fans & viewers who've been good to me," according to the message posted March 29 to Facebook.
Reactions to that post have been particularly ruthless.
ESPN spokesman Josh Krulewitz declined to comment on public outcry for a harsher punishment for McHenry.
An unlikely party is defending McHenry -- Advanced Towing.
In a statement released Friday, the company said it did not want to see McHenry lose her job or be suspended.
"Ms. McHenry is our neighbor, and, as she said, to paraphrase, made remarks that were out of line. She is human and errors in judgment can be made in the heat of the moment," according to the statement.
The company also talked a little bit about the woman on the receiving end of McHenry's irate rant.
"Gina is a single mother of three children who works a difficult job to provide her family," according to the statement. "Gina holds no ill will toward Ms. McHenry."
---
Get our high school sports newsletter
Prep Rally is devoted to the SoCal high school sports experience, bringing you scores, stories and a behind-the-scenes look at what makes prep sports so popular.
You may occasionally receive promotional content from the Los Angeles Times.