Jordan Spieth wins second major in a row at U.S. Open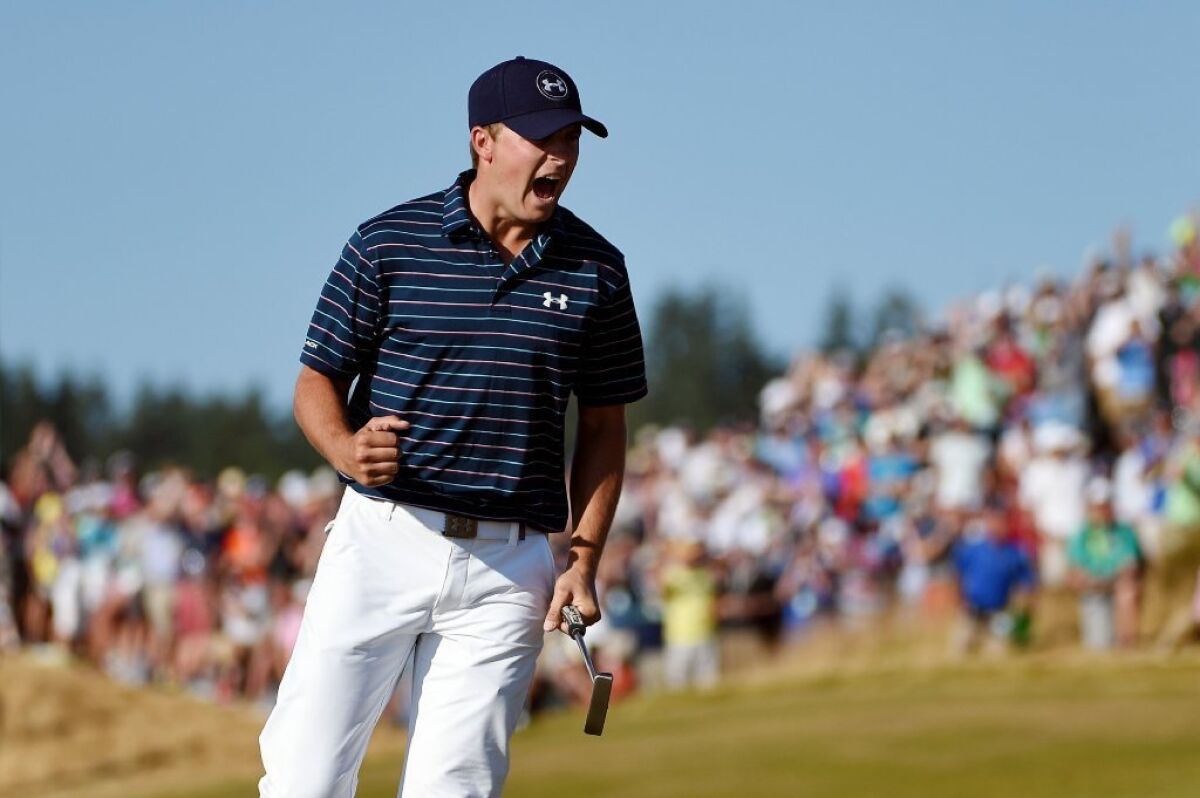 Jordan Spieth won the 115th U.S. Open on Sunday at Chambers Bay after Dustin Johnson three-putted on the final hole with a chance to win.
The victory makes Spieth the first player to win the year's first two majors since Tiger Woods won the Masters and the U.S. Open in 2002.
Spieth shot a one-under-par 69 in the final round, including a birdie on the final hole, and finished five under par to win the championship at University Place, Wash.
"I'm in shock," Spieth said after winning. "I feel bad for Dustin."
Spieth will now contend for his third major title in July at the British Open at St. Andrews.
"You can't win 'em all unless you win the first one," he joked.
Johnson could have won had he made an eagle putt from about 12 feet at No. 18, but the ball slid past the hole, leaving him with a birdie attempt of about four feet to force an 18-hole playoff on Monday. But Johnson missed again, ultimately settling for a three-putt par that left him tied for second with Louis Oosthuizen at four under.
Johnson has not won a major championship.
Oosthuizen grabbed a late share of the lead with six birdies on the back nine, including five in a row on Nos. 12-16.
Spieth, who began his round with a bogey, appeared to have the championship all but wrapped up when he birdied No. 16 to take a three-shot lead. But he carded a double bogey at 17, before recovering at No. 18 with his third birdie on the back nine.
Branden Grace also held a share of the lead late Sunday afternoon before he sent his tee shot out of bounds on the 16th hole.
===
It's not over at U.S. Open.
Jordan Spieth and Dustin Johnson are the co-leaders at Chambers Bay, though Johnson is one hole behind the 21-year-old Masters champion, who is on the 601 yard par 5 18th.hole.
No. 18 has surrendered 29 birdies today. Johnson had a chance to tied Spieth on No. 16 but missed a short birdie putt. He didn't miss when he had the chance on No. 17 to tie the leader.
Spieth went bogey on No. 17 after his tee shot found some tall fescue grass. He had a chance for par with a long putt but ended up two-putting for a double bogey.
However, they're not alone. Louis Oosthuizen birdied his final hole of the day giving him four-under overall and is actually sharing the lead with Spieth.
Tied at third as well are Branden Grace (-3), who is still in play, and Cameron Smith (-3) and Adam Scott (-3), who finished earlier.
===
The pressure of being at the top of the leaderboard finally got to Branden Grace.
The South African's tee-shot on No. 16 went way right and ended up somewhere along the chainlink fence out of bounds near the train tracks which run along the length of the hole.
Grace took another attempt at driving the 219 yard par 4 -- his third shot -- before settling for a bogey, creating a massive opening for Jordan Spieth.
Spieth facing a 19-foot birdie putt only needed to make par to take the lead.
As the ball rolled rode a curve toward the hole the 21-year-old walked off in celebration as it fell into the hole.
Spieth now has a three-shot lead over Grace (-3), Dustin Johnson (-3), Louis Oosthuizen (-3) and Adam Scott (-3).
If he can hole on he will be the first player since Tiger Woods in 2002 to win the first two majors of the year.
===
While Tiger Woods and Rickie Fowler were imploding together on the course through the first two rounds and miss the cut, the third member of their group, Louis Oosthuizen, was doing enough keep playing.
Oosthuizen has distanced himself from those scores, and on Sunday he sank four consecutive birdies on the back nine (Nos. 12, 13, 14, 15) to move into a tie a fifth place with Charl Schwartzel at two-under.
Oosthuizen won the 2010 British Open at St. Andrews and at the 2012 Masters he lost to Bubba Watson on a playoff hole.
Jordan Spieth (-5) and Branden Grace (-5) are still the leaders at the championship with four holes left though Adam Scott's round of 64 has him moved him into a tie with Dustin Johnson at three-under.
Johnson still has five holes left to play.
===
No lead is safe at the U.S. Open.
After leading through the first nine holes in the final round at Chambers Bay, Johnson (-4) went bogey-bogey on Nos. 10 and 11 allowing Jordan Spieth to take over the top spot at the championship with a birdie on No. 12.
Spieth and Branden Grace, who also birdied the 12th, are the new leaders at five-under.
Jason Day (-2) is two-over in his final round, but sits in fifth place behind Adam Scott, who moved to three-under overall with six birdies in his final round.
Day has two birdies on the afternoon, erasing two of his four bogeys. Day and Johnson still have seven holes left to play.
===
As the final pairings head to the back nine at Chambers Bay, Dustin Johnson is still the leader at the 115th U.S. Open at six-under followed by Jordan Spieth (-4) and Branden Grace (-4).
Johnson is two-under par in the final round of the championship with birdies on the fourth and eighth holes. If he's able to hold on to the lead through the final nine holes it will be his first major championship.
Spieth and Grace are both even through the front nine with a single bogey and birdie each on their scorecards.
Adam Scott, who began the day three-over, shot a six-under par 64, for the best round of the championship so far. Scott had birdies on Nos. 2, 7, 7, 11, 16 and 18 and is now tied for fourth with Jason Day, who is one-over in the final round with nine holes left to play.
Shane Lowry and Brandt Snedeker remain within striking distance of the leaders at with Charl Schwartzel at one-under overall near the end of their final round.
===
Rory McIlroy made a valiant, last ditch effort on Sunday, shooting four-under par 66 at the U.S. Open, but unless the course at Chambers Bay gets the better of the remaining leaders he'll finish outside of the top-5.
Only Dustin Johnson, the current leader at five-under, and Henrik Stenson have had better rounds at five-under 65, both on the first day.
McIlroy finished even through four rounds, which is quite an accomplishment given the big numbers posted by the other competitors. He's currently tied at ninth with Patrick Reed and Shane Lowry, though both are still playing.
Johnson has not surrendered a bogey through seven holes, which has been enough to give him a one-shot lead over Jordan Spieth.
Spieth moved into second after overcoming a bogey on the first hole of the afternoon. And, he had a chance at an eagle on the par 5 eighth hole, which would have given him a tie at first with Johnson, but missed a 13-foot putt. He ended up dropping in a three-footer for birdie to move ahead of Branden Grace (-3).
Adam Scott (-2) and Brandt Snedeker (-2) have also moved into a tie at fourth with Jason Day (-2), who went bogey-bogey on the sixth and seventh holes.
===
Dustin Johnson's putting has set him apart at the U.S. Open this week and it gave him sole possesion of first place after he sank a 13-footer for birdie on the fourth hole.
Behind him, Jason Day (-4), Jordan Spieth (-3) and Branden Grace (-3) have all carded bogeys.
Day recovered from his early +1 with a birdie on the 462 yard par 4 on No. 5. He finished the hole with a 13-foot birdie to move ahead of Spieth and Grace.
Spieth also had an opportunity on the same hole from about the same distance, but the ball didn't drop. His putt ran long and over the edge of the hole and he ended up two-putting to par.
Rory McIlroy is still close behind at one-under, but after six birdies through 14 holes he missed an eight-footer for par and had to two-putt to bogey on No. 15. He's five-under on the round.
===
The leaders are on the course.
Jordan Spieth and Branden Grace teed off just before Dustin Johnson and Jason Day, with all four still holding the lead at four-under before making their first drive of the afternoon.
Spieth had to three-putt the first hole for a bogey after driving into the rough at Chambers Bay, dropping him to second place. The other U.S. Open leaders opened up the afternoon with three pars.
Meanwhile, Rory McIlroy has birdied another three holes on the back nine (holes 10, 12, 13) to move to six-under par for the round and two-under overall. He's in fifth place with five holes left to play.
Cameron Smith, who earned his trip to the U.S. Open by winning the Colombus, Ohio sectional, is tied for seventh with Shane Lowry through four holes, behind Adam Scott who has also made a late run at the leaders with four birdies on Nos. 2, 7, 8 and 11. Scott is one-under overall.
===
Rory McIlroy is off to a strong start in the final round of the U.S. Open, moving to three-under par for the day through the first eight holes.
The 2011 U.S. Open champion birdied the Nos. 2, 7 and 8 holes to stand at one over for the tournament, five shots behind the leaders.
Sitting one stroke behind McIlroy is Sergio Garcia, who is three-under par through 11. Geoff Ogilvy (-3) and Thomas Aiken (-4) are the other big movers in early play.
Billy Horschel finished his round with an impressive three-under 67, but that didn't stop him from expressing his disapproval of the greens at Chambers Bay.
Speaking to Fox Sports after completing his round, Horschel said the greens were "the worst I've ever played on" and that he "lost a little respect for the USGA this week."
===
Billy Horschel isn't the only one climbing the U.S. Open leaderboard.
Geoff Ogilvy, who started the day 10 shots behind the leaders, sits at four under for the round after sinking birdies on four of his last seven holes. Through 13, he stands at two over.
He is tied with Sergio Garcia and Adam Scott. Garcia, who has been a vocal critic of the playing conditions at Chambers Bay, is three under through nine holes. Adam Scott started his round a short time ago and moved up with a birdie on No. 2. The group is six strokes behind the leaders.
Horschel's hot start has cooled slightly -- bogeys on 13 and 15 have dropped him back to three under for the day and four over on the weekend.
The leaders are scheduled to start teeing off at 2:48 p.m. PDT.
===
Billy Horschel has put on quite a show among the early risers at Chambers Bay.
Entering the day at seven-over par for the tournament, Horschel stood a five-under after dropping a seven-foot putt for eagle on the 12th hole.
Horschel is at two-over for the tournament, six shots back of the leaders.
Phil Mickelson wrapped up his final round with a three-over 73 to finish at 13 over for the weekend. The U.S. Open remains the only major Mickelson, 45, has yet to win.
===
The final round of the U.S. Open will feature a showdown between four golfers who have dominated Chambers Bay's meandering links and parched greens this weekend.
Jason Day, Dustin Johnson, Branden Grace and Masters champion Jordan Spieth share the lead at four under after 54 holes. As the sun sets over Washington's Puget Sound later Sunday, one of them likely will be celebrating his first U.S. Open title.
Day, who collapsed on the course Friday after suffering from a case of vertigo, jumped to the leaders Saturday after finishing with a two-under-par 68. The 27-year-old Australian capped off his third round with birdies on four of his last seven holes.
Still, it won't be easy for Day to stay on top the leaderboard. Johnson has been at the front of the field since his impressive, opening-round 65. He finished the third round with an even-par 70, but he could be in line for his first major title with another strong round.
Grace, a six-time European tour winner, also finished at 70 to stay in contention for a major win for the first time. Spieth, who shot a one-over 71 Saturday, is arguably the favorite for victory as the 21-year-old tries to claim the second leg of a single-season Grand Slam.
Four other golfers are three shots back, including Louis Oosthuizen, who has staged a remarkable comeback from his first-round 77. After hitting nine over through the tournament's first 20 holes, the 2010 British Open champion has gone 10 under. If Oosthuizen manages to pull off another 66 Sunday, he could be in position for the win.
Cameron Smith, Shane Lowry and J.B. Holmes are also tied at one under.
Spieth and Grace are scheduled to tee off at 2:48 p.m. PDT and Day and Johnson will be the final pair to hit the course at 3 p.m.
Be sure to check back here later Sunday for updates from the final round of the 115th U.S. Open.
Get our high school sports newsletter
Prep Rally is devoted to the SoCal high school sports experience, bringing you scores, stories and a behind-the-scenes look at what makes prep sports so popular.
You may occasionally receive promotional content from the Los Angeles Times.